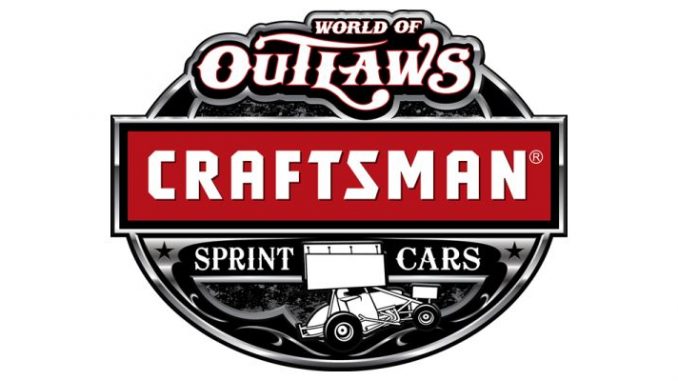 By T.J. Buffenbarger
BAKERSFIELD, Ca. (March 24, 2018) — Sheldon Haudenschild was able to rebound a mistake in his heat race that put him out of the dash to win Saturday night's World of Outlaws Craftsman Sprint Car Series feature at Bakersfield Speedway. Haudenschild spun on the opening lap of his heat race event but recovered to transfer to the feature. After starting 9th in the feature Haudenschild drove by Jason Johnson for the lead on lap 23 and drove away through traffic and a late race restart for the victory.
"I made a mistake in that heat race, and it makes life easy getting in those dashes," said Haudenschild in victory lane. "There are not a lot of chances where you are not in the dash and get to win one of these races. That just shows how good my guys are. Tyler (Swank), Adam Drew, they work really hard. It just feels really good to get three wins this early in the season."
The victory was Haudenschild's third of the season with the World of Outlaws and fourth overall since joining the Stenhouse/Marshall Racing team at the start of the 2018 season.
Johnson and Bud Kaeding started on the front row with Johnson leading the opening lap. Tim Kaeding quickly found himself under pressure from Brad Sweet and Sheldon Haudenschild racing for third on back. Haudenschild slid by Sweet in turn one just as the caution flag appeared for Paul McMahan coming to a stop on the backstretch with a flat right rear tire with two laps complete.
Johnson chose the outside lane for the restart and drove away as Bud and Tim Kaeding hand their hands full with Brad Sweet racing for the second position. Soon Haudenschild joined that race as well with Bud Kaeding holding onto second and Sweet sliding into third. Behind them Tim Kaeding and Carson Macedo bounced off each other but remained under power. Tim Kaeding dropped back several positions.
As the front runners entered slower traffic Sweet was gaining momentum as drove by Bud Kaeding for second position on lap 12 and quickly closed in on Johnson for the lead. Haudenschild Disposed of Bud Kaeding on lap 14 for the third spot just as Johnson and Sweet's race for the lead headed up exchanging slide jobs with Johnson holding the top spot.
ON lap 15 Sweet was able to pass Johnson for the lead and hold off his cross over move off turn four. One lap later Haudenschild drove by Johnson for second, but Johnson countered and took the position back.
On lap 18 the completion of the race changed dramatically when Sweet ended up getting caught up with slower traffic and spun between turns one and two. This handed the lead back to Johnson.
Johnson maintained the lead as Shane Steawart made his presence field for the first time driving into second. One lap later the caution flag appeared again for both Dominic and Giovanni Scelzi stopping in different portions of turn two.
After the restart Johnson and Haudenschild ran nose to tail until Haudenschild made his move on lap 23 with a slide job between turns three and four to take the lead. Johnson turned his car down to counter, but could not hold the top position. Haudenschild then tore through slower traffic to build up a sizeable lead until the caution flag appeared a final time with 29 laps complete when Aaron Reutzel contacted the wall and came to a stop.
This setup a final double file restart with six laps to go and Haudenschild was up to the challenge driving away from the field for the victory. Stewart held on for second with Johnson taking the final podium position. Joey Saldana and Ian Madsen rounded out the top five.
For Haudenschild that late restart was not initially welcome, but could see it from a big picture perspective after the main event.
"I definitely didn't want to see that restart. I wish we could've just finished that race off. I think in the long run that's what is going to make me a better racer. To be able get a win like that with a restart like that is really cool."
Defending World of Outlaws champion Donny Schatz picked up hard charger honors after having to transfer through the B-Main going from 21st to sixth place.
World of Outlaws Craftsman Sprint Car Series
Bakersfield Speedway
Bakersfield, CA
Saturday March 24, 2018
Feature: 1. 17 – Sheldon Haudenschild, 2. 2 – Shane Stewart, 3. 41 – Jason Johnson, 4. 26 – Joey Saldana, 5. 18 – Ian Madsen, 6. 15 – Donny Schatz, 7. 21X – Carson Macedo, 8. 9 – Daryn Pittman, 9. 1S – Logan Schuchart, 10. 7S – Tim Kaeding, 11. 24 – Rico Abreu, 12. 5 – David Gravel, 13. 49 – Brad Sweet, 14. 19 – Brent Marks, 15. 83 – Cory Eliason, 16. 57 – Giovanni Scelzi, 17. 0 – Bud Kaeding, 18. 7SS – Jason Sides, 19. 83JR – Kyle Hirst, 20. 87 – Aaron Reutzel, 21. 41S – Dominic Scelzi, 22. 49X – Tim Shaffer, 23. 1A – Jacob Allen, 24. 45 – Paul McMahan.