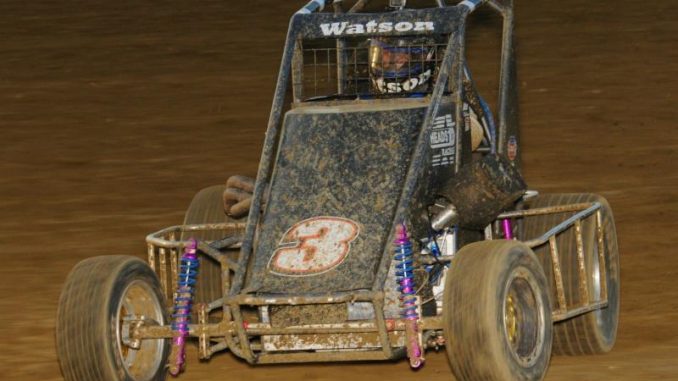 From USAC
INDIANAPOLIS (April 25, 2018) — Indiana, Illinois and Virginia all host USAC Speed2 Midget events this week as the Midwest Thunder Series debuts and the IMRA and Eastern series compete.
All races are this Saturday, April 28, with the Midwest Thunder event at Montpelier (Ind.) Motor Speedway, the Engler IMRA Midgets visiting Spoon River Speedway in Canton, Ill. and the Eastern Midgets heading for Dominion Raceway in Spotsylvania, Va. Point leaders entering Saturday's races are Chase McDermand (IMRA) and Jessica Bean (Eastern), while Aaron Leffel was the 2017 Midwest Thunder champ.
Jessica Bean of Farmland, Ind. scored her ninth and 10th career USAC feature victories last weekend, winning the Eastern races at Anderson Motor Speedway in Williamston, S.C. Friday and Hickory (N.C.) Speedway Saturday.
In Friday night's 35-lapper at Anderson, Johnny Bridges led the first 19 laps and finished second. Bean led the final 16 laps for the win. Neal Allison, fast qualifier Sam Hatfield and Nolan Allison rounded out the "top-five" at the checkered flag.
Bean led the final 19 laps at Hickory after passing Dameron Taylor on lap 17. Sam Hatfield was second ahead of Taylor at the finish, followed by Nolan Allison and Jordan Empie.
Adam Lemke of Hollister, Calif. led all 30 laps of Saturday night's USAC Western Speed2 Midget race at the Bullring at Las Vegas (Nev.) Motor Speedway. Toni Breidinger finished second ahead of Blake Brannon, Joey Iest and Elvis Rankin. The series resumes May 5 in the "Vukovich Classic" at the Madera (Calif.) Speedway.
Chase McDermand of Springfield, Ill. won Sunday night's 18-lap Engler USAC Speed2 IMRA Midget Series opener at Quincy Raceways. Chase led all 18 laps to beat Andy Baugh, Bart Andrews, Mark Billings and Jeff Sparks.
USAC SPEED2 WESTERN US OVERALL MIDGET STANDINGS: 1-Adam Lemke-244, 2-Blake Brannon-225, 3-Johnny Nichols-146, 4-Joey Iest-87, 5-Toni Breidinger-72
USAC SPEED2 WESTERN US PAVEMENT MIDGET STANDINGS: 1-Adam Lemke-244, 2-Blake Brannon-225, 3-Johnny Nichols-146, 4-Joey Iest-87, 5-Toni Breidinger-72
USAC SPEED2 EASTERN MIDGET POINTS: 1-Jessica Bean-210, 2-Neal Allison-196, 3-Nolan Allison-196, 4-Dameron Taylor-176, 5-Jordan Empie-159, 6-Sam Hatfield-138, 7-Jake Garcia-74, 8-Johnny Bridges-69, 9-Chris Lamb-64, 10-Connor Gross-55.
ENGLER USAC SPEED2 IMRA MIDGET POINTS: 1-Chase McDermand-78, 2-Andy Baugh-75, 3-Bart Andrews-71, 4-Mark Billings-66, 5-Jeff Sparks-65, 6-Daltyn England-61, 7-Blake Buchholz-16, 8-Kevin Battefeld-15, 9-Blake Haynes-14.