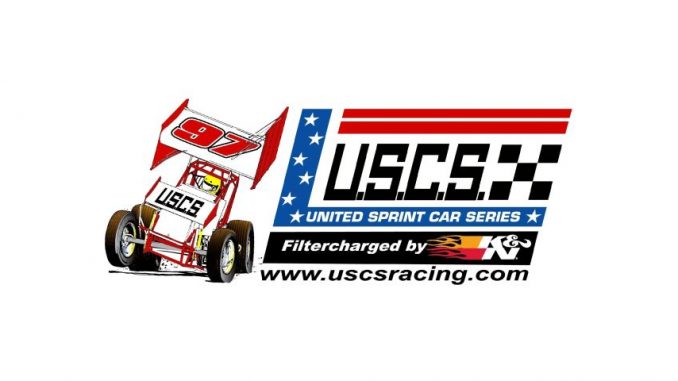 From Pete Walton
ATLANTA, Ga. (May 7, 2018) – After a successful start to the 22nd anniversary season the United Sprint Car Series presented by K&N Filters advances into the future with the announcement of an expansion in the number of regional series it sanctions. For the 2019 season the USCS has created a new fourth regional series for its sprint car division. The new regional series will be called the USCS Carolina Thunder Tour presented by K&N Filters.
The addition of the USCS Carolina Thunder regional series will give sprint car racers in the states of North and South Carolina an opportunity to compete for a series Championship including a point fund and a host of per race and year-end contingency awards while limiting their travel to a manageable distance. In addition to a top ten points fund, the new regional series will also recognize a USCS Carolina Thunder "Rookie of the Year". Other special awards will be honored annually, such as Crew Chief of the year, etc. just like the United Sprint Car Series does for its National Championship, and the presently configured Deep South, Mid-South and Southern Thunder Tour regional series.
The 2019 USCS Carolina Thunder schedule will be approximately 20-22 USCS Carolina Thunder Championship points awarding events. Those events primarily include races at many familiar venues to the USCS teams in the area it covers, while several new or returning past venues are already set to come on board for the 2019 season. Most venues on the Carolina Thunder regional series tentative 2019 schedule are within four hours of the Charlotte, North Carolina metro market. Approximately four to five weekends of dual region challenge events may stretch the drive to the track to four and one half to five hours of travel, but those will be at least a month apart.
Including the afore mentioned dual region challenge events, the 2018 schedule for the 2018 United Sprint Car Series Southern Thunder regional series already contains at least fifteen of the events. Those events are at tracks in Georgia and Eastern Tennessee.
The 2018 (22nd season) USCS Outlaw Thunder Tour presented by K&N Filters kicked off at Bubba Raceway Park in Ocala, Florida on Friday, February 9th. The series has contested thirteen events so far in 2018. The next event for the USCS sprint car teams is set for Friday, May 18th at Flomaton Speedway in Flomaton, Alabama. On the following night (May 19th) the series moves less than an hour South to Southern Raceway fin Milton, Florida. for the weekend finale.
The United Sprint Car Series thanks the USCS Outlaw Thunder Tour supporting sponsors including: K&N Filters, Hoosier Racing Tire, and USCS victory lane sponsor www.RockAuto.com plus Arizona Sport Shirts, Brown and Miller racing Solutions, Bulldog Rear Ends/DMI, DSR Fuel Systems, DHR Suspensions, Engler Machine and Tool, FireAde, Hero Graphics, JE Pistons, KSE Racing Products, Pyrotect Racing Cells, Saldana Racing Products, Schoenfeld Headers and Wilwood Engineering.
For series rules and other info please including full National and regional schedules, please visit www.uscsracing.com or call the series office at 770-865-6097. You may follow USCS on Facebook at Uscsracing and on Twitter @Uscsraing