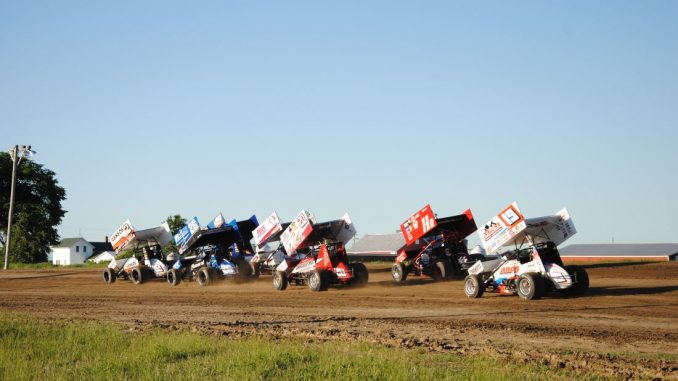 There is something about the World of Outlaws Craftsman Sprint Car Series when they visit I-96 Speedway that makes for unusual plot twists and turns throughout the event. While many will remember the two red flags and multiple cautions during the 35-lap event, thanks to some track work done to the inside lane of the racing surface there were lots of 2-3 wide racing.

I joked with SLS Promotions Tony Veneziano that the crew tried to give the racers two lanes and they ended up trying to use three and four at times. Every double file restart at I-96 is a hold your breath moment, but some of the racing from third on back was spectacular during the 35-lap main. Even though it took some time to get to the end, I-96 produced a wild night of racing for the Outlaws.
During the off-season David Gravel was speculated as being a possible rival to the dominance of Donny Schatz on the World of Outlaws Series. While the season started of a bit slow from a winning perspective Gravel seems to be on a steady incline of improvement with three wins since the end of April. Gravel showed his restart prowess, something I've felt is one of his best traits even before he was on the Outlaw tour, and CJB Motorsports is showing some good speed as some of the major sprint car racing loom ahead.
Not very often do we see Schatz slow during a feature with an on-track issue. Unfortunately, Friday at I-96 it occurred in a very precarious position coming off turn four with the entire field bearing down on him. That situation could have been much worse than just Jason Johnson tagging him and getting upside down in turn one. With 20 laps to go we were treated with seeing Schatz do what I like to call "Donny Schatz things" cutting through cars two and three wide up to a top five finish. The amazing thing I noticed watching from the infield in turn one was how effortless Schatz made his drive back to the front look. Some drivers you can visibly see pick up the pace or do "wild" things when put in that situation. The way Schatz drives a race car and makes it look so easy is just a testament to him and the Tony Stewart Racing team.
While Schatz's charge from the back after the flat tire was entertaining, I felt the most compelling story from Friday's event was Brent Marks. A sour sounding engine in hot laps sent Marks and his crew member down a rabbit hole of troubleshooting that included the engine, tail tank, MSD Box and more.

"I honestly don't know," Marks said about how his team managed to pull off the successful drive from the B-Main to a top five finish in the feature. "I didn't really get to look at the race track until the B-Main as far as getting some clean laps in. It was a rough night, but we managed to figure it out."

Marks only has one other crew member on his Outlaw team and did get a couple of people assisting with the troubleshooting. Even without being able to watch the track Marks hit on something after making some adjustments in the B-Main that seemed to work.

"We tried something different tonight at the race track and it didn't feel too comfortable in the B-Main. We made some adjustments before the feature and the car just came alive."
Another team on the upswing is Kyle Larson Racing with driver Shane Stewart. After making some mechanical changes before the Charlotte World of Outlaws event Stewart seems to have renewed vigor on track. Stewart's on track race with Brad Sweet and Daryn Pittman was hard to take my eyes off for most of the second half of the feature. With his recent pick-up in performance one must wonder if that can carry over to success in some of the major sprint car events coming up in about a month and a half.
Another bounce back was for SLS Promotions and I-96 Speedway. After having years of abysmal weather, I-96 returned to the Outlaw schedule after a year's absence with what turned out to be a pretty nice evening to watch racing. While some were chilled by the 15 degree drop in temperature from hot laps until the feature, but it was a nice break from some of the hot and humid weather this past week.
Our thoughts and prayers are with Chase Ridenour and his family after a brutal crash at the I-96 event. Much like Norm Brown and Spike Lacombe hitting the turn one wall in a sprint car at I-96 with a lot of speed is never a good thing. The last report from Ridenour's racing team Facebook page was that Ridenour was transported for observation.