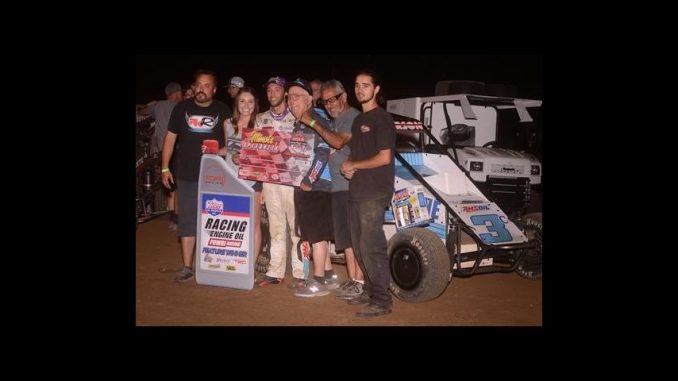 From POWRi
BROWNSTOWN, IL – If there was any question about last night's dominating performance with the POWRi Lucas Oil National Midget League at Belle-Clair Speedway in the opening night of the Sixth Annual POWRi Illinois SPEED Week, Tanner Thorson doubled down and won night two at Fayette County Speedway. By virtue of the pole position after earning high point honors, Thorson led every lap of the feature event, stretching his lead during long green flag runs.
Enduring three yellows and one open red, Thorson handily covered the competition while the battle for position from second through fifth intensified. Eventual second place finisher Tanner Carrick fended off fellow Keith Kunz/Curb-Agajanian Motorsports teammates Logan Seavey and Tucker Klaasmeyer, as well as Clauson-Marshall's Zeb Wise, throughout much of the feature event. Defending POWRi Lucas Oil National Midget League champion Logan Seavey narrowly held off and shut out a hard charging Zach Daum from taking the final podium position in the final lap.
With 22 laps completed, Ace McCarthy took a hard ride in turns three and four, flipping end over end, collecting Presley Truedson who had nowhere to go. Karter Sarff and Trey Marcham were also involved. McCarthy's flip resulted in an open red, stopping the action and setting up an eight lap mad dash to the finish.
In the final laps, Thorson still had the field covered, while Tanner Carrick took second and Logan Seavey narrowly edged Zach Daum for third. Zeb Wise finished fifth. Thorson's POWRi Illinois SPEED Week victory was the 18th of his career and his eighth POWRi Illinois SPEED Week win.
"This 3C has been on rails the last few weeks we've been out here," said Tanner Thorson. "I can't thank this team enough, they built one bad to the bone piece. Between our motor package, shock package and chassis, we've got a pretty awesome piece. I can't wait for tomorrow night."
"He was pretty good on the restarts," commented Tanner Carrick. "We were pretty good early in the race, but once the track got slick and we got up top, we were a second place car. If I didn't make that mistake on the last couple of laps, I might have had a chance to get back up to him, but I don't know."
"That was a lot of fun," said Logan Seavey. "There's a lot of people complaining on social media right now about midget racing, but I think that was a heck of a race there. Second through fifth were all really hard, clean racing. I just have to thank my team for giving me a great racecar. I just took way too long to get into rhythm."
POWRi National Midget League
Fayette County Speedway
Brownstown, Il.
Thursday June 7, 2018
Speedway Motors Heat Race Winners: Heat 1: 08 – Cannon Mcintosh, Heat 2: 9k – Kyle Schuett, Heat 3: 71 – Ryan Robinson, Heat 4: 67 -Logan Seavey, Heat 5: 39bc – Zeb Wise
Toyota Semi Feature Winners: 28m – Ace Mccarthy, 21ks – Karter Sarff
Mesilla Valley Transportation Feature Winner: 3C – TANNER THORSON
Powri Lucas Oil National Midget League Feature Results (30 Laps): 1. 3c – Tanner Thorson 2. 71k – Tanner Carrick 3. 67 -Logan Seavey 4. 5d – Zach Daum 5. 39bc – Zeb Wise 6. 27 – Tucker Klaasmeyer 7. 71 – Ryan Robinson 8. 91t – Tyler Thomas 9. 7bc – Cole Bodine 10. 91 – Shane Cockrum 11. 9k – Kyle Schuett 12. 08 – Cannon Mcintosh 13. 21ks – Karter Sarff 14. 72 – Sam Johnson 15. 77 – Alex Bright 16. 22 – Andy Malpocker 17. 14jr – Holley Hollan 18. 51b – Joe B Miller 19. 32 – Trey Marcham 20. 28m – Ace Mccarthy 21. 5t – Presley Truedson 22. 3n – Jake Neuman 23. 7f – Andrew Felker