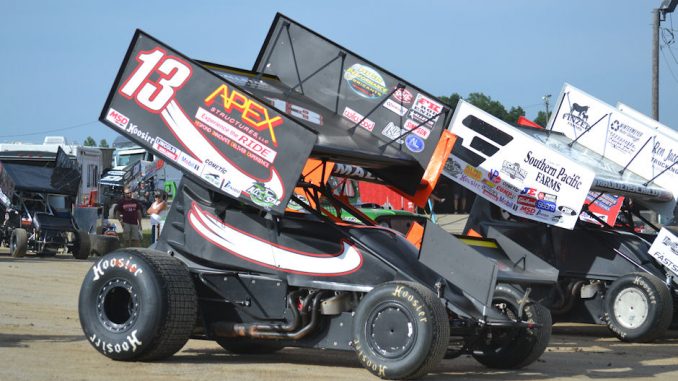 (6-15-18)-Attica Raceway Park
The 36th annual Ohio Sprint Speedweek kicked off Friday night at Attica Raceway Park in front of a packed house. At the end of the night, Paul McMahan took the checkers but it was a wild ride for 40 laps.
Kyle Larson and Aaron Reutzel sat on the front row of the feature with Larson taking command on lap one. Several cautions slowed the pace early on with Reutzel, Kasey Kahne, McMahan and Jac Haudenschild in pursuit. With the yellow flags, Larson didn't catch lapped cars so he wasn't able to put much distance between himself and the field.
Lap 12 saw a red flag for an incident in the stands with Larson, Reutzel, Kahne, McMahan and Haudenschild the top five. As the green appeared Larson was finally pulling away but on the 19th circuit, Larson came out of turn four high and bounced off the wall and was unable to continue. McMahan then led briefly with Reutzel taking over for five laps.
McMahan then went back to 1st on lap 25 after Reutzel slowed and was finished for the race. McMahan remained in command with Byron Reed coming on strong working up to 4th. Lap 36 saw 2nd place Kasey Kahne get into and up on the front stretch wall riding it on two wheels eventually coming back to earth in 5th place.
McMahan wasn't to be denied with his first win at Attica over Reed, Haudenschild, Cale Thomas and Kahne.
Heats for the 56 cars on hand went to Larson, Reed, Gio Scelzi, Jac Haudenschild and Cole Duncan.
410 Sprints – Winged | All Star Circuit of Champions
A Feature 1 (40 Laps): 1. 13-Paul McMahan, [3]; 2. 5R-Byron Reed, [8]; 3. 3-Jac Haudenschild, [5]; 4. 91-Cale Thomas, [7]; 5. 4K-Kasey Kahne, [4]; 6. 22C-Cole Duncan, [11]; 7. 39-Spencer Bayston, [9]; 8. 14-Tony Stewart, [16]; 9. 71-Gio Scelzi, [6]; 10. 49X-Tim Shaffer, [24]; 11. 10H-Chad Kemenah, [14]; 12. 48-Danny Dietrich, [19]; 13. 81-Lee Jacobs, [12]; 14. 3G-Carson Macedo, [13]; 15. 17-Josh Baughman, [10]; 16. 4L-Cap Henry, [20]; 17. 4-Parker Price-Miller, [17]; 18. 11-Ryan Smith, [15]; 19. 7K-Cale Conley, [21]; 20. 35-Tyler Esh, [18]; 21. 22-Brandon Spithaler, [26]; 22. 87-Aaron Reutzel, [1]; 23. 57-Kyle Larson, [2]; 24. 98-Carl Bowser, [25]; 25. 97-Broc Martin, [22]; 26. 70-Dave Blaney, [23]
B Feature 1 (12 Laps): 1. 70-Dave Blaney, [1]; 2. 97-Broc Martin, [6]; 3. 7K-Cale Conley, [2]; 4. 49X-Tim Shaffer, [3]; 5. 5T-Travis Philo, [7]; 6. 8M-T.J. Michael, [12]; 7. 16-Chris Andrews, [4]; 8. 23X-D.J. Foos, [5]; 9. A79-Brandon Wimmer, [13]; 10. 68G-Tyler Gunn, [9]; 11. 35S-Stuart Brubaker, [11]; 12. 99-Jay Waugh, [15]; 13. 49-Shawn Dancer, [14]; 14. 2-Ricky Peterson, [17]; 15. 5X-Justin Peck, [16]; 16. 17X-Caleb Helms, [10]; 17. G1-Gary Taylor, [8]
C Feature 1 (10 Laps): 1. 5X-Justin Peck, [2]; 2. 2-Ricky Peterson, [3]; 3. 3J-Trey Jacobs, [1]; 4. 9Z-Duane Zablocki, [6]; 5. 9M-Jordan Ryan, [11]; 6. 8J-Jess Stiger, [4]; 7. 9X-Paul Nienhiser, [7]; 8. 97AU-Mitchell Wormall, [5]; 9. 20I-Kelsey Ivy, [9]; 10. 22M-Dan McCarron, [8]; 11. 70M-Henry Malcuit, [10]; 12. 45-Trevor Baker, [12]
D Feature 1 (8 Laps): 1. 9M-Jordan Ryan, [2]; 2. 45-Trevor Baker, [3]; 3. O7-Gerard McIntyre Jr, [1]; 4. 24-Rico Abreu, [8]; 5. 22-Brandon Spithaler, [6]; 6. 19-Mitch Harble, [9]; 7. 23-Chase Baker, [5]; 8. 2+-Brian Smith, [11]; 9. 96AU-Bruce White, [10]; 10. 51-John Garvin, [4]; 11. 98-Carl Bowser, [7]
Dash 1 (4 Laps): 1. 87-Aaron Reutzel, [3]; 2. 13-Paul McMahan, [4]; 3. 3-Jac Haudenschild, [1]; 4. 91-Cale Thomas, [5]; 5. 39-Spencer Bayston, [2]; 6. 22C-Cole Duncan, [6]
Dash 2 (4 Laps): 1. 57-Kyle Larson, [1]; 2. 4K-Kasey Kahne, [2]; 3. 71-Gio Scelzi, [3]; 4. 5R-Byron Reed, [4]; 5. 17-Josh Baughman, [5]; 6. 81-Lee Jacobs, [6]
Heat 1 (8 Laps): 1. 57-Kyle Larson, [1]; 2. 13-Paul McMahan, [3]; 3. 39-Spencer Bayston, [4]; 4. 4-Parker Price-Miller, [2]; 5. 7K-Cale Conley, [5]; 6. 5T-Travis Philo, [6]; 7. 35S-Stuart Brubaker, [8]; 8. 2-Ricky Peterson, [10]; 9. 22M-Dan McCarron, [9]; 10. 51-John Garvin, [12]; 11. 22-Brandon Spithaler, [7]; 12. 2+-Brian Smith, [11]
Heat 2 (8 Laps): 1. 5R-Byron Reed, [1]; 2. 17-Josh Baughman, [2]; 3. 10H-Chad Kemenah, [4]; 4. 4L-Cap Henry, [7]; 5. 49X-Tim Shaffer, [5]; 6. 70-Dave Blaney, [3]; 7. 8M-T.J. Michael, [9]; 8. 3J-Trey Jacobs, [6]; 9. 9Z-Duane Zablocki, [8]; 10. 9M-Jordan Ryan, [10]; 11. 19-Mitch Harble, [11]
Heat 3 (8 Laps): 1. 71-Gio Scelzi, [2]; 2. 91-Cale Thomas, [1]; 3. 87-Aaron Reutzel, [4]; 4. 14-Tony Stewart, [3]; 5. 16-Chris Andrews, [5]; 6. 68G-Tyler Gunn, [7]; 7. A79-Brandon Wimmer, [8]; 8. 8J-Jess Stiger, [11]; 9. 9X-Paul Nienhiser, [9]; 10. 45-Trevor Baker, [10]; 11. 98-Carl Bowser, [6]
Heat 4 (8 Laps): 1. 3-Jac Haudenschild, [2]; 2. 81-Lee Jacobs, [1]; 3. 3G-Carson Macedo, [4]; 4. 35-Tyler Esh, [3]; 5. 23X-D.J. Foos, [5]; 6. 17X-Caleb Helms, [9]; 7. 49-Shawn Dancer, [10]; 8. 5X-Justin Peck, [8]; 9. 70M-Henry Malcuit, [11]; 10. O7-Gerard McIntyre Jr, [7]; 11. 24-Rico Abreu, [6]
Heat 5 (8 Laps): 1. 22C-Cole Duncan, [1]; 2. 4K-Kasey Kahne, [2]; 3. 11-Ryan Smith, [3]; 4. 48-Danny Dietrich, [4]; 5. 97-Broc Martin, [6]; 6. G1-Gary Taylor, [5]; 7. 99-Jay Waugh, [10]; 8. 97AU-Mitchell Wormall, [8]; 9. 20I-Kelsey Ivy, [9]; 10. 23-Chase Baker, [7]; 11. 96AU-Bruce White, [11]
Qualifying 1 (2 Laps): 1. 39-Spencer Bayston, 00:12.311; 2. 13-Paul McMahan, 00:12.518; 3. 4-Parker Price-Miller, 00:12.558; 4. 57-Kyle Larson, 00:12.630; 5. 7K-Cale Conley, 00:12.728; 6. 5T-Travis Philo, 00:12.875; 7. 22-Brandon Spithaler, 00:12.892; 8. 35S-Stuart Brubaker, 00:12.911; 9. 22M-Dan McCarron, 00:13.214; 10. 2-Ricky Peterson, 00:13.234; 11. 2+-Brian Smith, 00:13.300; 12. 51-John Garvin, 00:13.480
Qualifying 2 (2 Laps): 1. 10H-Chad Kemenah, 00:12.601; 2. 70-Dave Blaney, 00:12.617; 3. 17-Josh Baughman, 00:12.676; 4. 5R-Byron Reed, 00:12.798; 5. 49X-Tim Shaffer, 00:12.835; 6. 3J-Trey Jacobs, 00:12.898; 7. 4L-Cap Henry, 00:12.913; 8. 9Z-Duane Zablocki, 00:12.928; 9. 8M-T.J. Michael, 00:12.961; 10. 9M-Jordan Ryan, 00:13.274; 11. 19-Mitch Harble, 00:14.474
Qualifying 3 (2 Laps): 1. 87-Aaron Reutzel, 00:12.257; 2. 14-Tony Stewart, 00:12.399; 3. 71-Gio Scelzi, 00:12.514; 4. 91-Cale Thomas, 00:12.803; 5. 16-Chris Andrews, 00:12.963; 6. 98-Carl Bowser, 00:13.055; 7. 68G-Tyler Gunn, 00:13.107; 8. A79-Brandon Wimmer, 00:13.153; 9. 9X-Paul Nienhiser, 00:13.170; 10. 45-Trevor Baker, 00:13.311; 11. 8J-Jess Stiger, 00:13.411
Qualifying 4 (2 Laps): 1. 3G-Carson Macedo, 00:12.530; 2. 35-Tyler Esh, 00:12.679; 3. 3-Jac Haudenschild, 00:12.812; 4. 81-Lee Jacobs, 00:12.946; 5. 23X-D.J. Foos, 00:13.012; 6. 24-Rico Abreu, 00:13.059; 7. O7-Gerard McIntyre Jr, 00:13.121; 8. 5X-Justin Peck, 00:13.140; 9. 17X-Caleb Helms, 00:13.500; 10. 49-Shawn Dancer, 00:13.555; 11. 70M-Henry Malcuit, 00:14.355
Qualifying 5 (2 Laps): 1. 48-Danny Dietrich, 00:12.825; 2. 11-Ryan Smith, 00:12.825; 3. 4K-Kasey Kahne, 00:12.851; 4. 22C-Cole Duncan, 00:12.863; 5. G1-Gary Taylor, 00:13.024; 6. 97-Broc Martin, 00:13.318; 7. 23-Chase Baker, 00:13.597; 8. 97AU-Mitchell Wormall, 00:13.611; 9. 20I-Kelsey Ivy, 00:14.194; 10. 99-Jay Waugh, 00:14.223; 11. 96AU-Bruce White, 00:14.727