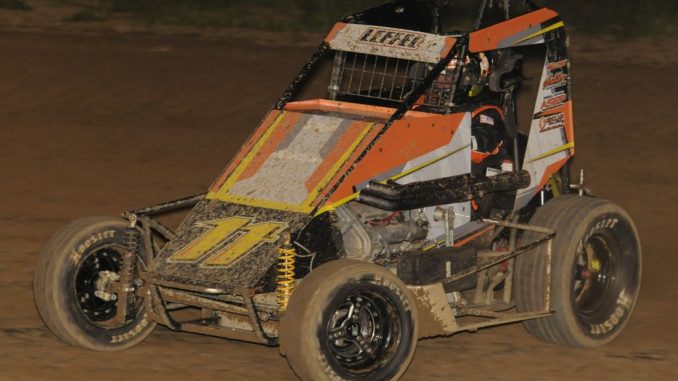 From USAC
INDIANAPOLIS (June 18, 2018) — USAC Speed2 Midget racing this week includes Friday's DMA race at Albany-Saratoga Speedway in Malta, N.Y. and Saturday's Midwest Thunder race at Montpelier (Ind.) Motor Speedway. Jason Goff continues to lead the DMA standings and Aaron Leffel sits atop the Midwest Thunder standings.
Chris Lamb of Greensboro, N.C. posted his second USAC Eastern Speed2 Midget victory in as many nights, leading all 35 laps to win at South Boston (Va.) Speedway Saturday. Jessica Bean was second ahead of Sam Hatfield, Levi Riffle and Jordan Empie. The previous night, he fought off the challenges of Jessica Bean to score a thrilling 50-lap feature victory at Wake County Speedway in Raleigh, N.C. Bean finished second after leading 48 laps, including the white-flag lap. Fast qualifier Hatfield was third ahead of Neal and Nolan Allison. The Eastern series is now gearing up for an Open Wheel Wednesday "special event" June 27 at Seekonk (Mass.) Speedway.
Joe Krawiec of Granby, Conn. won Saturday night's 25-lap USAC Laquerre Sports DMA Speed2 Midget feature at Bear Ridge Speedway in Bradford, Vt. Krawiec got by Derek O'Hearn and led the final 11 laps to beat O'Hearn, Jeff Champagne, Jason Goff and Mike Chaffee.
Robby McQuinn of Springfield, Ill. took home the trophy Saturday night after winning the 20-lap USAC Engler IMRA Speed2 Midget feature at Spoon River Speedway in Canton, Ill. He passed Andy Baugh on lap 14 and led the rest of the way to beat Blake Buchholz, Andy Baugh, Brent Burrows and Kurt Mueller. The IMRA Midgets resume action June 30 at Canton.
USAC Midwest Thunder Speed2 Midget point leader Aaron Leffel of Springfield, Ohio is the latest driver to record a last-lap feature victory, taking Saturday night's 20-lapper at Montpelier (Ind.) Motor Speedway after passing Chett Gehrke on the final lap! Gehrke was second ahead of Cory Guingrich, John Heydenreich and Jon Steed. Stratton Briggs of Anna, Ohio passed Gehrke exiting the final turn of the final lap to win Friday night's 25-lap "Jack & Jiggs Classic" USAC Midwest Thunder Speed2 Midget race at Gas City (Ind.) I-69 Speedway. Gehrke led seven of the feature laps but ended up second at the checkered flag ahead of series point leader Leffel, Heydenreich and Guingrich.
Last Saturday's scheduled Western Speed2 race at Stockton (Calif.) 99 Speedway was cancelled. The next Western Speed2 race is June 30 at Santa Maria (Calif.) Raceway.
USAC SPEED2 EASTERN MIDGET POINTS: 1-Jessica Bean-436, 2-Neal Allison-395, 3-Nolan Allison-389, 4-Sam Hatfield-350, 5-Jordan Empie-324, 6-Dameron Taylor-245, 7-Chris Lamb-212, 8-Levi Riffle-111, 9-Connor Gross-107, 10-Johnny Bridges-81.
USAC LAQUERRE SPORTS SPEED2 DMA MIDGET POINTS: 1-Jason Goff-285, 2-Joe Krawiec-278, 3-Seth Carlson-267, 4-Mike Chaffee-256, 5-Will Hull-242, 6-Jeff Champagne-221, 7-Justin Phillips-211, 8-Derek O'Hearn-196, 9-Manny Dias-193, 10-Randy Higginson-177.
ENGLER USAC SPEED2 IMRA MIDGET POINTS: 1-Andy Baugh-516, 2-Robby McQuinn-426, 3-Gedd Ross-385, 4-Blake Buchholz-322, 5-Shane Morgan-308, 6-Kurt Mueller-304, 7-Daltyn England-279, 8-Jake Sollenberger-254, 9-Brent Burrows-214, 10-Bart Andrews-204.
USAC SPEED2 MIDWEST THUNDER MIDGET POINTS: 1-Aaron Leffel-276, 2-Chett Gehrke-214, 3-John Heydenreich-193, 4-Stratton Briggs-187, 5-Alex Watson-185, 6-Cory Guingrich-167, 7-Jon Watson-153, 8-Gedd Ross-134, 9-Kyle Kriegbaum-115, 10-Andy Baugh-110.