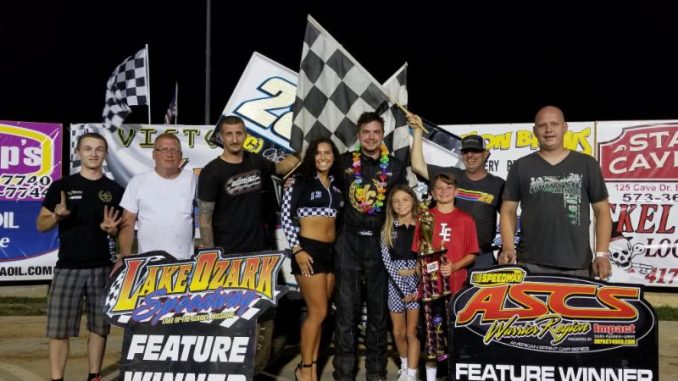 From Bryan Hulbert
LDON, Mo. (June 30, 2018) – From the sideline to the finish line, Jonathan Cornell put his No. 28 back in Victory Lane on Saturday night with an edge of your seat battle over Miles Paulus with the Speedway Motors ASCS Warrior Region presented by Impact Signs, Awnings, and Wraps at Lake Ozark Speedway.
Round two of the 2018 Red, White, and Blue Tour, the $1,776 victory is Cornell's 41st career triumph with the Speedway Motors ASCS Warrior Region presented by Impact Signs, Awnings, and Wraps, and first with the series since coming back from being cleared of a Heart infection.
Taking off with the lead, the No. 21 of Miles Paulus led a baker's dozen as Cornell snagged the top spot away on Lap 14. Back to Miles a lap later, Cornell was not deterred. Mounting his charge, Cornell fired back into the lead on Lap 21.
Keeping Paulus at bay the remaining four laps, the No. 21 would cross second with Mitchell Moore in third. Tyler Thomas fourth was trailed by Kyle Bellm who raced from 12th to fifth. Tony Bruce, Jr, came from 10th to sixth with Dustin Barks, Tyler Utz, Mathew Howard, and B-Feature winner Ayrton Gennetten madding the top-ten.
Looking like his weekend was not going to include racing, Tyler Blank jumped behind the wheel of the Dale McCarty backed No. 9m to run from 23rd to 11th and thus, claiming the $200 pre-paid Visa Gift Card from Valley Park Retirement Living and Chad Griggs.
One more night remains on the Red, White, and Blue Tour as California, Missouri's Double X Speedway is ready for action on Sunday, July 1. Racing begins at 7:30 P.M. (CDT) with Adults admitted for $15. Kids 10 and under are free. More information on Double X Speedway can be found on their Facebook page at https://www.facebook.com/Double-X-Speedway-188377934531844.
For other news, notes, and information on the American Sprint Car Series, from the National Tour to any of the Regional Tours that make up the nearly 150 races across the ASCS Nation in 2018, log onto http://www.ascsracing.com, follow on Facebook, on Instagram, and on Twitter (@LucasOilASCS).
ASCS Warrior Region
Lake Ozark Speedway
Eldon, Mo.
Saturday, June 30, 2018
Heat 1 (8 Laps): 1. 27-Danny Thoman,[1]; 2. 51-Mitchell Moore,[2]; 3. 86-Tony Bruce Jr,[3]; 4. 14K-Kyle Bellm,[5]; 5. 6A-Aidan Roosevans,[6]; 6. 37-Brian Beebe,[7]; 7. 49B-Ben Brown,[4]; 8. 82-Christine Thomason,[8]
Heat 2 (8 Laps): 1. 28-Jonathan Cornell,[6]; 2. 22-Dustin Barks,[2]; 3. 14-Randy Martin,[4]; 4. 92J-J.R. Topper,[1]; 5. 98-J.C. Bland,[5]; 6. 007-Brady Barker,[3]; 7. (DNF) 65-T.J. Muths,[7]
Heat 3 (8 Laps): 1. 91T-Tyler Thomas,[2]; 2. 21-Miles Paulus,[5]; 3. 0-Taylor Walton,[1]; 4. 3-Ayrton Gennetten[3]; 5. 6-Bryan Grimes,[7]; 6. 9M-Tyler Blank,[4]; 7. 99-Bailey Elliott,[6]
Heat 4 (8 Laps): 1. 3V-Tyler Utz,[1]; 2. 37H-Matthew Howard,[3]; 3. 72-Curtis Boyer,[2]; 4. 4-Evan Martin, [5]; 5. 11-Roger Crockett,[7]; 6. 21B-Adam Parmeley,[6]; 7. 18X-Nathan Ryun,[4]
B Feature (12 Laps): 1. 3-Ayrton Gennetten, [1]; 2. 6A-Aidan Roosevans, [2]; 3. 92J-J.R. Topper, [3]; 4. 98-J.C. Bland, [4]; 5. 37-Brian Beebe, [5]; 6. 007-Brady Barker, [9]; 7. 9M-Tyler Blank, [8]; 8. 49B-Ben Brown, [11]; 9. 21B-Adam Parmeley, [6]; 10. 82-Christine Thomason, [12]; 11. (DNF) 99-Bailey Elliott, [13]; 12. (DNF) 18X-Nathan Ryun, [7]; 13. (DNF) 65-T.J. Muths, [10]
A Feature (25 Laps): 1. 28-Jonathan Cornell,[5]; 2. 21-Miles Paulus,[2]; 3. 51-Mitchell Moore,[1]; 4. 91T-Tyler Thomas,[3]; 5. 14K-Kyle Bellm,[12]; 6. 86-Tony Bruce Jr,[10]; 7. 22-Dustin Barks,[8]; 8. 3V-Tyler Utz, [6]; 9. 37H-Matthew Howard,[4]; 10. 3-Ayrton Gennetten,[17]; 11. 9M-Tyler Blank,[23]; 12. 6-Bryan Grimes,[15]; 13. 4-Evan Martin,[13]; 14. 37-Brian Beebe,[21]; 15. 0-Taylor Walton,[14]; 16. 6A-Aidan Roosevans,[18]; 17. 007-Brady Barker,[22]; 18. (DNF) 14-Randy Martin,[9]; 19. (DNF) 72-Curtis Boyer,[11]; 20. (DNF) 92J-J.R. Topper,[19]; 21. (DNF) 11-Roger Crockett,[16]; 22. (DNF) 27-Danny Thoman,[7]; 23. (DNF) 98-J.C. Bland,[20]