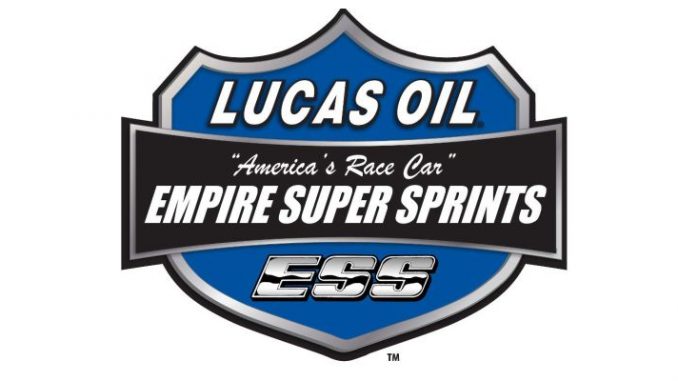 From Dean Reynolds
CANANDAIGUA, NY July 5, 2018) – Chuck Hebing has been the traveling man for much of the early portion of the 2018 racing season. The Ontario, N.Y., driver has been up and down the road with several trips south to Pennsylvania. As of late those trips have ended in unfortunate incidents including a pair of crashes that led to him getting upside down.
On Thursday night Hebing returned to his old stomping ground at the Land of Legends Raceway. It proved to be just what he needed to get things back on track as the veteran driver dominated the 25-lap A-Main for the win. It was his 35th career triumph and his third at his former home track in Lucas Oil Empire Super Sprint competition. The feature was presented by NAPA Auto Parts, E & V Energy as well as Mach 1 Chassis.
"At least I didn't flip," joked a happy Hebing as he stood on the back of his car holding the checkered flag in victory lane. "That was a good time, good ole fun. It's good to be back home. I've been going down to Pennsylvania and playing on some heavy tracks. I enjoy it but I've been busting my butt a little bit too much down there."
Hebing immediately took the lead at the start from his pole starting position. He rocketed away from the field to open up at a half a straightaway cushion before the first and only stoppage in the race. Parker Evans and Steve Glover got together in turn four necessitating the red flag. Neither driver was injured as Glover continued on.
The double-file restart put Chad Miller next to Hebing for the green. Miller looked for a way by Hebing and as he did he opened the door for Matt Tanner. Tanner rocketed around both Miller and Jason Barney to move into second. From there the chase was on.
Hebing and Tanner pulled away from the competition as the race for third saw Mark Smith take the position on lap 10 after starting in the eighth spot. Smith had his work cut out for him as Hebing and Tanner were nearly a full straightaway in front of him.
At the halfway point it was all Hebing, who was now in traffic, leading Tanner and Smith. They continued in that order with the gap between them shrinking as the lapped cars became thicker in front of the leaders. Hebing kept Tanner at bay using multiple lines to pass the slower cars.
"The last one I was leading here Jason Barney got going on the bottom," cited Hebing. "When I saw the 87 on the board I knew I better to make sure to test the bottom, make sure I'm looking around and I tried them all. The lapped cars were tough. They are as fast as we are once you get rolling. It was a tough deal."
Hebing came through traffic unscathed in route to leading all 25-laps for his first series win of the 2018. Tanner, of Stephentown, N.Y., came across the line in the second spot. He tried to catch Hebing to no avail.
"His car was a little better there," Tanner stated of Hebing. "At the beginning we fell back and I kind of thought we were going to head right to the back there. I didn't think we were that good. We got the wing back on that restart, got some clean air and kind of saw what Chuck was doing. It was going to be tough to get around him. I followed him there hoping lapped traffic would slow him up enough. I thought a couple times we had him."
Smith, who now earned the early Speedweek point lead, plateaued once he got into the third position. He was able to move in on Hebing and Tanner but at the end the Sunbury, Pa., driver finished in third.
"We are staying consistent," mentioned Smith who is driving the Patrick Vigneault owned mount. "I want to win one of these suckers here someday. I finally got a decent starting spot on the outside and that helped me out a little bit. I kind of changed it up and rolled the bottom there and made up some time. Every time I'd catch them I'd have to wait on a lapper. I can't race where they are. Everybody did a good job. It was a heck of a fun track. I like these slick race tracks."
Steve Poirier redrew the ninth position for the start of the feature and advanced up to ninth with Jason Barney finishing right where he started in fifth. Rounding out the top 10 were Joe Trenca, Miller, Night #1 winner Danny Varin, Mike Mahaney and Josh Pieniazek.
A big field of 39 sprints played host to a big crowd despite threatening weather all throughout Omtario County.
Donath MotorWorx CNY Speedweek Night #2
Lucas Oil ESS/Mach 1 Chassis A-Main Land of Legends Raceway – Chuck Hebing ($2,610),
Matt Tanner ($1,535), Mark Smith ($1,035), Steve Poirier ($725), Jason Barney ($580), Joe Trenca ($495), Chad Miller ($630), Danny Varin ($445), Mike Mahaney ($410), Josh Pieniazek ($400), Matt Billings ($395), Billy VanInwegen ($270), Paulie Colagiovanni ($350), Jonathan Preston ($350), Coleman Gulick ($300), Jeff Cook ($375), Shawn Donath ($550), Scott Holcomb ($350), Ryan Harrison ($475), Jared Zimbardi ($300), Yan Bilodeau ($350), Brett Wright ($400), Dave Axton ($100), Dan Douville ($300), Steve Glover ($300), Parker Evans ($350).
Did Not Qualify – Emily VanInwegen, Derrick Juliano, Sean Durand, Josh Flint, Alysha Bay, Josh Azzi, Paul Kinney, Kelly Hebing, Dann Bennett, Darryl Ruggles, Denny Peebles, Steve Hutchinson Jr., Ryan Susice,
E3 Spark Plugs Fast Time – Colagiovanni, D, Varin, Tanner, Trenca $25
Car Mate Trailers Heats – Colagiovanni, Smith, Barney, Poirier $25
Power Seal Power Move of the Night – VanInwegen $100
Engler Machine and Tool Halfway – Hebing $50
Pinnacle Pole Award – Hebing $50
Insinger Performance Hard Charger – VanInwegen (13 pos), $50
Canadian Sprint Car Nationals 14th Anniversary – Preston $50
Fondations 55 Last Car Lead Lap – Holcomb $50
Lacaillade Masonry B-Main – Evans, Bilodeau – $50
Fondations 55 Pick 5 – Barney $25
SUNY Canton Smart Finish – Billings $35
Robert Finley Sr. Memorial/Cobra Coaches Dash – Donath ($250), Harrison ($175), Wright ($100), Cook ($75)
Around Town Plumbing and Heating Just Missed – Flint, Ruggles $25
Ashley Lynn Winery Podium – Hebing, Tanner, Smith $10
Hoosier Tire – Miller $200