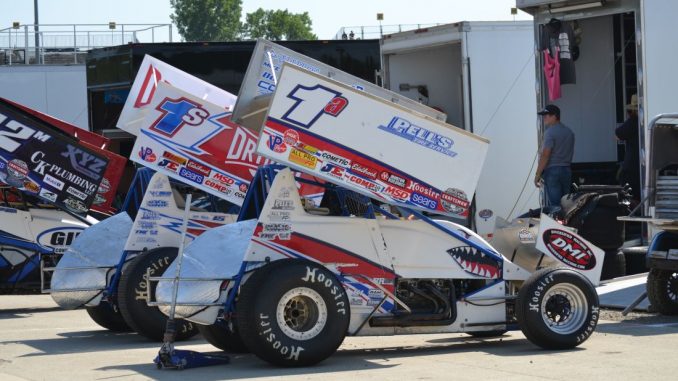 By T.J. Buffenbarger
Eldora Speedway has changed significantly over my lifetime. Everything from the amenities to the race track itself has evolved over the 30+ years I've been venturing to Eldora. Even with all the changes I tend to be a creature of habit. I often order the same food, watch from the same locations, and park in the same spots.
Drivers can be creatures of habit as well. Shane Stewart went in depth in the media center during a post-race press session about how different it is to drive Eldora compared to five years ago. During Thursday's feature Stewart changed his line through turns three and four as a last-ditch effort to hold off a charging Jacob Allen. It turned out to be part of the reason he was victorious on Thursday.
"It's so hard to judge your speed here because you have to go so slow now. That's hard because you're used to who has the biggest kahunas and get up there by the fence and that's just not the case. If there is a guy that is equally as quick as you and they're running the bottom they are going to pass you every time. I felt like my speed needed to slow down to make that corner better. I felt like I was doing a good job, but when you are leading like that you never know."
On the opposite side of the spectrum Kerry Madsen accounted his run through the field on Thursday to more traditional Eldora Speedway tactics.
"Guy gave me a great race car and we were going forward in the A-Main. I'll be honest it was like old school Eldora. We had cushion we could run off, so I was having a lot of fun out there. I have a smile on my face. It's a shame we couldn't go forward one or two more spots."
Throughout qualifying and the first two heat races the bottom line was the preferred lane until Hunter Schuerenberg made some progress forward in the third heat race using the top of the race track. That culminated in some spectacular moments of racing during the second half of the Thursday program including the first half of the B-Main with Rico Abreu and Ian Madsen exchanging slide jobs on each end of the track and all the passing witnessed in the feature in both lanes around the race track.
Having lines shift and change with more options seems to speed along the program as well. With Shane Stewart/David Gravel getting together during the feature really the only on track incident to cause a caution other than jumped starts and mechanical issues the program from the first heat race taking the green flag until Stewart crossing the finish line was completed in around 90 minutes.
Notes from around the pit area on Thursday
Stewart's victory Thursday was meaningful on multiple levels beyond being his first victory of the season. Thursday was the first win for Kyle Larson as sole car owner for Kyle Larson Racing, it was the first victory since Stewart's close friend Jason Johnson passed away in a crash in Wisconsin last month, and Stewart becomes the first driver to earn the option to go out for qualifying whenever he wants during Saturday's finale.
The crowd at Eldora was going bananas in anticipation of Jacob Allen picking up his first career World of Outlaws victory. Allen appeared he would motor away from the field when the caution came out for the Stewart/Gravel incident.

Even Stewart felt Allen had the best car in the field on Thursday.

"I felt like the (Allen) had the best car tonight. He went by me David and I so quickly there before David and I got together and caused the yellow. I figured after that caution he was going to go right back by me. I felt like one and two was okay for me, but three and four I felt like I was struggling a little bit."

It is apparent that Allen's first World of Outlaws victory will occur sooner than later.
Brent Marks continued his trend of being the driver that has passed the most cars on the World of Outlaws tour this season in feature events with his run from 20th to fifth place on Thursday.

"It was awesome! We've been really working hard on putting together a program that works at every race track we go to," said Marks. "It seems like we've hit on that a little bit. We're just continuing to do what we have been doing and making fine tuning adjustments throughout the night and they seem to be working.

Marks was able to overcome adversity early in the evening to race through the field.

"We had a bad time trial lap and had some issues early on the night. We worked on the car and got ourselves in the feature, which is obviously the most important part, and passed a lot of race cars in the A-main." Its cool to see those stats, passing as many race cars as we've had this year. It just shows how good we've really been. If we can start putting nights together consistently like we have been for the past month, we'll be a force to be reckoned with for sure."
Some of the different car/driver combinations on hand on Thursday included D.J. Foos aboard Jason Fausey's 1ST car. The original plan was for Foos and Fausey to compete on Thursday and Saturday during the first outing of the year for the 1ST car this season. Unfortunately, mechanical issues during the heat race cut the night short for Foos as he scratched from the C-Main.

Randy Hannagan returned to 410 sprint car competition driving for Paul May on Thursday. Hannagan indication the pair had discussed teaming up earlier in the year for a show at Haubstadt, Indiana, but nothing was finalized until a couple of weeks before the Kings Royal. Hannagan's run ended with an 8th place run in the B-Main.