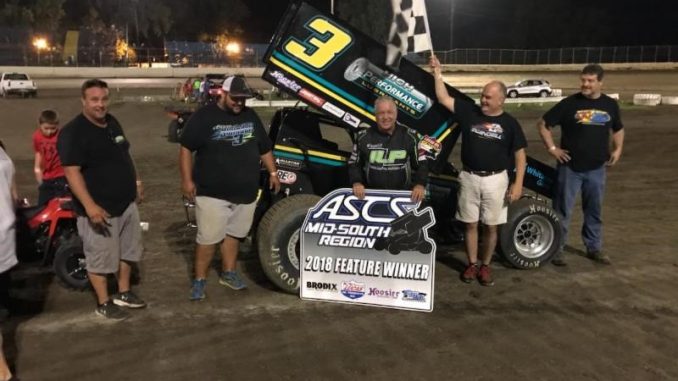 From Bryan Hulbert
WEST MEMPHIS, Ark. (July 21, 2018) – Returning to the famed Riverside International Speedway on Saturday night, local racing legend Sammy Swindell led start to finish for the night's $2,000 prize with the ASCS Mid-South Region.
Wheeling the A.G. Rains owned No. 3 to Victory Lane, Swindell's win is his third overall with the ASCS Mid-South Region and fifth triumph on the season.
With as much as a straightaway on the field at times, a caution working the white flag lap still wasn't enough to give anyone a shot at the wily veteran.
Moving to second on Lap 11, Howard Moore would hold onto the silver position despite the repeated attempts by Derek Hagar who would have the settle for the bronze. Dale Howard in fourth was trailed by Ernie Ainsworth to round out the top-five. Ainsworth was also the night's Stealth Recovery Hard Charger.
Tim Crawley grabbed sixth with Justin Webb in seventh. Brandon Hinkle, Kevin Hinkle, and Rick Kahler made the top-ten.
A couple notes from the night, all driver draw fees were paid by Justin Webb and Southern Coatings. Giving back to the community, Ronnie Pitts Motorsports and Tim Crawley originally planned to raffle off two Backpacks with School Supplies at Saturday's race. With support from across the country, a total of 65 Backpacks were given away at Riverside.
The next event for the ASCS Mid-South Region is Saturday, July 28 with the American Bank of Oklahoma ASCS Red River Region presented by Smiley's Racing Products at I-30 Speedway in Little Rock, Ark.
For other news, notes, and information on the American Sprint Car Series, from the National Tour to any of the Regional Tours that make up the over 150 across the ASCS Nation in 2018, log onto http://www.ascsracing.com, follow on Facebook, on Instagram, and on Twitter (@LucasOilASCS).
Race Results:
ASCS Mid-South
Riverside International Speedway – West Memphis, Ark.
Saturday, July 21, 2018
Heat 1 (8 Laps): 1. 40-Howard Moore, [1]; 2. 3-Sammy Swindell, [7]; 3. 47-Dale Howard, [4]; 4. 21B-Brandon Hinkle, [6]; 5. 91A-Ernie Ainsworth, [8]; 6. 21K-Kevin Hinkle, [3]; 7. 44-Ronny Howard, [5]; 8. 21-Spencer Meredith, [2]
Heat 2 (8 Laps): 1. 9JR-Derek Hagar, [2]; 2. 1X-Tim Crawley, [7]; 3. 31-Justin Webb, [1]; 4. 72K-Rick Kahler, [4]; 5. 2H-Wally Henson, [3]; 6. 8C-LeRoy Carley, [8]; 7. 26-Marshall Skinner, [6]
A Feature (25 Laps): 1. 3-Sammy Swindell, [1]; 2. 40-Howard Moore, [3]; 3. 9JR-Derek Hagar, [6]; 4. 47-Dale Howard, [2]; 5. 91A-Ernie Ainsworth, [9]; 6. 1X-Tim Crawley, [5]; 7. 31-Justin Webb, [7]; 8. 21B-Brandon Hinkle, [8]; 9. 21K-Kevin Hinkle, [11]; 10. 72K-Rick Kahler, [4]; 11. 44-Ronny Howard, [13]; 12. 8C-LeRoy Carley, [16]; 13. 26-Marshall Skinner, [12]; 14. 2H-Wally Henson, [10]; 15. 21-Spencer Meredith, [14]; (DNS) 39-Brad Bowden
Winged 305 Sprint Cars
Heat Race #1 (10 Laps): 1. 8-B.J. Simmerman, [1]; 2. 19JR-Terrell (T.J.) Hughes, [4]; 3. 16-Tim Sites, [6]; 4. 17B-Shelby Brown, [2]; 5. 17-Johnny Wright Jr, [5]; 6. 10-Landon Britt, [7]; 7. 44-Ronny Howard, [3]
Heat Race #2 (10 Laps): 1. 47-Dale Howard, [1]; 2. 3G-Paxton Gregory, [2]; 3. 65-Brandon Lovelace, [3]; 4. 67-Hayden Martin, [6]; 5. 12-Ricky Mendoza, [4]; 6. 121-Jan Howard, [5]; 7. 23-Ethan Jones, [7]
Heat Race #3 (10 Laps): 1. 25-Tyler Whatley, [5]; 2. 59-Brad Bowden, [6]; 3. 23K-Hunter Poe, [3]; 4. 6-Jim Kinney, [4]; 5. 24-Dalton Davis, [7]; 6. 29-Chad Jones, [1]; (DQ) 18-Corey Bailey, [2]
A-Main (20 Laps): 1. 47-Dale Howard, [2]; 2. 59-Brad Bowden, [6]; 3. 19JR-Terrell (T.J.) Hughes, [4]; 4. 25-Tyler Whatley, [3]; 5. 16-Tim Sites, [7]; 6. 67-Hayden Martin, [11]; 7. 3G-Paxton Gregory, [5]; 8. 23K-Hunter Poe, [9]; 9. 12-Ricky Mendoza, [14]; 10. 23-Ethan Jones, [20]; 11. 17-Johnny Wright Jr, [13]; 12. 6-Jim Kinney, [12]; 13. 8-B.J. Simmerman, [1]; 14. 17B-Shelby Brown, [10]; 15. 18-Corey Bailey, [21]; 16. 24-Dalton Davis, [15]; 17. 10-Landon Britt, [16]; 18. 44-Ronny Howard, [19]; (DNS) 121-Jan Howard, ; (DNS) 29-Chad Jones, ; (DQ) 65-Brandon Lovelace, [8]