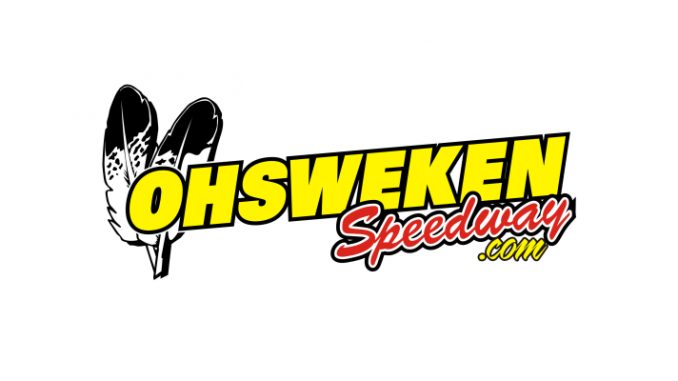 By Clayton Johns
OHSWEKEN, Ont. (July 23, 2018) – After rain forced the cancellation of Feature racing last Friday night, Ohsweken Speedway is eager to return to action this week with Pinty's Delicious Foods Hot Rod Night on July 27. Fans who cruise to the track in their classic cars  will receive a coupon for half price adult admission at the driveway entrance when they arrive during Hot Rod Happy Hour between 6:00pm and 7:30pm.
Last week's rained out Autograph night has also been added to this week's program to allow fans to meet their favourite drivers on track at intermission.
On the track, the Kool Kidz-Corr/Pak 360 Sprint Cars will headline the action as they look to get back to weekly competition. In addition, all three of Ohsweken's other weekly divisions will also be in action, including the Strickland's GMC Crate Sprint Cars, Middleport Mechanical Thunder Stocks and the HRW Automotive Mini Stocks.
Race time is 7:30pm with grandstand gates opening at 6:00pm. Adult admission is just $14 or $7 with a new, unwrapped toy while Seniors (65+) and Youths (13-17) are only $10. Kids aged 7-12 are only $3 and Kids 6 and under are free. This pricing is in effect for all weekly Friday Night Excitement shows in 2018.
During last Friday's Jibs Action Sports Autograph night, racing was postponed when rain washed-out the track just prior to Feature action. Preliminary and qualifying action was complete for all divisions, except for the Strickland's GMC Crate Sprint Cars, which were on track for their B-Main with three laps completed when the rain began to fall heavily. Autograph night was also postponed and will now take place this Friday, July 27.
Ohsweken and Patriot Sprint Tour officials immediately agreed the 25-lap and $3,333-to-win Patriot Sprint Tour versus Kool Kidz-Corr/Pak 360 Sprint Car Feature would be completed on Friday, September 14 as part of the Burger Barn Night Before the Canadian Sprint Car Nationals. Matt Billings and Alex Hill are scheduled to start on the front row. This race will no longer count for Kool Kidz-Corr/Pak 360 Sprint Car season points as the final point night is scheduled as September 7.
Ohsweken officials have now also confirmed the remaining make-up dates. The Strickland's GMC Crate Sprint Cars will complete their program, including the B-Main, on August 10. The Middleport Mechanical Thunder Stocks will run their 20-lap Feature this Friday, July 27. The HRW Automotive Mini Stocks will run their 15-lap Feature on August 3. On each night, those divisions will also have a full race program that will be run following the completion of the postponed Feature race.
In addition, the Race of Champions Sportsman tour race that was rained out on June 22 has a confirmed rescheduled date of Friday, August 24.
Kool Kidz-Corr/Pak 360 Sprint Cars
After last Friday's Feature was rained out, the point standings remain unchanged entering the final race of July. Dylan Westbrook holds a 61-point advantage over Cory Turner after claiming his sixth Ohsweken win of the season two Fridays ago. Jim Huppunen is locked into third spot, 18 points behind Turner while Mack DeMan has moved into fourth and trails Huppunen by just two points. Tyler Hendricks rounds out the top-five and sits just three points behind DeMan and is five back of Huppunen. Rounding out the top-10 are Ryan Turner, Steve Lyons, Chris Steele, Mike Thorne and Shawn Sliter.
Strickland's GMC Crate Sprint Cars
St. Thomas, Ont. driver Jesse Costa continues to lead the Strickland's GMC Crate Sprint Car standings and now holds a 35-point advantage over Shone Evans. In third is the reigning division champion Holly Porter, 11 points back of Evans. Lucas Smith fell to fourth in the standings after his first DNF of the season two weeks ago and is now nine points back of Porter. Hannah Ferrell holds down the fifth and final top-five position.  Completing the top-10 are Aaron Turkey, Jacob Dykstra, Jerry Hill, Brad Herron and Dereck Lemyre.
Canadian Sprint Car Nationals Tickets and Camping Available Now!
Advanced reserved seating tickets are on sale now for the 14th annual Canadian Sprint Car Nationals on September 14-15 are on sale now! The event features two full nights of Sprint Car action, including Saturday's $10,000-to-win Feature Event. Visit www.ohswekenspeedway.ticketforce.com or call 519-717-0023 to order and for more information. For the full 2018 schedule of events, click here.
Ohsweken Speedway Live Stream
Can't make it to the track or don't live within driving distance? No problem! Check out all of Ohsweken's weekly Friday Night Excitement action live online for free via the Ohsweken Speedway Live Stream. The stream goes live at 7:30pm EST each race night at www.OhswekenSpeedway.ca and on our official Facebook page.
2018 SEASON
Ohsweken Speedway's 23rd season of weekly Friday Night Excitement features four divisions of racing, including the Kool Kidz-Corr/Pak 360 Sprint Cars, Strickland's GMC Crate Sprint Cars, Middleport Mechanical Thunder Stocks and HRW Automotive Mini Stocks. Visit www.OhswekenSpeedway.com to view the schedule or call (519) 717-0023 for more information.