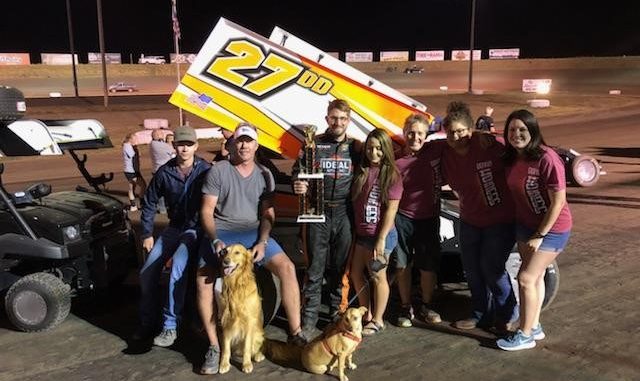 From Bryan Hulbert
BELGRADE, Mont. (August 3, 2018) Picking up his seventh career win with the Brodix ASCS Frontier Region, Montana's David Hoiness met little resistance on Friday night with a flag to flag victory at Gallatin Speedway.
Getting the lead from Bryan Brown on the start, Hoiness was able to build his advantage throughout the A-Feature despite cautions and a red flag as Zac Taylor and Kelly Miller raced back and forth for the runner-up spot. In the end, Taylor would hold on for second with Miller third. Kory Wermling moved from seventh to fourth with Cody Masse making up the top-five.
Rushing up from 18th, Trever Kirkland was the night's Hard Charger with a sixth-place finish. Shane Moore from 11th landed seventh with Roger Cummings returning to action with an eighth-place showing. Junior Nelson and John Nelson made up the top-ten.
The Brodix ASCS Frontier Region races next at Electric City Speedway in Great Falls, Mont. on Friday, August 10 and Saturday, August 11.
For other news, notes, and information on the American Sprint Car Series, from the National Tour to any of the Regional Tours that make up the nearly 150 races across the ASCS Nation in 2018, log onto http://www.ascsracing.com, follow on Facebook, on Instagram, and on Twitter (@LucasOilASCS).
Race Results:
ASCS Frontier Region
Gallatin Speedway – Belgrade, Mont.
Friday, August 3, 2018
Heat 1 (8 Laps): 1. 27DD-David Hoiness, [1]; 2. 88-Travis Reber, [3]; 3. 86-Zac Taylor, [6]; 4. 33-Robert DeHaan, [5]; 5. 24-Leroy Brush, [2]; 6. 4P-Cliff Nelson Jr., [4]
Heat 2 (8 Laps): 1. 38B-Bryan Brown, [3]; 2. 9K-Kory Wermling, [6]; 3. 31-Shane Moore, [1]; 4. 77-Damon McCune, [5]; 5. 2X-Mike Manwill, [4]; 6. 37-Trever Kirkland, [2]
Heat 3 (8 Laps): 1. 2JR-Kelly Miller, [1]; 2. 10-Anthony Farnsworth, [3]; 3. 35M-Cody Masse, [5]; 4. 2-James Setters, [2]; 5. 00-Roger Cummings, [4]; 6. 4N-John Nelson, [6]
A Feature (25 Laps): 1. 27DD-David Hoiness, [3]; 2. 86-Zac Taylor, [6]; 3. 2JR-Kelly Miller, [2]; 4. 9K-Kory Wermling, [7]; 5. 35M-Cody Masse, [8]; 6. 37-Trever Kirkland, [18]; 7. 31-Shane Moore, [11]; 8. 00-Roger Cummings, [13]; 9. 4P-Cliff Nelson Jr., [17]; 10. 4N-John Nelson, [16]; 11. 2-James Setters, [12]; 12. 33-Robert DeHaan, [9]; 13. 88-Travis Reber, [4]; 14. 77-Damon McCune, [10]; 15. 10-Anthony Farnsworth, [5]; 16. 2X-Mike Manwill, [15]; 17. 24-Leroy Brush, [14]; 18. 38B-Bryan Brown, [1]