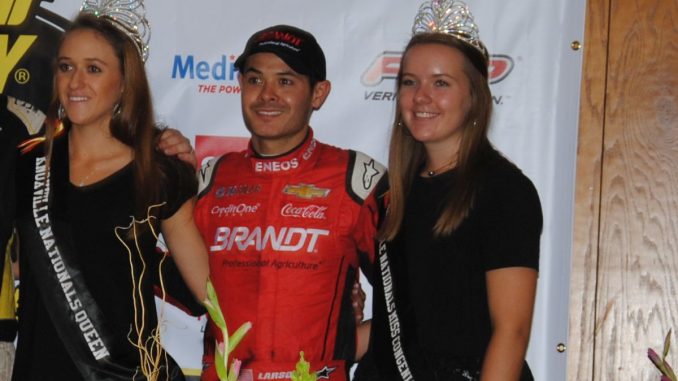 By T.J. Buffenbarger
Kyle Larson had enjoyed a nice streak of good qualifying pill draws for his sprint car exploiting during the 2018 season. After a season of being early in the order for qualifications Larson found himself in the final spot for qualifying during his preliminary night for the Sprint Car Racing's biggest event, 5-HOUR Energy Knoxville Nationals presented by Casey's General Stores.
For Larson the fear of drawing a late pill at Knoxville came up in his head each time he drew a good number at races leading into the Nationals.
"My draws have been unbelievable this year," said Larson. "I don't think I've drawn worse than like 15 all year long," said Larson. "All year long when I did that I thought when I got to Knoxville it was going to catch up with me and I'm going to late pill. I didn't think it would be the worst one."
With the Knoxville Nationals points system that pays the same among of points to set fast time as it does to win the feature makes qualifying extremely valuable. The news didn't improve when Larson and his team saw that many of the best qualifiers in the field had drawn earlier numbers and were fast during practice.
"Paul and I were both just a little stressed out I think in the pit area and seeing how fast the times were at the end of hot laps," said Larson. "We knew those guys would go out early and be fast and the track would be a little more technical."
After a bobble on his first lap of qualifying Larson delivered a solid lap that placed him 10th fastest overall.
I was able to run a decent, steady lap. My first lap wasn't very good. I think the bottom was nice and smooth for the final lap. Then the heat race was very important to. I didn't get a very good start, but once we got single file I got enough speed to get up to second and gained us a good amount of points there. We went forward in the feature as well, so it was a good night. Its nice lock in at Knoxville for sure."
Larson's third place finish combined with his heat race and feature performance placed him in the point lead at the Knoxville Nationals after the first night of competition.
For Larson there was added pressure to lock into Saturday's program because of his NASCAR commitments at Michigan International Speedway this weekend. Because of qualifying not starting until 5:00 P.M. EST Larson likely could not make it back on Friday to run the "Hard Knox" program for drivers that are not locked in.
"Coming to Knoxville its tough because I know the for me (locking in) is really important because I can't come back for Friday," said Larson. "I had to lock in to be able to come back on Saturday and race. It would have been very disappointing if I didn't have a good night tonight and came back to Knoxville and was just watching."