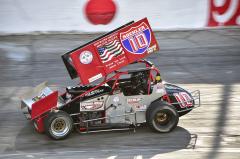 By Jacob Seelman
HOLLY, Mich. – The Must See Racing Sprint Car Series will invade the Hoosier State for its one and only visit this season on Saturday night, and there's arguably no driver more excited to compete at the tight quarter-mile bullring than Chris Neuenschwander.
After all, it was at Anderson in 2016 that Neuenschwander picked up his first of two career series victories, leading all 60 laps in May of that year to deliver car owner Ron Koehler a memorable win – on Koehler's birthday, no less.
The 'New Haven Nightmare' has also had plenty of speed at Anderson in non-winged competition as well, qualifying on the front row and leading 10 laps during the Pay Less Little 500 two years ago, as well as setting fast time during the most recent Thursday Night Sprints non-winged event at the quarter-mile.
All of that adds up to a tangible level of excitement for Neuenschwander entering Saturday's Must See Racing 50. He last competed with the series at Anderson one year ago.
"It's been a while," said Neuenschwander of his year-long absence. "We love coming to Anderson, though. It's a special place for me and for my family."
Neuenschwander's father Tony said that the team's return was partially about timing and scheduling, but also about honoring Koehler, whose health has struggled somewhat since that 2016 victory.
"The big thing about us doing this, personally, is that Ron Koehler has done a lot for us and his health hasn't been too good recently. His eyesight has faded a good bit … and Chris and I wanted to run for Ron and drive his car in honor of all he's meant to our family and to Chris' career, especially," noted Tony Neuenschwander. "We love coming and running with Must See Racing; Jim and Nancy (Hanks) have always treated us very well and we're excited to chase another victory this weekend."
Racing at Anderson this time out isn't the only tribute that the Neuenschwanders have planned in Koehler's honor, either.
"It'd be special to win on Saturday, but through the wintertime, we're going to transform our Little 500 car into a throwback that pays homage to Ron as well," added the elder Neuenschwander. "I'm gonna redo that whole race car to look like his car, and we're excited about that because of the race and what it and the track mean to us. It's a special time for our team, for sure."
Neuenschwander will have a loaded list of challengers to get through, however, before he can park on the frontstretch and celebrate another Anderson victory. That list starts with three-time defending series champion Jimmy McCune, who is a five-time Anderson winner with Must See Racing and was victorious in the Must See Racing 50 last season.
McCune's nephew Anthony has been close to a win several times this season, as has Ohio's Charlie Schultz, who nearly won at the similarly-designed Rockford (Ill.) Speedway two weeks ago before being passed by Jimmy McCune in the final two laps.
Other contenders expected include Tom Jewell, Jerry Caryer, Frank Neill, Tom Nichols and Anthony Linkenhoker, who is making the haul up from Virginia to compete with the series for the fifth time this year.
Pit gates at Anderson open at 3:30 p.m. Saturday, with hot laps rolling at 5 p.m. Qualifying is at 6:30, followed by racing at 8 p.m.
For more information on Must See Racing, visit the series on the web at www.mustseeracing.com.