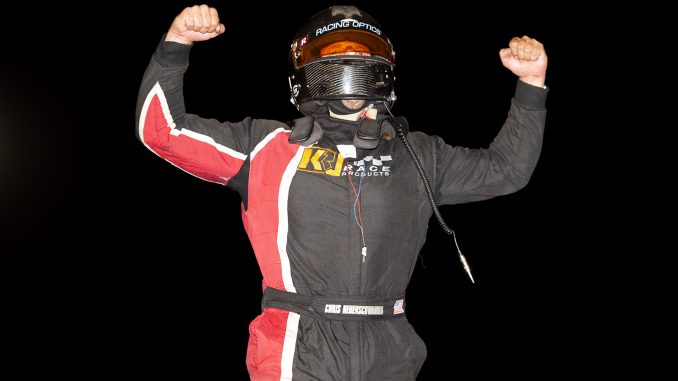 By Joacob Seelman
ANDERSON, Ind. – Chris Neuenschwander was simply not going to be denied during Saturday night's Must See Racing Sprint Car Series stop at Anderson Speedway.
Making his first appearance with the series in a full year, Neuenschwander powered from seventh on the grid to take the lead in just three laps and never looked back. He powered away over the final 48 circuits while dancing effortlessly in and out of slower traffic, putting on a clinic at the quarter-mile.
The New Haven, Ind., driver ultimately lapped everyone in the field except for runner-up Jimmy McCune, taking the checkered flag first by an astounding margin of 7.813 seconds.
Saturday's win was Neuenschwander's third with Must See Racing, his second at Anderson and his first in the series since the 2016 finale at Kalamazoo (Mich.) Speedway.
An emotional victory lane celebration saw Neuenschwander storm up on top of the wing and pump both fists in the air, letting out near-primal screams of jubilation after one of the most dominant performances in series history.
"I know I may have been a bit of the cause of a shakeup on the start there, and I apologize for that, but I was determined to get to the front tonight," Neuenschwander noted in victory lane. "You can't ever count out someone like Jimmy McCune. The win list on his tail tank says it all. But I knew I wasn't going to let him win tonight.
"This was one of the best cars I've ever had," added Neuenschwander. "I could do just about anything I needed to with it and put it wherever on the race track that it had to go to get by people. What a night. This is awesome."
Neuenschwander's win was made even more special by the fact that not only did he redeem a near-miss from the non-winged sprint car feature at Anderson on Aug. 2, where he blew a motor while leading, but his long-time car owner Ron Koehler was the first to meet him in victory lane during the celebration.
"This is all for Ron Koehler," an emotional Neuenschwander noted. "He gave me my only chance in a sprint car, ever. He's an amazing person and I will drive for him over anybody, at any time, just because of that. He's got a good heart, he's been racing forever and I'm just so happy he's here with us tonight."
The race ran all 50 laps uninterrupted, but a multi-car incident in the first two corners forced a complete restart after Jerry Caryer spun in turn two, collecting Adam Biltz, Anthony McCune and Derek Bischak.
That moved Neuenschwander from the inside of row four to the inside of row three, and when the green flag waved again after an eight-minute stoppage for cleanup, Neuenschwander wasted no time.
He charged from sixth to third in three corners, dispatched Jeff Bloom for second the next time around and used an outside-inside crossover off the second turn to overhaul polesitter Tom Jewell for the race lead down the backstretch on the third revolution.
After that, no one could get close to the No. 10 Pro Strip/NAPA Auto Parts machine. He opened up a three-second gap in the first 12 laps and despite hitting heavy traffic for the first time on lap 17, Neuenschwander never wavered in his command over the field.
Jimmy McCune finished a distant second and afterwards cited an ill-handling race car, as well as trouble navigating slower traffic, as the reason for his downfall in the main event.
"We've been junk all year. We just got lucky and squeezed out a few wins this year. We just haven't hit the setup all season," said a disappointed McCune. "There's not much you can say. They had a great race and we're just the bridesmaids again. We'll go forward and see if we can't figure out what's up with this monster.
"We got screwed every time we'd get to traffic tonight, too," he continued. "There were times in the open when I thought I'd start gaining on him, but then I'd lose a corner or a straightaway and it was all over after that."
Anthony McCune rallied from the tail of the field after the opening lap incident, where the right-rear wheel of his car was driven over by Bischak, to complete the podium despite a near-flat right-front tire.
Charlie Schultz and Jewell finished fourth and fifth, respectively.
The Must See Racing Sprint Car Series returns to action on Aug. 18 at Berlin (Mich.) Raceway, with the running of the Engine Pro Fast Car Dash.
The finish:
1. Chris Neuenschwander, 2. Jimmy McCune, 3. Anthony McCune, 4. Charlie Schultz, 5. Tom Jewell, 6. Dameron Taylor, 7. Derek Bischak, 8. Jeff Bloom, 9. Jerry Caryer, 10. Brian Vaughn, 11. Adam Biltz, 12. Anthony Linkenhoker, 13. Jim Payne, 14. Christian Koehler.