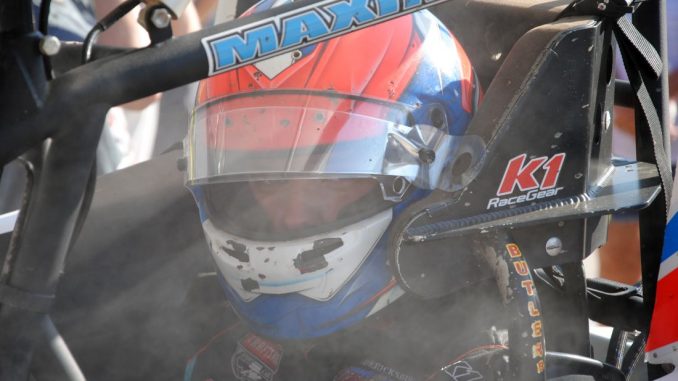 By T.J. Buffenbarger
With emotions running high at Eldora Speedway the day after Greg Hodnett's passing after a tragic accident Thursday at BAPS Motor Speedway it was appropriate a driver that was a regular on the Central Pennsylvania circuit would pick up his first career win at Eldora. Marks drove a very good race changing lines throughout the event and holding off a challenge from Dave Blaney with three laps to go to drive away from the field for the win. This victor is another in Marks steady climb up the ranks of sprint car racing as he continues to get better every month on the road.
Dave Blaney had an inspired run and appeared to be headed to the lead with three laps to go at Eldora. Blaney slipped a bit trying to drive by Marks for the lead and eventually dropped back to fourth over the final laps. Still an impressive run for Blaney at the Big E and should be one of the favorites going into tomorrow's All Star Circuit of Champions portion of the 4-Crown.
"Greg and Kraig" has been a "thing" all year, and both made a big impression Friday at Eldora. Kraig Kinser was sniffing around the lead for most of the 30-lap main event before dropping back to sixth at the end while Greg Wilson came from the B-Main, starting 23rd and drove up to third place finish.
After winning all but one World of Outlaws feature this season at Eldora Speedway going into Friday seeing Donny Schatz took provisional starting spot was a big surprise. After being relegated to the B-Main Schatz was unable to get by Carson Macedo for the final transfer spot into the main event. Schatz did salvage his night driving up to 13th from 25th starting spot.
Eldora Speedway had hit on something where the track is relatively quick early in the night and slicks off to a wider racing surface by feature time. It was interesting to see how different the track was from qualifying until feature time after going out for dinner with my family in between.