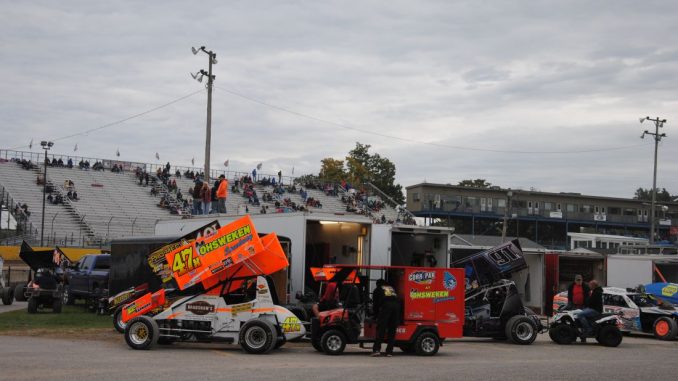 By T.J. Buffenbarger
Five Takeaways from the SOD Show at Berlin
Getting the sprint car feature in event at a shortened 20 lap distance was remarkable considering the weather conditions that rolled in late at Berlin Raceway. While the show wasn't run with any increased urgency as late model driver intros taking place on track before their as rain closed in on Berlin, the rain stopped just enough each time to allow the track to be worked back into shape. Henry pulled into victory lane just as the rain increased to a steady shower.
Henry's victory was the second in a row with sponsor New Holland Spirits on hand near their headquarters in Holland, Michigan. Henry and the rest of the Lane Racing team made the most of the visit spending time in Holland on Friday before coming over to Berlin on Saturday.
Coming off an impressive performance at Lucas Oil Raceway Dylan Westbrook had a strong showing against the 410 sprint cars at Berlin Raceway on Saturday. Eight of the top 10 cars were 410 sprint cars on Saturday with Westbrook having the highest finishing 360 sprint car. Westbrook's next stop is the Short Track Nationals in Little Rock, Arkansas.
One of the drivers that has impressed me the most this season is Zane Devault. From starting out the year winning at Crystal Motor Speedway, breaking his wrist in an ATV accident, coming back to flip into a swamp during a crate sprint car race, and capping it off with strong runs in his 410 sprint car debut with Loren Darlymple this season capped up with a top five finish to the roller coaster season at Berlin Raceway.
While the sprint cars teams have experienced relatively smooth race tracks for Berlin's dirt races in the past this year's edition threw teams a curve ball. With the rain on Friday night and Saturday during the program a few holes developed that were exciting to watch, yet no cars got upside down during the entire program.