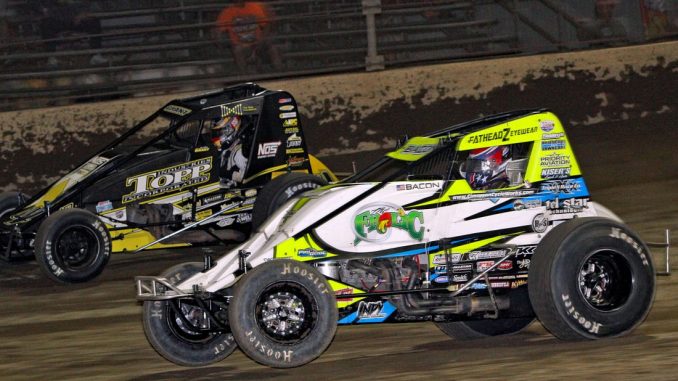 From Richie Murray – USAC Media
SPEEDWAY, Ind. (October 1, 2018) — Nearing the end of the season, a team has one of two directions to go. They can rise to the occasion or wither on the vine.
This past weekend, we saw at least two drivers rise to the occasion when they needed it the most: Justin Grant and Kevin Thomas, Jr., who are hitting their respective strides as the USAC AMSOIL National Sprint Cars move into the month of October where two races lie ahead this weekend west of the Mississippi.
Friday, October 5, the series aims its compass toward Eldon, Missouri and Lake Ozark Speedway for its first trip to the 1/3-mile dirt oval since 2006. The following night, Saturday, October 6, Lakeside Speedway in Kansas City, Kans. returns to the docket for its 19th all-time appearance on the series schedule.
Grant was in a different scenario last year at this point. Heading into October of 2017, Grant was the USAC AMSOIL National Sprint point leader and gunning for the title while Thomas had no points weighing on his shoulders, just winning races were on his mind. This time, the roles are reversed as Thomas holds a 34-point lead in the standings with just eight races remaining and Grant can play the spoiler.
After a tumultuous first seven months of the season, Grant and TOPP Motorsports finally broke through this past weekend with a pair of $10 Grand wins at Indiana's Kokomo Speedway and Lawrenceburg Speedway for their first two victories of the season.
Meanwhile, Thomas' weekend started out sluggish with a 10th at Kokomo. He followed it up with his sixth score of the season at Gas City (Ind.) I-69 Speedway, then added a fifth at Lawrenceburg to punctuate the weekend and stay afloat atop the points in his quest for a first USAC National title.
Momentum is a huge player toward the end of the year. Some find it, and some are seemingly like a ship without a rudder. It behooves the drivers who found the "Big Mo" to avoid doing their Sir Isaac Newton impressions and come back to Earth at this point. This weekend's lone trips to Lake Ozark and Lakeside could be the catalyst in who goes up and who goes down as we hit the balance of the season.
Jerry Coons, Jr. won the most recent series outing at Lake Ozark in 2006 for Dynamics, Inc., the team that Thomas has taken to the threshold of a possible 12th USAC National Sprint Car title at year's end. The only other USAC regular expected to compete in this Friday's race to have USAC Sprint Car experience at Lake Ozark, Dave Darland, finished third that day. The only other occasion the series has visited the Show-Me State this season was a September race won by Jason McDougal at Federated Auto Parts Raceway at I-55 in Pevely.
The USAC AMSOIL National Sprint Cars have made the trip to Missouri 24 previous times with Tyler Courtney of Indianapolis, Ind. winning the most recent occasion in 2017 at Randolph County Raceway in Moberly.
Courtney stands second in points ahead of Canton, Illinois native and St. Louis resident Chris Windom, who's 62 behind leader Thomas while Brady Bacon resides in fourth, out of the race for the title, but by no means has he bowed out of competition for winning races. Broken Arrow, Oklahoma's Bacon won last summer at Lakeside Speedway in Kansas City, Kans., host of this Saturday's race.
There have been 18 previous appearances at the new and old Lakeside Speedways, on both the dirt and pavement, by the series since its first race there in 1963, won by Don Branson. Coming into Saturday night's event, 14 of the 18 past winners at Lakeside are either USAC champions, National Sprint Car Hall of Famers (NSCHOF) or, in some cases, both.
Branson, a 1994 NSCHOF inductee, kicked it off with a Lakeside victory in 1963. By that point, the Rantoul, Illinois driver had already established himself as one of the greats with a USAC Midwest Sprint Car title from 1959 already affixed to his resume. A year following his Lakeside win, Branson captured the National Sprint Car championship and is one of five to achieve honors as a member of the NSCHOF to go along with a USAC National title and a USAC Sprint Car feature win at Lakeside, including Greg Weld, Robbie Stanley and Tony Elliott.
USAC National Champions make up the next group of Lakeside winners. Kenny Irwin, Jr. and Dave Steele never became National Sprint Car titlists. Irwin earned the 1996 National Midget title while Steele was the king of Silver Crown in 2004 and 2005. However, the two were standouts in the sprint car ranks throughout their careers, primarily on the pavement. Lakeside fit them to a T during the 1990s when the track's surface was converted to asphalt and those two took advantage by winning in consecutive years: Irwin in 1995 and Steele in 1996.
Two-time USAC Sprint champ Brian Tyler (1996-97) was the final winner on the Lakeside pavement in 1998. USAC Triple Crown champ J.J. Yeley snared a win following the return to dirt in 2001. Robert Ballou, the 2015 USAC National Sprint Car champ, is the only driver to have scored multiple USAC Sprint wins at Lakeside, tallying consecutive triumphs in 2015 and 2016.
Jud Larson, a NSCHOF inductee in 1992, took Lakeside in 1965. "Outlaw" sprint drivers who made the bulk of their hall of fame careers mainly with the wing – Doug Wolfgang and Smokey Snellbaker – made a rare stop with USAC to win Lakeside in 1978 and 1981, respectively.
Highly successful standout drivers in their own right, 5-time Indy 500 starter/5-time USAC Midget winner Arnie Knepper (1966 Lakeside winner) and six-time Indy 500 starter Carl Williams (1968) won on the old Lakeside Speedway half-mile. Five-time USAC Sprint winner Jim Mahoney (1991), 2016 winner Thomas Meseraull (8 USAC Sprint wins) each have risen to the top at the "new" Lakeside Speedway that opened in 1989.
Grant (8th in points) ran second at Lakeside in 2017 ahead of Windom, Chase Stockon (7th in points), Courtney, Leary (6th in points). Before the last two weekends, the best career USAC finish by Isaac Chapple (10th in points) was a 22nd to 7th charge at Lakeside in 2016. The surging Chapple got a 3rd at Eldora, then followed up with another 3rd at Gas City after leading the first 25 laps of the contest.
Friday at Lake Ozark, pit gates open at 3pm while the front gates open at 5pm. The drivers meeting is slated for 6:30pm with cars on track at 7pm. Adult tickets are $18, senior & military are $16 and kids 7-13 years old are $5. Kids 6 and under are FREE! Adult pit passes are $30, while children's pit passes are $20 for kids age 6-13 years and $3 for small ones age 5 and under.
Saturday at Lakeside, pit gates open at 4:30pm and the front gates open at 5pm. The drivers meeting is a go for 6pm with cars set to hit the track at 6:30pm. Adult general admission tickets are $20, children age 12 and under are FREE. Seniors over the age of 65, plus military and students with proper ID are $15. Pit passes are $30 for adults and $10 for children 6 and under. General admission terrace seats are $25 for adults, $20 for seniors and military. Kids age 6-12 are $8 and 5 and under are FREE. Suite seats are $40 for adults, $20 for kids age 7-12 and $10 for 6 and under.
As with every USAC National race, you can catch both races on-demand a day following the completion of the race on http://www.Loudpedal.TV/. You can listen to the race live on the USAC app, plus follow along with all the action on USAC's social media channels on Twitter: @usacnation, Facebook: USAC Racing and Instagram: @usacnation