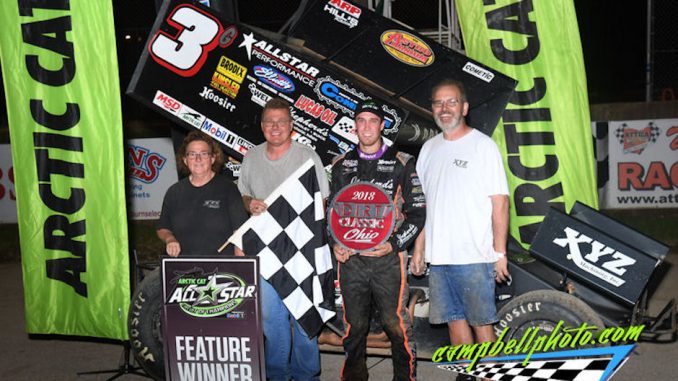 By T.J. Buffenbarger
The move of Carson Macedo to Kyle Larson Racing is the most fascinating "free agent" move this off season to date in the winged sprint car world because it doesn't just involve a driver but also the crew chief. Macedo teaming up with Joe Gaerte on board as crew chief in 2019 at KLR makes the dynamic of this team change a bit different than just changing drivers.
As I discussed in the commentary I wrote about chemistry last week KLR is trying to shorten the learning curve for Macedo. Gaerte brings a healthy working relationship with Macedo and a wealth of experience being on the road as a driver on the World of Outlaws tour. On the surface this might seem like an odd paring personality wise, but it's clear that Macedo and Gaerte really click based on their performances over the past couple of seasons.
Macedo at age 22 still has plenty to learn and will have some growing pains on the road, but I believe is equipped to do that learning on the road with the Outlaws. Any question that he is ready to tackle the next level were answered last August when he stepped into driver's seat at Jason Johnson Racing following Jason Johnson's passing with a maturity and poise that many of his elders would not have shown in the same situation.
That kind of poise will come in handy as Larson's star continues to shine as one of the highest profile drivers in NASCAR. Driving for a team owned by such a high profile person comes with some different responsibilities than just driving for a car owner that may have the means but not the stardom someone like Larson possess.
From seeing some of his first Midwest laps in a winged sprint car around places like Fremont, Attica, and Eldora until this past season Macedo showed tremendous growth. Watching him race with Aaron Reutzel for the All Star Circuit of Champions point title in 2018 was a showcase of the next class of potential World of Outlaws stars.
Most importantly Macedo is a young, talented driver that wants to be a World of Outlaws sprint car driver. Many drivers at his age and talent level would be fishing for a NASCAR stepping stone ride. Macedo gives the impression he wants to be here. While I doubt he would turn down a high level NASCAR opportunity he has a goal of being a World of Outlaws sprint car driver. With that dream coming true for Macedo now we get to see what he can do with the opportunity.