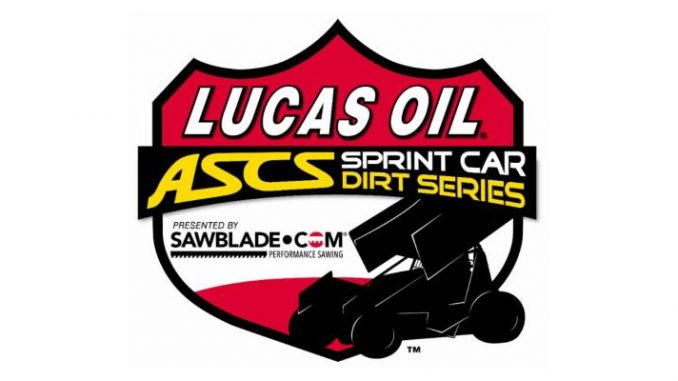 From Bryan Hulbert
TULSA, Okla. (December 7, 2018) – Continuing the partnership of bringing some of dirt track racing's best drivers and events to the masses, the MAVTV Motorsports Network will feature the Lucas Oil American Sprint Car Series presented by Sawblade.com 13 times in 2019.
Taking the MAVTV Motorsports Network to Pennsylvania, the "Battle of the Groves" at Williams Grove Speedway (May 3, 2019) and Selinsgrove Speedway (May 4, 2019) will kick off the 13-race lineup. Moving from east to west, the very popular $15,000 to win Jim Raper Memorial Dirt Cup at Skagit Speedway (June 20-22, 2019) again makes its way to the lineup.
Back into Iowa for the $15,000 to win Knoxville 360 Nationals at Knoxville Raceway (August 2-4, 2019), the next five-figure payday to hit the airwaves will be the $10,000 to win Jesse Hockett/Daniel McMillin Memorial at Lucas Oil Speedway (September 19-21, 2019).
Adding a whole lot of dirt to NASCAR Weekend in Texas for the 2019 Season Finale, Tony Stewart presents the Vankor Texas Sprint Car Nationals at the Texas Motor Speedway Dirt Track (November 1-2, 2019) will wrap up the MAVTV Motorsports Network lineup of events.
Set for a one-hour broadcast on the MAVTV Motorsports Network after the event has taken place, all 13 nights will be shown live in their entity on http://www.lucasoilracing.tv. The Lucas Oil American Sprint Car Series presented by Sawblade.com is shown Saturday's at 10:00 A.M. and 7:00 P.M. (ET).
Owned and operated by Lucas Oil Products, MAVTV Motorsports Network is a television network with its roots deep in the automotive world. MAVTV Motorsports Network offers an unparalleled line-up of exclusive motorsports that includes prestigious events such as the Chili Bowl, The AMA Pro Motocross series, and the Lucas Oil Challenge Cup. MAVTV Motorsports Network also covers multitudes of grassroots series' from across the globe including drag boats, sprint boats, drag racing, pro pulling, rally racing, drifting, dirt racing, ice racing and everything in between plus a package of automotive reality and custom build shows. MAVTV Motorsports Network is available on most major networks across the USA and Canada, including DIRECTV and Spectrum.
Having been a part of the MAVTV lineup since its inception, close to 2,200 hours of Lucas Oil American Sprint Car Series presented by Sawblade.com competition has been shown. With the launch of the Lucas Oil Racing TV (LORTV) app in 2016, fans are now able to go back and watch every Lucas Oil American Sprint Car Series presented by Sawblade.com ever broadcast on the MAVTV Motorsports Network. In addition to past shows, any upcoming events with the MAVTV Motorsports Network are shown live on LORTV, giving drivers, teams, and sponsors a reach that is nearly limitless.
Lucas Oil Racing TV is the first streaming TV network dedicated solely to the world of motorsports – 24 hours a day, 7 days a week. The new network is the world's premier motorsports destination. Programming includes LIVE and pre-taped racing, expanded pre-and post-race action, behind-the-scenes content, unseen interviews, automobile build shows, and an extensive library of national and international motorsports content! The app is available through www.LucasOilRacing.TV for viewing on smartphones and tablets, as well as Amazon Fire TV, Android TV, Android Tablets, and Roku. To subscribe or get more information, please visit http://www.LucasOilRacing.TV
Race-by-race coverage will be provided nightly by Racinboys.com, which remains as the official online broadcast provider of the American Sprint Car Series with each broadcast brought to you by Lucas Oil Products.
For other news, notes, and information on the American Sprint Car Series, from the National Tour to any of the Regional Tours that make up ASCS Nation, log onto http://www.ascsracing.com, follow on Facebook, on Instagram, and on Twitter (@LucasOilASCS).