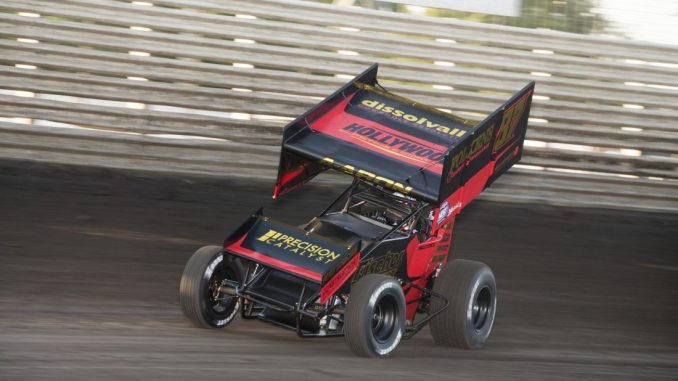 By T.J. Buffenbarger
(August 8, 2019) — Aaron Reutzel bounced back from engine troubles throughout the Kings Royal weekend to end up as the driver with the highest point total following Wednesday preliminary program at the NOS Energy Drink Knoxville Nationals presented by Casey's General Stores. Reutzel was one of two of the top ten qualifiers that was able to transfer to the main event through his heat race. Reutzel followed that up with a solid fifth place finish.
Reutzel was not surprised at his point position based on the issues the other top qualifiers had.
"A lot of high point guys missed the (feature) tonight, so I wasn't too shocked we were high point guy," said Reutzel. We were just fortunate enough to get through our heat race. There was a lot of good guys way back so I knew we would be good in qualifying. That's one of our strong points. The heat race was the one that surprised me to get through our heat as good as we did. The guys gave me a great race car and we had a lot of luck on our side. "
For Reutzel racing at Knoxville this year also means competing approximately one mile down the road where Baughman/Reutzel Racing is based out of. The decision to base out of Knoxville was centered around Reutzel's owner Josh Baughman's desire to compete more in the Midwest, but be centrally located to serve his own team's needs as well.
"I think we based out of here more for Josh Baughman the owner. He likes to race here, Jackson (Minnesota), and around this area. There was a great shop for sale, and it was just a perfect fit for him and still a good fit for us. If we want to just run an outlaw schedule we're centrally located, so it ended up being a really good deal."
One thing the Baughman/Retuzel's team has done this season is field a car for Baughman, Reutzel, and several other guest stars throughout the season at Knoxville. Reutzel said that second car fielded at Knoxville did help with their preparation.
"Anytime you can run multiple cars it helps you out. You can bounce stuff off each other. What they learn, what we learn, and stuff like that. It definitely helps out a lot."
Reutzel indicated he puts more emphasis on the Knoxville Nationals over the past several seasons than any other race, giving him some stress relief knowing he is solidly in Saturday night's finale.
"It's nice. It's a lot of stress relief. I put more thought and preparation into this race than I do anything else," said Reutzel. "This is a one-off car that we have just for this race. Its only run this race the last three years. A lot of time is spent on this one race so it's pretty cool to put it all together and put it in the show."
As of 08/07/2019
1. 87-Aaron Reutzel, 487
2. 7S-Tim Kaeding, 466
3. 13X-Paul McMahan, 465
4. 19-Brent Marks, 464
5. 44S-Trey Starks, 463
6. 18-Ian Madsen, 455
7. 17-Sheldon Haudenschild, 453
8. 9-James McFadden, 450
9. 71-Gio Scelzi, 449
10. 15-Donny Schatz, 447
11. 13-Mark Dobmeier, 444
12. 88-Tanner Thorson, 440
13. 3H-Jac Haudenschild, 424
14. 19P-Paige Polyak, 423
15. 48-Danny Dietrich, 421
16. 99-Brady Bacon, 416
17. 7TAZ-Tasker Phillips, 410
18. 2C-Wayne Johnson, 410
19. 70X-Justin Peck, 410
20. 5J-Jamie Ball, 410
21. 57-Kyle Larson, 406
22. 83J-Lynton Jeffrey, 401
23. 2KS-Austin McCarl, 399
24. 27-Carson McCarl, 397
25. 2M-Kerry Madsen, 396
26. 7X-Justin Henderson, 390
27. 5H-Spencer Bayston, 385
28. 41S-Dominic Scelzi, 384
29. 1S-Logan Schuchart, 384
30. 99X-Skylar Gee, 380
31. 7SW-Jeff Swindell, 377
32. 64-Scotty Thiel, 377
33. 68-Chase Johnson, 364
34. 39-Sammy Swindell, 359
35. 1-Travis Rilat, 356
36. 20-AJ Moeller, 341
37. 18R-Ryan Roberts, 337
38. 11C-Roger Crockett, 329
39. 11-Hunter Schuerenberg, 329
40. 19T-Kevin Thomas Jr., 322
41. 85-Chase Wanner, 309
42. 45-Rusty Hickman, 305
43. 51-Freddie Rahmer, 302
44. 9X-Jake Bubak, 294
45. 1X-Don Droud Jr., 294
46. 74-Brodie Tulloch, 277
47. 56-Joe Simbro, 270
48. J4-John Garvin, 269
49. 73AF-Joey Moughan, 267
50. 56N-Davey Heskin, 258
51. 2MM-Matt Moro, 256
52. 35-Zach Hampton, 227
53. 75-Glen Saville, 226