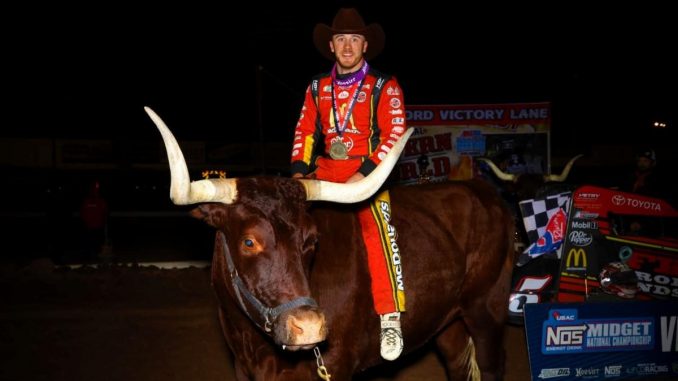 By T.J. Buffenbarger
(November 18, 2019) — With the season winding down a handful of great moments throughout the weekend were still worth pointing out. To change things up for this edition I went with a theme of people outside their comfort zone and performing well.
When the topic of road racing comes up Kody Swanson is not a name that comes to mind. Swanson took steps to change that this weekend by participating in the HSR Classic 24 at Daytona International Speedway over the weekend driving a Ford GT for Kevin Doran.

Swanson was up to speed quickly and won his class in the sprint race. Later in the weekend Swanson was a part of the winning team in his car's class in the 24-hour event with co-driver Brad Jaeger, scoring a third-place finish overall in the GT category.

HSR Classic 24 Hour in the books! @KodySwanson & Brad finished 1st in class and 3rd in overall GT. We had a blast this week with the whole Doran Team & everyone that was a part of this group!@DISupdates @IMSA @HSRClassic24 pic.twitter.com/vIuXEIiLRL

— Jordan Swanson (@kodys_jo) November 17, 2019

One of the great mysteries of racing the past two or three seasons is Swanson not getting a quality opportunity in IndyCar or some sort of top echelon of racing. Swanson's skill set could transfer well to road racing. It will be interesting to see if he can pick up a drive in a professional category.
When Conor Daly began making starts during the IndyCar off season in midgets it raised a few eyebrows. IndyCar drivers rarely stray from their discipline unless its more road racing or a venture into stock car racing. After getting his feet wet indoors Daly has ventured outdoors more frequently to take on the USAC midget ranks.

Daly has managed to improve with every start and is hooked up with a topflight team with Petrey Motorsports for his latest exploits with the USAC National Midget Series. Daly raised some eyebrows on Saturday getting up on the cushion and driving his way into a transfer spot in the B-Main. For someone that started with zero dirt racing experience and makes very infrequent starts Daly has made a lot of progress.

Watch @ConorDaly22 rip the top to transfer out of the Semi into the A-Main. #WesternWorld #Toyota #TeamPetry pic.twitter.com/zr7L69xXZG

— Petry Motorsports (@PetryMotorsprts) November 17, 2019

I admire Daly for a taking a chance and running a type of race car that most of his contemporaries would never dream of climbing in. Hopefully for Daly it translates into more success with the midget and his day job with IndyCar.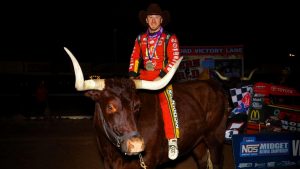 With certain events there seems to be some one-upmanship with the victory lane celebrations. The Western World at Arizona Speedway over the weekend did not want to be outdone by pyrotechnics at Eldora or the actual bear that goes to victory lane at the Grizzly Nationals at Gallatin Speedway. The Western World victory lane was graced by an actual bull. Both Kevin Thomas Jr. and Brady Bacon were pictured riding the animal after their victories on Friday and Saturday.

The Turkey Night Grand Prix may have to step up their game and provide its namesake alive, frozen, or cooked.