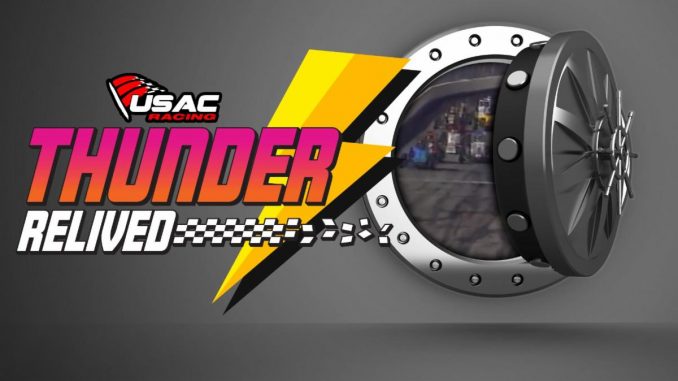 From USAC
Speedway, Indiana (March 18, 2020)………USAC has announced a new racing video show that will highlight classic USAC events and feature a roundtable discussion and analysis from some of the key figures in the sport, which will air weekly, each Thursday and Saturday night, at 8pm Eastern on FloRacing at http://bit.ly/38YVWHC.
Thunder Relived will take you under the helmet and in-depth with USAC personalities past and present as we revisit all the thrills, spills and the greatest moments from USAC's vast Sprint, Midget and Silver Crown video vault.
First up on the docket for Thunder Relived live this Thursday, March 19 at 8:00 PM EST, on FloRacing will be the 2003 Mopar Million USAC Sprint Car event from Rossburg, Ohio's Eldora Speedway. The event featured the highest car count ever for a USAC race at 138 and still remains the highest paying USAC Sprint Car race of all-time with a $1 million purse and a $200,000 winner's share.
On Saturday, March 21, we'll look back on the 1987 USAC National Sprint Car event at Santa Fe Speedway in Hinsdale, Ill. It was the first ever dirt USAC Sprint Car race aired live on the Thursday Night Thunder program with a legendary driver and car owner taking the checkered flag for the first time with the series in one of the closest finishes in USAC Sprint Car history.
Those two episodes will have commentary from seven-time USAC National driving champion and Executive Vice President of USAC, Levi Jones, plus USAC National Race Director Kirk Spridgeon and USAC Media Relations' Richie Murray.
Future episodes of Thunder Relived will have drivers past and present reliving some of their greatest triumphs and most memorable moments during the one-hour program.
Stay tuned to USAC's website, www.USACracing.com, and social media channels www.twitter.com/usacnation, www.facebook.com/usacracing and www.instagram.com/usacnation, for more information on Thunder Relived.