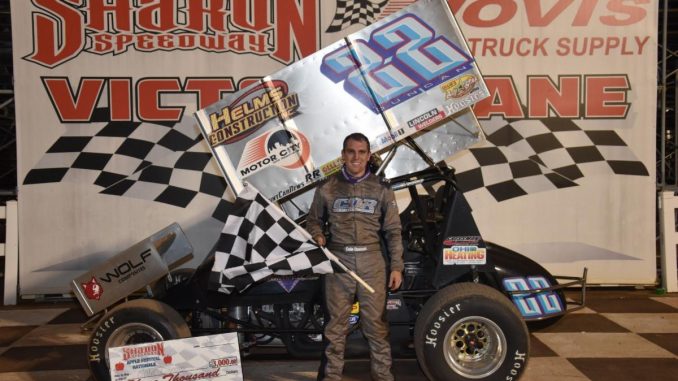 By Mike Leone
Hartford, OH September 12, 2020 After returning to racing on Friday night following a two-month layoff due to COVID-19 pandemic restrictions set forth by the Ohio Department of Health, Sharon Speedway wrapped up the annual "Apple Festival Nationals" on Saturday night. Celebrating in the Hovis Auto & Truck Supply victory lane were Cole Duncan-"410" Sprint Cars, Chris Schneider-Penn-Ohio Pro Stock Championship Series, Jeremy Double-"Kyle Miller Memorial" for the Elite Econo Mod Series, and Chas Wolbert-HTMA/Precise Racing Products RUSH Sportsman Modifieds. The four-division program attracted 125 racers as a total of 190 overall participated amongst the seven divisions in two days.
Central Ohio invader Cole Duncan has taken a liking to the red clay surface at Sharon Speedway. Duncan raced from the fourth starting spot to the lead on lap 19 passing Dan Kuriger and kept Lee Jacobs at bay over the final five laps to capture the $3,000 "410" Sprint Car feature win. Duncan became the fourth different winner in four races this year with his third career win- all coming since opening night 2019 in a limited number of starts.
"This place is so cool- every time we come here it never disappoints," expressed the 28-year-old Circleville, Ohio driver. "It's a really fun race track. We were really, really good early. Kuriger was really good too, but I felt like I could start rolling the middle and that's where I got him in lapped traffic. I think he was actually better in open track. Then when I got the lead, I didn't feel as good after those restarts not having as much grip in turns three and four so I was hoping those guys wouldn't be searching around. I felt them there and knew I had to go as hard as I could and keep the tires under me. You look up and see Lee there- he's been doing this quite awhile and there's a lot of tradition in the Jacobs Family. It's good to race with those guys. I'm glad there was a good field of cars as it makes it more special."
Kuriger used the topside of the speedway to race to the early lead over former track champion Jack Sodeman, Jr. with Duncan advancing to third. Duncan raced hard with Sodeman in a side-by-side battle for second on lap three. Meanwhile, Kuriger caught lapped traffic on lap five and by lap seven it was a four-car race for the lead with Brandon Spithaler joining in. Duncan finally was able to make the pass for second stick driving under Sodeman in turns one and two on lap 10.
Kuriger dealt with heavy lapped traffic on lap 14 as Duncan was on the prowl; meanwhile, it was a three-car race now for third as Sodeman had his hands full with Spithaler and Carl Bowser. Bowser was on the move as he took fourth from Spithaler on lap 15 and one lap later grabbed third from Sodeman. Back up front, Duncan caught Kuriger and the two raced side-by-side for the lead on lap 16. Kuriger was doing a nice job in traffic, but on lap 19 Duncan performed the same move in turns one and two that he did on Sodeman for second, but this time for the lead.
After 20 non-stop laps to start the feature, Logan McCandless spun to bring out the caution. One more lap was scored before Frankie Nervo got upside down in turn three. He was okay. Before the stoppages, seventh starting Jacobs was on the charge moving into the top five. Jacobs then took fourth on the restart. On lap 23, Bowser and Jacobs moved past Kuriger for second and third. After racing from 16th to fifth, George Hobaugh caught an infield tire and turned his car on its side to bring out the event's final stoppage with 24 laps scored.
When racing resumed on lap 25, Jacobs overtook Bowser for second. Jacobs went after Duncan, and cut into the deficit but Duncan had enough to withstand Jacobs' charge taking the victory by just 0.698 of a second in his Ohio Heating/Helms Construction/Motor City/I.S.P.C./Wolf Composites-sponsored #22. Bowser was third. Dan Shetler came on late to finish fourth after starting 12th. Spithaler was fifth. After leading the first 18 laps, Kuriger dropped to sixth over Sodeman, Ricky Peterson, Brandon Matus from 17th, and Adam Kekich from 24th. Henry Malcuit set fast time overall in qualifying with a lap of 13.868. Heat winners over the 26-car field were Nervo, Malcuit, and Spithaler.
Chris Schneider has never been a full-time weekly competitor at Sharon Speedway, but when the #55 shows up he's generally the car beat taking numerous high dollar Stock Car wins over the years. On Saturday night, Schneider started seventh, passed Curt J. Bish on lap 15, and went mostly unchallenged over the remaining laps to capture the $2,000 payday for the Penn-Ohio Pro Stock Championship Series. Twenty-seven cars started the 25-lap feature, which went non-stop in 8:20.450.
"We have Sharon dialed in," stated the 41-year-old Lower Burrell, Pa. standout. "This is my favorite place to race. The surface is great, the facility is great, the management is great; we just love it here. I felt I could run anywhere on the race track, but once I got the lead I kind of just stuck on the inside. I didn't see anyone poking around on the outside, but I think I could have run middle to high; the car felt like it could go anywhere. I want to thank Penn-Ohio for keeping this Series going, the track management for keeping the track going, and all of the fans for coming out to see us."
From the pole position, Leigh Wheeler set the pace for the first three laps before Bish took over. Schneider was already up to third on lap five taking the spot from Randy Wyant, and two laps later grabbed second from Wheeler. Schneider found himself a half-straightaway behind leader Bish, but was able to methodically track him down. He caught him in lapped traffic on lap 15 and made the winning move that same very same lap. Bish stayed within striking distance until hitting an infield tire late allowing Schneider to pull away by a winning margin of 1.237 seconds.
Schneider's 13th career Sharon win came in the Nick Chevrolet/It's All Clean Pressure Washing/SS Chassis/Hot Dog Guys-sponsored #55. Bish, who won last year's $10,000 "Steel Valley Pro Stock Nationals", earned $1,000 for second. Wyant was third over Chris McGuire. After getting up to third on lap 14 and was on the charge, Alan Dellinger faded to fifth at the finish. Completing the top 10 were Noah Brunell, Shaun Hooks, Curt Bish, Jr., Corey McPherson, and Jackson Humanic. Winning Friday night's heat races over the 43-car field were McGuire, Bobby Whitling, Brunell, Dellinger, and Schneider. The last chance B mains went to Andrew Gordon and Jamie Barber.
Alan Dellinger and Ty Rhoades led the 25-lap "Kyle Miller Memorial" for the Elite Econo Mod Series to green, but the front row starters suffered major terminal issues on lap three, which allowed fourth starting Jeremy Double to fly into the lead. Double would then survive nine restarts to end nearly a six-year winless drought with his first win on the red clay surface at Sharon. Double's last win came back on September 20, 2014. Double biggest career victory was worth well over $2,300 after bonuses were paid!
"Ty (Rhoades) blew up and it would have been good to get team cars one-two so that sucks to see him not finish but it worked out for me so I'm definitely happy about that," explained the 24-year-old Bristolville, Ohio resident. "The track is awesome. I'm so happy to finally win here once they got the red clay. If I didn't win tonight it was going to be six years without winning a race. I have to thank Josh Christopher for everything he has done for this Series to get us races like this; it's really cool for this division. My mom and dad are in Tennessee now so they don't get to come and watch the races anymore and that's disappointing. I'm sure my dad watched Race Monitor so he's probably pretty pumped at home."
Other than the long green flag run between laps 10-22 when Double had stretched his lead out importantly leading lap 15 for a $515 bonus, he had Coleton Longwell, Nate Young, and 2019 track champion Dustin DeMattia all over him throughout the nine restarts over the course of the final 21 laps. In fact, Longwell actually took the lead on one of the late race restarts only to have a caution negate the pass.
Despite six years between victories, Double's $1,515 base win in his Honey Lab/Basich Racing Fuels/Wedge Motorsports/2 Brothers Motorsports/Russ King Racing/Mahan Welding & Fab/King Bros.-sponsored #83 was still the 14th of his career good enough for third on the all-time win list now just one behind Steve Haefke.
Longwell's second was his best ever finish at Sharon. Young started third and finished third. DeMattia, who won on opening night back on June 27, was fourth. Andy Buckley raced from 11th to fifth. Completing the top 10 were Matt Alexander, Kyle Layton, Russ Dunn, Bob Vogt, Jr., and Chris Schneider, who did double duty. Winning Friday's $100 heat races were Double, Young, Rhoades, and Dellinger over the 32-car field. George Vestal IV won the last chance B main and earned $50.
Chas Wolbert brought down the curtain on the 2020 "Apple Festival Nationals" winning his biggest race of the year worth $800 in the 20-lap HTMA/Precise Racing Products RUSH Sportsman Modified feature part of the "Route 7 Rumble" Series presented by Wedge Motorsports. Wolbert's second Sharon victory of the year allowed him to maintain his lead in the Pace Performance RUSH Weekly Series Championship standings.
"We're blessed to be here at Sharon Speedway," expressed the 26-year-old Warren, Ohio winner. "You appreciate things a lot more when you don't have them. I want to thank all of the fans because I know the drivers are excited to be here for two nights. I have to thank God because without him none of us would be here. I want to thank the RUSH Series for having us here along with Dave Willoughby of Sharon Speedway- all of the crew here is great. I want to thank my dad, wife, all my crew guys, and all of my sponsors."
Rob Kristyak powered around Josh Deems to lead the opening lap. It was three-wide for the lead on laps two and three with Kristyak, Deems, and Wolbert battling it out. Wolbert made a great move going through the middle for the winning move on the third lap before a caution for Ayden Cipriano. Two more cautions were all that slowed Wolbert from his all-time division leading 15th career Sharon win in his Alcon Mechanical/Dunkin Donuts of Warren, OH/C.T. Wolbert Trucking/Walters Building Co./Ohio Intra Express/Russ King Racing/Sawtelle Tree-sponsored #c3.
While Wolbert was not seriously challenged, the racing from second through sixth was tremendous as there were numerous position changes. After a third place finish on Friday night, Deems did one better on Saturday night taking home the runner-up spot. Two-time track champion, Kole Holden, had raced from sixth to third in six laps only to lose the spot for good on lap eight to Kristyak, who recorded his second podium finish in as many nights.
Holden was fourth over 11th starting Jim Rasey. Rounding out the top 10 were Eric Gabany, D.J. Schrader, Jacob Wolfe, Tony Tatgenhorst, and Brandon Ritchey. Heat race winners over the 24-car field were Holden, Jordan, Cipriano. A total of 29 different RUSH Sportsman Modifieds competed over the two days. Special thanks to Alcon Mechanical, C&R Tire, Jerry Rents, Ohio Intra Express, and T&C Automotive for the sponsorship to allow the RUSH Sportsman Modifieds to have a complete show on Friday night as well.
"410" Sprint Cars (30 laps, $3,000 to-win): 1. COLE DUNAN (22) 2. Lee Jacobs (Lewis 81) 3. Carl Bowser (11) 4. Dan Shetler (7K) 5. Brandon Spithaler (22) 6. Dan Kuriger (08) 7. Jack Sodeman, Jr. (23Jr) 8. Ricky Peterson (2) 9. Brandon Matus (13) 10. Adam Kekich (5K) 11. Jeremy Kornbau (27K) 12. R.J. Jacobs (18J) 13. Henry Malcuit (70) 14. Darren Pifer (23) 15. Leyton Wagner (38) 16. Joe Kubiniec (19) 17. Russ Sansosti (23s) 18. Logan McCandless (29) 19. Davey Jones (76) 20. Ivan Johnson (1L) 21. George Hobaugh (40) 22. Brent Matus (33) 23. Frankie Nervo (21N) 24. Ryan Beatty (Peluso 3) 25. Michael Bauer (Pryde 29)-DNS 26. Dan McCarron (22M)-DNS.
Apple Festival Nationals
Sharon Speedway
Hartford, Ohio
Saturday September 12, 2020
Qualifying Group #1:
1. 22D-Cole Duncan, 14.074
2. 19-Joe Kubiniec, 14.236
3. 29M-Logan McCandless, 14.313
4. 21N-Frankie Nervo, 14.317
5. 8-Dan Kuriger, 14.322
6. 40-George Hobaugh, 14.366
7. 22M-Dan McCarron, 14.541
8. 23s-Russ Sansosti, 14.742
9. 76-Davey Jones, 14.752
Qualifying Group #2:
1. 70-Henry Malcuit, 13.868
2. 5K-Adam Kekich, 13.869
3. 29-Michael Bauer, 14.150
4. 2-Rickey Peterson, 14.181
5. 81-Lee Jacobs, 14.191
6. 18J-R.J. Jacobs, 14.245
7. 23-Darren Pifer, 14.366
8. 33-Brent Matus, 14.614
9. 13-Brandon Matus, 14.627
Qualifying Group #3:
1. 7K-Dan Shetler, 14.140
2. 23J-Jack Sodeman, Jr, 14.140
3. 11-Carl Bowser, 14.154
4. 22-Brandon Spithaler, 14.343
5. 27K-Jeremy Kornbau, 14.580
6. 38-Leyton Wagner, 14.801
7. 1L-Ivan Johnson, 15.246
8. 3-Ryan Beatty, 15.529
Heat Race #1:
1. 21N-Frankie Nervo
2. 19-Joe Kubiniec
3. 8-Dan Kuriger
4. 22D-Cole Duncan
5. 29M-Logan McCandless
6. 40-George Hobaugh
7. 76-Davey Jones
8. 23s-Russ Sansosti
9. 22M-Dan McCarron
Heat Race #2:
1. 70-Henry Malcuit
2. 2-Rickey Peterson
3. 81-Lee Jacobs
4. 18J-R.J. Jacobs
5. 23-Darren Pifer
6. 13-Brandon Matus
7. 33-Brent Matus
8. 29-Michael Bauer
DNS: 5K-Adam Kekich
Heat Race #3:
1. 22-Brandon Spithaler
2. 11-Carl Bowser
3. 23J-Jack Sodeman, Jr
4. 7K-Dan Shetler
5. 27K-Jeremy Kornbau
6. 3-Ryan Beatty
7. 1L-Ivan Johnson
8. 38-Leyton Wagner