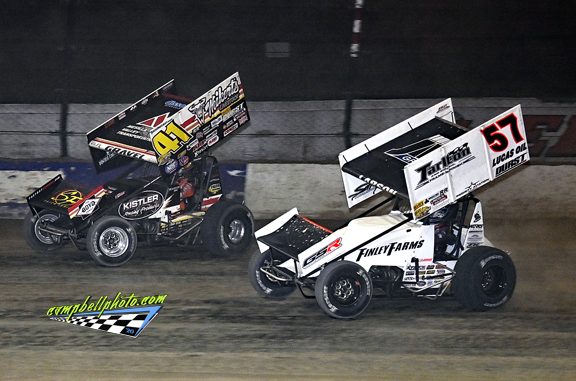 By TJ Buffenbarger
There may not have been fans present at Eldora Speedway for the Governor's Reign, but the drivers brought the energy to fans at home with a thrilling main event on Wednesday at Eldora Speedway. Here are a few of my takeaways following the great night of racing at Eldora.
While most of the post-race attention was on the close finish between David Gravel and Kyle Larson along with Larson's incredible dive on the final lap, Gravel's quick disposal of slower traffic was the key to his victory on Wednesday at Eldora. Gravel was able to open considerable distance between himself and Larson at different points in the feature by getting by slower traffic. Gravel appeared to get a tremendous drive off the bottom of turns three and four he could counter the momentum others were carrying on the top of the track.

While Larson not changing lines until the final two laps had some impact on the finish, Gravel's ability to use that lower line and open up distance in traffic instead of losing it gave him just enough distance to cross the finish line first. Gravel's performance through slower traffic as a whole was as impressive as Larson's momentum on the final corner.

While a lot of the discussion has been centered around which NASCAR Cup Ride Larson may get into for 2021, performances like Wednesday's make me wonder if a stock car team might give Gravel a more extensive schedule on the pavement than the handful of NASCAR Truck and ARCA events he competed in this season?

If that is an option for Gravel it wouldn't be cut and dry. It would be similar to anyone who has a really good job. Right now Gravel with the Jason Johnson Racing team more often than not are on their game. If Gravel were to take another opportunity outside of sprint car racing there is no guarantee it would be the same quality or chemistry that he has now in sprint car racing. If that is a decision that Gravel is looking to or has to make I do not envy him because the current motorsports landscape makes the decision much more difficult. Selfishly I hope we have Gravel in sprint car racing for years to come, but my instincts tells me Gravel will move onto something different in motorsports at some point in the near future. If that near future is months or years is yet to be seen. In the meantime, I'm going to enjoy his performances while he is still entrenched in sprint car racing.
Even when Larson does not win, he still finds ways to amaze me. This time Larson methodically moved up from 10th starting spot to put himself in position to win on Wednesday. Once he changed his lines in turns one and two it became apparent that Larson might be able to try some sort of move, but I never thought he would get as close as he did to passing Gravel on that final lap. The momentum he carried through turns three and four was amazing to watch.

Through the entire COVID-19 situation and Larson's unexpected dirt rack schedule this year has not been lost upon me. I've often wondered aloud what sprint car racing would look like if the sport had Larson for an entire season, and for the most part we got to see that this year. Wednesday's race at Eldora is just another amazing moment we can file in the memory bank from Larson's amazing summer.
Eldora Speedway's staff should be commended for holding three high paying events this year without fans present. It was a huge risk and likely had little to no return for the facility itself other than keeping it in our consciousness during this challenging summer.

Floracing.com did a great job on Wenesday presenting us the product with multiple camera angles, but without switching cameras and angles too frequently and taking advantage of multiple boxes to watch action from different angles at the same time.

Wednesday was as much of a win for an event as you could get without having race fans present. Hopefully we can return to the Big E next year, grab a pizza burger and a toilet water, and watch some of the greatest racing in the world….in person.