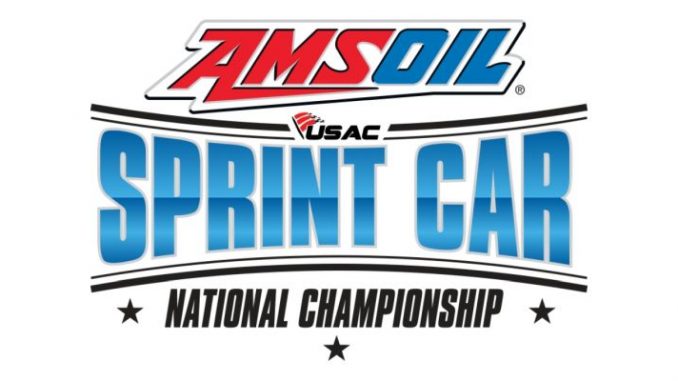 By Richie Murray
Lawrenceburg, Indiana (September 29, 2020)………In the course of a USAC AMSOIL National Sprint Car season, many variables are at play in determining the championship frontrunners, with tracks of various lengths, banking and the like, plus the rigors of the road and a long stretch of races that can take its toll both physically, mentally and mechanically.
With one final race left this Saturday night, Oct. 3, at Indiana's Lawrenceburg Speedway and the $10,000-to-win Fall Nationals, there's only one factor, one race, one track to decide it all.
However, all those items mentioned in the opening paragraph have helped one driver get a bit of a head start toward the goal of a championship based on his performances in the events run up to this point.
That's Brady Bacon (Broken Arrow, Okla.), the leading championship contender, who possesses a 30-point lead over Chris Windom (Canton, Ill.). Chase Stockon (Fort Branch, Ind.), who runs third in the standings, is 40 points out of the lead and is the driver with the biggest hill to climb to reach the summit of a championship.
But all is plausible in this game. All it takes is a single "off" night for one individual and a superb night for another to make up that ground in no time flat. With a maximum of 84 points possible Saturday at Lawrenceburg, anything is possible. A perfect night entails six points for fast qualifying time, eight for a heat win and 70 to capture a feature victory.
We've dug through all the past USAC National Sprint Car appearances at Lawrenceburg for Bacon, Windom and Stockon, and it's pretty striking to see.
All three drivers have exactly one previous USAC National Sprint Car feature win at Lawrenceburg – Stockon (2012), Bacon (2015) and Windom (2017). In 24 previous starts, Bacon leads the other two in terms of average qualifying position (8.4) and feature finishing position (5.8). He's also led the most number of races between the three (7) for the most number of laps (97).
Bacon and Windom have each won seven USAC Sprint heat races at "The Burg" in their careers. Windom has the largest sample size of previous experience at Lawrenceburg with 31 starts in 32 appearances. His average qualifying position of 8.8 and average feature finish of 8.5 are solid but will most likely have to be better to catch Bacon on Saturday. His 15 top-5 finishes in those 31 previous starts top all three title contenders.
Stockon's 23 starts have produced an average qualifying position of 11.8 and an average finish of 10.9. He's led two of those races for a total of 39 laps and was the first among the three to win a USAC race at Lawrenceburg in 2012, which also served as Stockon's first career series victory.
Perhaps, for some, those Lawrenceburg performances in the early years of their career should be stricken from the record as that was when they were just gaining experience. Although, Bacon did nearly win his 2007 Burg USAC Sprint debut, finishing 2nd to Levi Jones after leading all but the final lap, so let's take a deeper look at each of these three wheelmen's starts at Lawrenceburg since the beginning of the 2018 season.
In that five-race time frame from 2018 through the summer of 2020, Bacon's 6.8 average qualifying time bests all three and his average finish of 4.2 has been excellent. Windom's average qualifying position of 10th isn't eye-catching, but it's improved each time over the past five races since 2018. His 3.4 average finish includes top-five finishes in all five starts since that point, which leads all drivers. Stockon's qualifying performances have resulted in top-four time trial runs in each of his last four appearance, and an average finish of 8.6 in the feature.
Stats of the past are interesting to look at but won't tell the entirety of the tale this Saturday. That will be decided on the track and not on calculators. One night, one track and three drivers. That's where it'll be decided.
Pits open for Saturday's Fall Nationals at 3pm Eastern, front gates open at 5pm, drivers meeting at 5:30pm, hot laps begin at 6pm and opening ceremonies at 7pm. The event features the USAC AMSOIL Sprint Car National Championship and KOI Auto Parts UMP Modifieds. Adult general admission tickets are $25, kids 7-12 are $7, children 6 and under are free. Pit passes are $35 apiece.
Saturday's Fall Nationals from Lawrenceburg can be watched LIVE on FloRacing at https://bit.ly/2Zs7zFP.
—————————————
PAST LAWRENCEBURG USAC NATIONAL SPRINT CAR PERFORMANCES:
BRADY BACON
24 Appearances * 24 Starts * Average Qualifying Position: 8.4 * Average Feature Finishing Position: 5.8 * Led 7 races for a total of 97 laps * 7 Heat Race wins * 1 Feature win * 12 Top-5 finishes
4/21/2007: Qualified 3rd, Ran 4th in Heat, Finished 2nd in Feature – Led 29
7/11/2007: Qualified 6th, Ran 2nd in Semi, Finished 3rd in Feature – Led 14
7/12/2007: Qualified 8th, Ran 4th in Heat, Finished 8th in Feature
7/9/2008: Qualified 24th, Ran 1st Heat, Finished 8th in Feature
7/10/2008: Qualified 16th, Ran 4th in Heat, Finished 8th in Feature
10/2/2009: Qualified 2nd, Ran 2nd in Semi, Finished 20th in Feature
4/6/2013: Qualified 12th, Ran 2nd in Heat, Finished 3rd in Feature
7/14/2013: Qualified 4th, Ran 3rd in Heat, Finished 3rd in Feature
9/28/2013: Qualified 9th, Ran 1st in Semi, Finished 9th in Feature
4/5/2014: Qualified 6th, Ran 1st in Semi, Finished 4th in Feature
9/27/2014: Qualified 4th, Ran 1st in Heat, Finished 2nd in Feature
4/4/2015: Qualified 14th, Ran 3rd in Heat, Finished 7th in Feature
7/12/2015: Qualified 2nd, Ran 3rd in Heat, Finished 1st in Feature – Led 24
10/3/2015: Qualified 10th, Ran 1st in Heat, Finished 4th in Feature – Led 1
4/2/2016: Qualified 5th, Ran 3rd in Heat, Finished 12th Feature
7/10/2016: Qualified 13th, Ran 1st in Heat, Finished 7th in Feature
10/1/2016: Qualified 15th, Ran 1st in Heat, Finished 9th in Feature
7/9/2017: Qualified 5th, Ran 4th in Heat, Finished 2nd in Feature – Led 2
9/30/2017: Qualified 9th, Ran 4th in Heat, Finished 6th in Feature
7/22/2018: Qualified 18th, Ran 1st in Heat, Finished 3rd in Feature
9/29/2018: Qualified 3rd, Ran 1st in Heat, Finished 2nd in Feature – Led 11
7/21/2019: Qualified 3rd, Ran 1st in Semi, Finished 6th in Feature
10/5/2019: Qualified 5th, Ran 4th in Heat, Finished 7th in Feature – Led 16
7/26/2020: Qualified 5th, Ran 3rd in Heat, Finished 3rd in Feature
CHRIS WINDOM
32 Appearances, 31 Starts * Average Qualifying Position: 8.8 * Average Feature Finishing Position: 8.5 * Led 3 races for a total of 52 laps * 7 Heat race wins * 1 Feature win * 15 Top-5 finishes * Has 1 USAC National Midget win at Lawrenceburg
4/21/2007: Qualified 28th, Ran 1st in Heat, Finished 15th in Feature
7/11/2007: Qualified 10th, Ran 3rd in Heat, Finished 4th in Feature
7/12/2007: Qualified 12th, Ran 4th in Semi, Finished 7th in Feature
7/9/2008: Qualified 10th, Ran 4th in Heat, Finished 12th in Feature
7/10/2008: Qualified 8th, Ran 5th in Heat, Finished 9th in Feature
4/18/2009: Qualified 23rd, Ran 1st in Heat, Finished 14th in Feature
10/2/2009: Qualified 6th, Ran 4th in Heat, Finished 3rd in Feature – Led 19
4/17/2010: Qualified 11th, Ran 3rd in Heat, Finished 2nd in Feature
7/9/2010: Qualified 18th, Ran 1st in Heat, Finished 22nd in Feature
7/10/2011: Qualified 8th, Ran 3rd in Heat, Finished 2nd in Feature
10/1/2011: Qualified 10th, Ran 1st in Heat, Finished 2nd in Feature
7/15/2012: Qualified 6th, Ran 4th in Heat, Finished 25th in Feature – Led 3
9/29/2012: Qualified 4th, Ran 3rd in Heat, Finished 2nd in Feature
4/6/2013: Qualified 9th, Ran 4th in Semi, Finished 23rd in in Feature
7/14/2013: Qualified 19th, Ran 1st in Heat, Finished 16th in Feature
9/28/2013: Qualified 14th, Ran 4th in Heat, Finished 10th in Feature
4/5/2014: Qualified 10th, Ran 2nd in Heat, Finished 13th in Feature
9/27/2014: Qualified 20th, Ran 4th in Heat, Finished 9th in Feature
4/4/2015: Qualified 32nd, Used Provisional, Finished 22nd in Feature
7/12/2015: Qualified 15th, Ran 4th in Heat, Finished 9th in Feature
10/3/2015: Qualified 17th, Ran 1st in Heat, Finished 5th in Feature
4/2/2016: Qualified 21st, Did Not Make Feature
7/10/2016: Qualified 11th, Ran 1st in Heat, Finished 3rd in Feature
10/1/2016: Qualified 6th, Ran 5th in Heat, Finished 2nd in Feature
4/1/2017: Qualified 8th, Ran 3rd in Heat, Finished 1st in Feature – Led 30
7/9/2017: Qualified 12th, Ran 4th in Heat, Finished 6th in Feature
9/30/2017: Qualified 2nd, Ran 4th in Heat, Finished 7th in Feature
7/22/2018: Qualified 19th, Ran 2nd in Heat, Finished 4th in Feature
9/29/2018: Qualified 20th, Ran 2nd in Semi, Finished 4th in Feature
7/21/2019: Qualified 11th, Ran 2nd in Semi, Finished 2nd in Feature
10/5/2019: Qualified 8th, Ran 1st in Semi, Finished 5th in Feature
7/26/2020: Qualified 2nd, Ran 3rd in Heat, Finished 2nd in Feature
CHASE STOCKON
24 Appearances, 23 Starts * Average Qualifying Position: 11.8 * Average Feature Finishing Position: 10.9 * Led 2 races for a total of 39 laps * 5 Heat race wins * 1 Feature win * 5 Top-5 finishes
10/2/2009: Qualified 30th, Ran 3rd in Heat, Finished 24th in Feature
7/9/2010: Qualified 19th, Did Not Make Feature
10/1/2011: Qualified 27th, Ran 8th in Heat, Finished 18th in Feature
7/15/2012: Qualified 11th, Ran 3rd in Heat, Finished 9th in Feature
9/29/2012: Qualified 7th, Ran 4th in Heat, Finished 1st in Feature – Led 30
4/6/2013: Qualified 3rd, Ran 1st in Heat, Finished 2nd in Feature – Led 9
7/14/2013: Qualified 5th, Ran 4th in Heat, Finished 24th in Feature
9/28/2013: Qualified 8th, Ran 3rd in Heat, Finished 2nd – Led 15
4/5/2014: Qualified 12th, Ran 1st in Heat, Finished 6th in Feature
9/27/2014: Qualified 8th, Ran 3rd in Heat, Finished 6th in Feature
4/4/2015: Qualified 2nd, Ran 1st in Semi, Finished 6th in Feature
7/12/2015: Qualified 10th, Used a Provisional, Finished 16th in Feature
10/3/2015: Qualified 12th, Ran 4th in Heat, Finished 7th in Feature
4/2/2016: Qualified 17th, Ran 1st in Heat, Finished 4th in Feature
7/10/2016: Qualified 26th, Ran 6th in Semi, Finished 12th in Feature
10/1/2016: Qualified 5th, Ran 4th in Semi, Finished 11th in Feature
4/1/2017: Qualified 2nd, Ran 1st in Heat, Finished 23rd in Feature
7/9/2017: Qualified 30th, Used a Provisional, Finished 22nd in Feature
9/30/2017: Qualified 14th, Ran 1st in Heat, Finished 14th in Feature
7/22/2018: Qualified 22nd, Ran 2nd in Heat, Finished 13th in Feature
9/29/2018: Qualified 4th, Ran 5th in Heat, Finished 8th in Feature
7/21/2019: Qualified 2nd, Ran 2nd in Semi, Finished 8th in Feature
10/5/2019: Qualified 3rd, Ran 4th in Heat, Finished 10th in Feature
7/26/2020: Qualified 3rd, Ran 2nd in Heat, Finished 4th in Feature