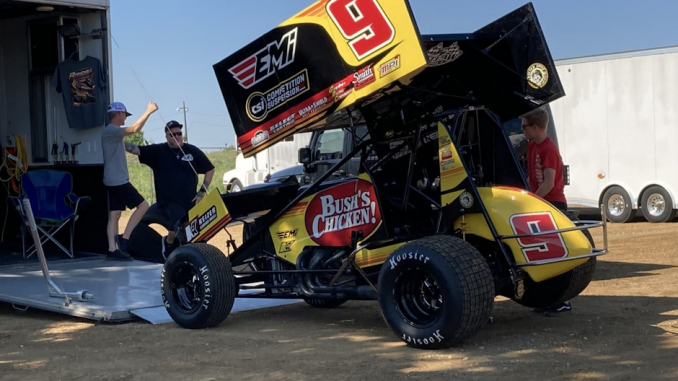 From Darin Short
WACO, Texas (June 25, 2021) — Fresh off his first ever Bandits Outlaw Sprint Series win at KENNEDALE SPEEDWAY PARK just six days earlier, 16-year-old Chase Randall would collect his second victory in a row at Heart O' Texas Speedway during "Musclin' in the Dirt" for MDA on Friday June 25th.
But it was far from a cake walk.
When the green flag was unfurled at the beginning of the 25-lapper, top qualifier Claud Estes III would vault out to the lead by 5 car lengths only to get passed at the end of the first circuit by John Ricketts in the Cabinets by Tommy sprinter.
Estes would battle back as the pair raced side-by-side for a half a lap when Ricketts would find grip on the bottom groove and pull out to an eight car-length lead.
While Ricketts and Estes would race around the bottom, Randall would experiment with various high and middle lines. His momentum in the middle of the track would allow him to cruise by Estes on the high side of corner two on lap eight.
Following that same successful plan of attack, Randall would catch leader Ricketts on lap 10 and blast by him on the high side of corner two as well.
At that point, the lead cars were in dense lapped traffic as the event continued to run green flag laps at a rapid pace.
Ricketts would hold within just a car length or two of Randall while maneuvering through solid lapped traffic lap after lap until lap 18 when Rodney Henderson would break and rolled to a stop in corner four.
With the lapped cars pulled out on the ensuing restart, it would be Chase Randall out front on the point, with Ricketts, Estes III and 16th place starter Jeb Sessums in tow.
When the event resumed, Randall would jet out to the lead with Ricketts and Estes III waging a two-wide duel that would finally end two laps later when Ricketts would take command of second place.
The event went green for another four laps when the yellow would come out for the second and final time for a quick spin by Blaine Baxter in corner two.
Baxter, a recent California transplant to Texas, has 9 years of racing experience – yet only at the ripe age of 13 – and this was his first time racing a sprint car. Race fans in attendance could clearly see his talent on display already, and we're all excited to watch him grow his racing career as a sprint car driver.
With now just four laps to go on the restart, Randall would continue with the lead over Ricketts, Estes, Sessums and 2020 'Bandits champion Michael Day.
At the checkers, Randall would take the win by five car lengths much to the approval of the hometown crowd – as this was his first 'Bandits win at Heart O' Texas after several close calls in the past.
Next up for the Bandits Outlaw Sprint Series is a 4th of July Holiday Doubleheader on Saturday July 3rd at 82 Speedway in Petty, Texas and Sunday July 4th at LoneStar Speedway near Kilgore, Texas!
With Channin Tankersley missing out on this points event (due to family illness), there is going to be a shakeup in series points. The updated points will be posted separately in the days to come.
Bandit Outlaw Sprint Series
Heart O'Texas Speedway
Waco, Texas
Friday, June 25, 2021
Heat Race #1 (10 Laps)
1. 12W-Dale Wester[2]
2. B99-Blake Mallory[3]
3. 2-Michael Day[6]
4. 18D-Devon Debrick[7]
5. 3D-Jeff Day Jr[5]
6. 74-DJ Estes[4]
7. 09-Mark Klis Jr[1]
8. 67-Rodney Henderson[8]
Heat Race #2 (10 Laps)
1. 9-Chase Randall[3]
2. 99B-John Ricketts[5]
3. 74E-Claud Estes III[8]
4. 7R-Reagan Reed[1]
5. 25-Blaine Baxter[7]
6. 72-Daniel Estes[2]
7. 64-Mark Zoeller[6]
8. 01J-Jeb Sessums[4]
A-Main (25 Laps)
1. 9-Chase Randall[2]
2. 99B-John Ricketts[3]
3. 74E-Claud Estes III[1]
4. 01J-Jeb Sessums[16]
5. 2-Michael Day[5]
6. B99-Blake Mallory[6]
7. 74-DJ Estes[11]
8. 7R-Reagan Reed[9]
9. 18D-Devon Debrick[7]
10. 12W-Dale Wester[4]
11. 64-Mark Zoeller[13]
12. 25-Blaine Baxter[8]
13. 09-Mark Klis Jr[15]
14. 67-Rodney Henderson[14]
15. 72-Daniel Estes[12]
16. 3D-Jeff Day Jr[10]