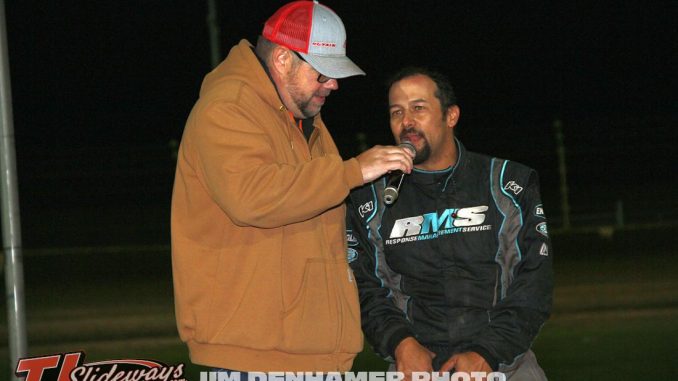 From Aaron Fry
San Jose, California native, Thomas Meseraull, prevailed in a fantastic battle with Kyle Shipley Friday night at Gas City Speedway. Meseraull, better known as "T-Mez", took the lead from Korbyn Hayslett working lap 4 and appeared to be on his way to the easy win. However, fourth starting Kyle Shipley had other plans. Aboard the Dutcher 17GP, Shipley found the bottom groove to his liking, working his way up to take the race lead with less than 10 laps remaining. New track promoter, Larry Boos, provided a great race track with multiple grooves, allowing the pair to showcase two very distinct lines late in the race. Meseraull was able to lead lap 24 by a bumper, then fend off one final inside challenge from Shipley, to lead the 25th and final circuit.
Thirty-seven MPD Racing BOSS sprint cars signed in for action. ARP Fasteners qualifying found heat race groups led by Shipley, Matt Goodnight, A.J. Hopkins and Hayslett. Heat race action saw Scotty Weir win TCB Speed heat one with Colten Cottle taking Brave Breeds Rescue heat 2. TheCushion.com heat 3 was won by Meseraull, with Hayslett charging from 4th to win Outsider's Merchandise & Apparel heat 4. The scheduled 21 car B-Main was split into a pair of 10 lappers with "Flyin" Ryan Thomas winning the first MSD Ignitions B-Main and Saban Bibent winning the second.
Meseraull drew the pole position for the main event, however, it was outside front row mate, Korbyn Hayslett, who grabbed the early lead. Hayslett was very strong early, leading the first 3 circuits of the MPD Racing main event. Meseraull was able to get by for the lead on lap 4 and appeared to be on cruise control. The race's only caution flag came at the halfway point in the race, just before lapped traffic came into play. The yellow was for when Ricky Lewis made contact with Tye Mihocko off turn 2. Lewis spun to a stop and was hit by Jamie Frederickson, who had nowhere to go.
Back under green, it was apparent that Shipley was the main threat to the leader. After trading the lead in the closing laps, the pair was sis by side off turn 2 on the final lap, but Meseraull found the momentum he needed off the top of 3 and 4 to win the race. Behind he and Shipley, it was veteran racer, Dave Darland completing the podium in his own number 36D. Rounding out an impressive top 5 were Scotty Weir and Korbyn Hayslett. The rest of the top 10 included hard charger, Isaac Chapple, Colten Cottle, Cole Bodine, Tye Mihocko and Koby Barksdale.
Kyle Drager won the USAC Speed2 Midwest Thunder Midget Car Series feature.
Box Score
Gas City Speedway
Friday, May 20, 2022
37 BOSS sprint cars
ARP Fasteners Qualifying
Group 1: 1. 17gp-Kyle Shipley 12.332, 2. 77fr-Ryan Thomas 12.337, 3. 4p-Scotty Weir 12.401, 4. 57-Cole Bodine 12.545, 5. 76-J.J. Hughes 12.569, 6. 24L-Lee Underwood 12.689, 7. 24p-Tye Mihocko 12.746, 8. 26w-Cody White 12.797, 9. 9z-Zack Pretorious 12.815, 10. 0c-Andrew Cookman 13.910
Group 2: 1. 39-Matt Goodnight 12.257, 2. 9n-Luke Hall 12.450, 3. 11-Jack Hoyer 12.476, 4. 57-Colten Cottle 12.522, 5. 11d-Aaron Davis 12.848, 6. 58-Jamie Frederickson 12.853, 7. 97n-Austin Nigh 12.868, 8. 73-Zach Lamb 13.125, 9. 99-Jack James 13.43
Group 3: 1. 77-A.J. Hopkins 12.222, 2. 42-Thomas Meseraull 12.238, 3. 36d-Dave Darland 12.353, 4. 2di-Dustin Ingle 12.381, 5. 41-Ricky Lewis 12.414, 6. 97-Tyler Hewitt 12.494, 7. 16k-Koby Barksdale 12.613, 8. 73v-Blake Vermillion
Group 4: 1. 1H-Korbyn Hayslett 12.345, 2. 10-Saban Bibent 12.399, 3. 21-Travis Hery 12.605, 4. 87-Paul Dues 12.665, 5. 2v-Brandon Long 12.707, 6. 5-Jesse Vermillion 12.738, 7. 52-Isaac Chapple 12.946, 8. 49-Brian Ruhlman 13.240, 9. 7c-Brady Click 14.095
TCB Speed – Heat 1: 1. 4p-Weir[2] ; 2. 57b-Bodine[1] ; 3. 17gp-Shipley[4] ; 4. 24p-Mihocko[7] ; 5. 77fr-Thomas[3] ; 6. 26w-White[8] ; 7. 9z-Pretorius[9] ; 8. 76-Hughes[5] ; 9. 0c-Cookman[10] ; 10. 24L-Underwood[DNS]
Brave Breeds Rescue – Heat 2: 1. 57-Cottle[1] ; 2. 11-Hoyer[2] ; 3. 39-Goodnight[4] ; 4. 58-Frederickson[6] ; 5. 11d-Davis[5] ; 6. 99-James[9] ; 7. 97n-Nigh[7] ; 8. 73-Lamb[8] ; 9. 9n-Hall[3]
TheCushion.com – Heat 3: 1. 42-Meseraull[4] ; 2. 36d-Darland[2] ; 3. 41-Lewis[5] ; 4. 16k-Barksdale[7] ; 5. 2di-Ingle[1] ; 6. 97-Hewitt[6] ; 7. 73v-B.Vermillion[8] ; 8. 21s-Schroeter[9] ; 9. 77-Hopkins[4]
Outsider's Merchandise & Apparel – Heat 4: 1. 1H-Hayslett[4] ; 2. 87-Dues[1] ; 3. 52-Chapple[7] ; 4. 5-J.Vermillion[6] ; 5. 21h-Hery[2] ; 6. 49-Ruhlman[8] ; 7. 10-Bibent[3] ; 8. 7c-Click[9] ; 9. 2v-Long[DNS]
MSD Ignitions – B-Main 1: 1. 77fr-Thomas[1] ; 2. 76-Hughes[7] ; 3. 26w-White[3] ; 4. 97-Hewitt[4] ; 5. 2di-Ingle[2] ; 6. 9z-Pretorius[5] ; 7. 73v-Vermillion[6] ; 8. 24L-Underwood[11] ; 9. 73-Zach Lamb[10] ; 10. 21s-Schroeter[8] ; 11. 0c-Cockman[9]
MSD Ignitions – B Main 2: 1. 10-Bibent[6] ; 2. 21h-Hery[2] ; 3. 49-Ruhlman[4] ; 4. 97n-Nigh[5] ; 5. 99-James[3] ; 6. 7c-Click[8] ; 7. 11D-Davis[1] ; 8. 9n-Hall[DNS] ; 9. 2v-Long[DNS]
MPD Racing – A Main: 1. 42-Meseraull[1] ; 2. 17gp-Shipley[4] ; 3. 36d-Darland[3] ; 4. 4p-Weir[7] ; 5. 1H-Hayslett[2] ; 6. 52-Shapple[12] ; 7. 57-Cottle[6] ; 8. 57b-Bodine[9] ; 9. 24p-Mihocko[13] ; 10. 16k-Barksdale[15] ; 11. 39-Goodnight[8] ; 12. 5-Vermillion[16] ; 13. 76-Hughes[19] ; 14. 11-Hoyer[10] ; 15. 21h-Hery[20] ; 16. 26w-White[21] ; 17. 10-Bibent[18] ; 18. 77fr-Thomas[17] ; 19. 49-Ruhlman[22] ; 20. 87-Dues[5] ; 21. 41-Lewis[11] ; 22. 58-Frederickson[14]
Accu-Force Dynos & Testers – Hard Charger: 52 – Isaac Chapple +6
J & F Construction – Lucky Pill Draw: 97n – Austin Nigh
All Pro Cylinder Heads – Perseverance Award: 26w – Cody White
Hoosier Tire – Free Tire Bonus: 42 – Thomas Meseraull
Cowen Truck Line – Hard Luck: 9N – Luke Hall
USAC Speed2 Midwest Thunder Midget Car Series
Feature:
1. 2-Kyle Dager
2. 9p-Wes Pinkerton
3. 74-Drew Rader
4. 71-Stratton Briggs
5. 35-Bryce Massingill
6. 23d-Bryce Dues
7. 49p-Carl Peterson
8. 1fr-Ryan Thomas
9. 5-Josh Yenser
10. 36-Ian Creager
11. 11h-Abby Hohlbein
12. 97-Jim Jones
13. 11t-Chuck Taylor
14. 44jb-Jakeb Boxell
15. 33L-Luke Lemmons
16. 4t-Cody Dye