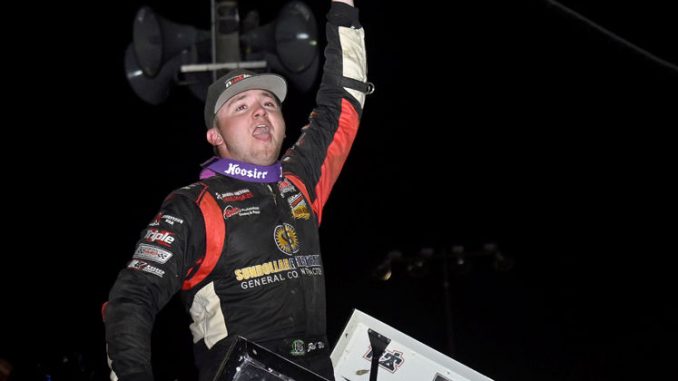 By Tyler Altmeyer
FREMONT, Ohio (June 12, 2022) – For the second time in just five Series starts, Angola, Indiana's Zeb Wise is a Tezos All Star Circuit of Champions presented by Mobil 1 main event winner, doing so during night three of Cometic Gasket Ohio Sprint Speedweek presented by Hercules Tires at Fremont Speedway. Wise, earning $6,000 for his Chuck and Shirley Kear Classic triumph, started from the outside-pole position and never looked back, eventually leading all 30 circuits around "The Track That Action Built" while outrunning current Speedweek points leader, Cap Henry.
"Since joining the All Stars, this is a track that's always treated me really well. It feels good to be up here standing in front of all of these great fans…there are so many people here," Zeb Wise explained, driver of the Wise-Priddy Racing/Sundollar Restoration/QuikPits/No. 10 sprint car. "My car was so good tonight. Hats off to everyone back there in the pit area…Wayne, Derrick, Connor, Dad…they worked their butts off."
The main event's lone caution on lap seven, a red flag situation for Kyle Reinhardt who was third at the time of his easy tip over, resulted in Zeb's only momentum break, which, inevitably, led to a long stretch of traffic that lasted the entire back half of the 30-lap contest. Despite his run in with slower cars, Zeb's preferred line around the top of the speedway kept his nose clean, sealing the deal in the final five circuits by keeping a pair of lappers between himself and Henry.
Including Fremont, Wise is now a four-time All Star winner over the course of his young career, two of which accomplished right down the road at Attica Raceway Park.
"I'm not sure how close Henry was there at the end. Traffic got pretty wild and I couldn't go where I wanted," Wise continued. "Lucky for me, my car was good enough that I could go wherever I wanted. I wasn't sure I had the car to win, and I was a little worried there after the dash. I thought the '4' car was the car to beat, but we were able to come out on top."
In traditional back-to-back fashion, Ohio Sprint Speedweek will move east and invade Wayne County Speedway and Sharon Speedway on Monday and Tuesday, June 13-14, respectively. The northeast Ohio venues, each awarding $6,000 during Speedweek action, hosted All Star competition on one occasion already in 2022. "Hunter Percent" Hunter Schuerenberg was the victor at Wayne County with Lane Racing's Cap Henry stealing the show at Sharon, utilizing a last corner pass to secure the Buckeye Cup title over Myerstown, Pennsylvania's Brent Marks.
For those who can not witness the All Star Circuit of Champions live and in person, FloRacing.com, the official media partner and broadcast provider of the All Stars, has you covered. To access live and on-demand racing action from the All Star Circuit of Champions, visit FloRacing.com and become an annual PRO subscriber. Race fans can see all the USAC and dirt late-model action they want in addition to Eldora Speedway's slate of races and those of the All Star Circuit of Champions. The subscription unlocks access to premium content across the entire FloSports network. Watch the events across all screens by downloading the FloSports app on iOS, Android, Apple TV, Roku, Amazon Fire and Chromecast.
SPEEDWEEK AGENDA:
Monday, June 13
Wayne County Speedway | $6,000
Pit Gates: 3:00 p.m.
Driver's Meeting: 5:30 p.m.
Tuesday, June 14
Sharon Speedway | $6,000
Pit Gates: 3:00 p.m.
Driver's Meeting: 5:30 p.m.
Wednesday, June 15
Atomic Speedway | $6,000
Pit Gates: 3:00 p.m.
Driver's Meeting: 5:30 p.m.
Thursday, June 16
Waynesfield Raceway Park | $6,000
Pit Gates: 3:00 p.m.
Driver's Meeting: 5:30 p.m.
Friday, June 17
Limaland Motorsports Park | $6,000
Pit Gates: 4:30 p.m.
Driver's Meeting: 5:30 p.m.
Saturday, June 18
Portsmouth Raceway Park | $20,554
Pit Gates: 2:00 p.m.
Driver's Meeting: 5:30 p.m.
Contingency Awards/Results: Fremont Speedway | June 12, 2022:
Cometic Gasket Ohio Sprint Speedweek presented by Hercules Tires
Night #3: Chuck and Shirley Kear Classic | $6,000
Kistler Racing Products Pill Draw | Entries: 38
Nunzi's Advertising Hot Laps: Zeb Wise | 12.981
Dixie Vodka Fast Qualifier: Craig Mintz | 12.899
Hunt Brothers Pizza Heat #1 Winner: Skylar Gee
Competition Suspension Inc Heat #2 Winner: Cap Henry
All Pro Aluminum Cylinder Heads Heat #3 Winner: Cory Eliason
Mobil 1 Heat #4 Winner: Cole Duncan
Elliott's Custom Trailers and Carts Dash Winner: Cap Henry
Classic Ink USA B-Main Winner: Lachlan McHugh
Rayce Rudeen Foundation First Non-Transfer: Zeth Sabo
Tezos A-Main Winner: Zeb Wise (2)
Hercules Tires A-Main Hard Charger: Bill Balog (+11)
Carquest Perseverance Award: Chris Andrews
Cometic Gasket Ohio Sprint Speedweek / Chuck and Shirley Kear Classic
Tezos All Star Circuit of Champions
Fremont Speedway
Fremont, Ohio
June 12, 2022
Dixie Vodka Qualifying
1. 09-Craig Mintz, 12.899[4]
2. 99-Skylar Gee, 13.044[1]
3. 13-Justin Peck, 13.099[18]
4. 7BC-Tyler Courtney, 13.149[7]
5. 4-Cap Henry, 13.170[15]
6. 81-Lee Jacobs, 13.175[2]
7. 97-Greg Wilson, 13.233[3]
8. 12-Kyle Capodice, 13.289[6]
9. 1-Nate Dussel, 13.304[9]
10. 16-DJ Foos, 13.344[13]
11. 17-Carson Short, 13.395[5]
12. 5T-Travis Philo, 13.460[12]
13. 91-Kyle Reinhardt, 13.538[23]
14. 48-Danny Dietrich, 13.546[11]
15. 26-Cory Eliason, 13.592[29]
16. 101-Lachlan McHugh, 13.622[14]
17. 10-Zeb Wise, 13.642[33]
18. 22-Cole Duncan, 13.649[32]
19. 8M-TJ Michael, 13.650[16]
20. 55-Hunter Schuerenberg, 13.686[30]
21. 49X-Ian Madsen, 13.694[25]
22. 25-Chris Myers, 13.757[17]
23. 19-Chris Windom, 13.774[27]
24. 11N-Zeth Sabo, 13.808[10]
25. 11-Parker Price Miller, 13.817[38]
26. 25R-Jordan Ryan, 13.833[26]
27. 2L-Landon Lalonde, 13.854[31]
28. 18-Cole Macedo, 13.899[35]
29. 35-Stuart Brubaker, 14.005[19]
30. 21-Larry Kingseed Jr, 14.013[8]
31. 17B-Bill Balog, 14.028[37]
32. 3J-Trey Jacobs, 14.060[28]
33. 28M-Conner Morrell, 14.294[34]
34. 20-Danial Burkhart, 14.347[20]
35. 88N-Frank Neill, 14.348[24]
36. 28-Brandon Spithaler, 14.399[36]
37. 49I-John Ivy, 14.552[21]
38. 23-Chris Andrews, 59.999[22]
Hunt Brothers Pizza Heat Race #1 (8 Laps)
1. 99-Skylar Gee[1]
2. 7BC-Tyler Courtney[2]
3. 81-Lee Jacobs[3]
4. 97-Greg Wilson[5]
5. 09-Craig Mintz[4]
6. 1-Nate Dussel[7]
7. 17-Carson Short[8]
8. 11N-Zeth Sabo[9]
9. 21-Larry Kingseed Jr[10]
10. 12-Kyle Capodice[6]
CSI Shocks Heat Race #2 (8 Laps)
1. 4-Cap Henry[1]
2. 16-DJ Foos[2]
3. 13-Justin Peck[4]
4. 48-Danny Dietrich[5]
5. 5T-Travis Philo[3]
6. 101-Lachlan McHugh[6]
7. 8M-TJ Michael[7]
8. 35-Stuart Brubaker[9]
9. 25-Chris Myers[8]
10. 20-Danial Burkhart[10]
All Pro Aluminum Cylinder Heads Heat Race #3 (8 Laps)
1. 26-Cory Eliason[1]
2. 49X-Ian Madsen[2]
3. 23-Chris Andrews[9]
4. 19-Chris Windom[3]
5. 91-Kyle Reinhardt[4]
6. 25R-Jordan Ryan[5]
7. 3J-Trey Jacobs[6]
8. 49I-John Ivy[8]
9. 88N-Frank Neill[7]
Mobil 1 Heat Race #4 (8 Laps)
1. 22-Cole Duncan[1]
2. 55-Hunter Schuerenberg[2]
3. 10-Zeb Wise[4]
4. 11-Parker Price Miller[3]
5. 17B-Bill Balog[7]
6. 2L-Landon Lalonde[5]
7. 18-Cole Macedo[6]
8. 28-Brandon Spithaler[9]
9. 28M-Conner Morrell[8]
Elliotts Custom Trailers and Carts Dash (6 Laps)
1. 4-Cap Henry[7]
2. 10-Zeb Wise[1]
3. 26-Cory Eliason[3]
4. 91-Kyle Reinhardt[2]
5. 22-Cole Duncan[5]
6. 09-Craig Mintz[4]
7. 13-Justin Peck[6]
8. 99-Skylar Gee[8]
Classic Ink USA B-Main (12 Laps)
1. 101-Lachlan McHugh[3]
2. 1-Nate Dussel[2]
3. 25R-Jordan Ryan[4]
4. 18-Cole Macedo[8]
5. 11N-Zeth Sabo[10]
6. 2L-Landon Lalonde[5]
7. 12-Kyle Capodice[1]
8. 8M-TJ Michael[7]
9. 35-Stuart Brubaker[11]
10. 21-Larry Kingseed Jr[15]
11. 28-Brandon Spithaler[12]
12. 25-Chris Myers[14]
13. 49I-John Ivy[13]
14. 17-Carson Short[6]
15. 28M-Conner Morrell[16]
16. 88N-Frank Neill[17]
17. 20-Danial Burkhart[18]
18. 3J-Trey Jacobs[9]
Tezos A-Main (30 Laps)
1. 10-Zeb Wise[2]
2. 4-Cap Henry[1]
3. 26-Cory Eliason[3]
4. 13-Justin Peck[7]
5. 7BC-Tyler Courtney[9]
6. 09-Craig Mintz[6]
7. 48-Danny Dietrich[16]
8. 22-Cole Duncan[5]
9. 17B-Bill Balog[20]
10. 16-DJ Foos[10]
11. 99-Skylar Gee[8]
12. 49X-Ian Madsen[12]
13. 55-Hunter Schuerenberg[11]
14. 97-Greg Wilson[15]
15. 23-Chris Andrews[14]
16. 19-Chris Windom[17]
17. 11-Parker Price Miller[18]
18. 81-Lee Jacobs[13]
19. 25R-Jordan Ryan[23]
20. 18-Cole Macedo[24]
21. 1-Nate Dussel[22]
22. 101-Lachlan McHugh[21]
23. 91-Kyle Reinhardt[4]
24. 5T-Travis Philo[19]