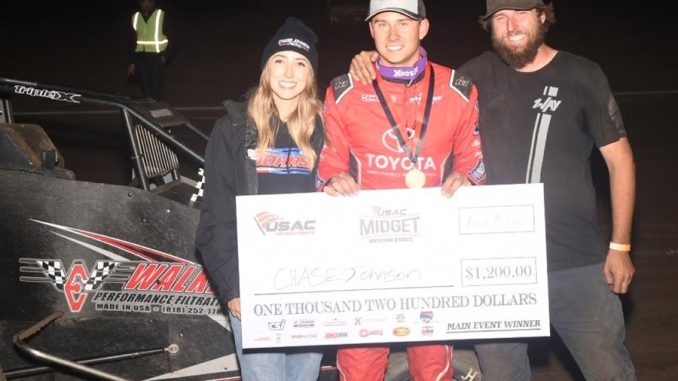 From Lance Jennings
By Lance Jennings
VENTURA, CALIFORNIA – AUGUST 29, 2022… Starting sixth, Chase Johnson (Penngrove, California) surged by Brody Fuson on lap fifteen and powered to victory last Saturday night at Ventura Raceway. Driving Keith Ford's #73X Naturipe / Sun Valley AG Transport Triple X, Johnson earned his first USAC Western States Midget win of the season over point leader Michael Faccinto, Fuson, Robby Josett, and A.J. Bender. For his efforts, Chase earned $1,800 for the 30-lap victory, courtesy of T&T Trucking.
At the drop of starter Kris Kornder's green flag, pole sitter Brody Fuson grabbed the early lead. Preferring to run the low groove of the redesigned seaside oval, the Bakersfield driver began to expand his lead. Johnson steadily moved his way forward by running the top line and used the extra momentum to chase down the leader. Fuson ran strong, but it was not enough to keep Johnson at bay. Chase took command on the sixteenth circuit and was not to be denied. Johnson had sailed to the fourth series win of his career and became the third different driver to race the Ford #73X to victory in 2022.
Johnson opened the night by posting his third Woodland Auto Display Fast Time Award of the campaign with a time of 12.417 seconds over the 23-car roster. Chase followed up by winning the 10-lap Jordan Hanni Well Drilling First Heat Race and then driving to the win at the Ventura County Fairgrounds to complete the sweep. Despite running a limited schedule, Johnson ranks eleventh in championship points.
Rookie contender A.J. Bender (San Diego, California) raced to victory in the 10-lap Ammonia Refrigeration Service Second Heat Race. Piloting the LKK Racing #1X Josh Ford Motorsports / Rod End Supply Triple X, Bender qualified fifth overall and placed fifth in the main event. Last year's Turkey Night Grand Prix USAC 360 Sprint Car Winner heads to the September 24th Ventura event ranked fifth in the point chase.
Point leader Michael Faccinto (Hanford, California) won Ventura's 10-lap Wireless 101 Third Heat Race. Driving the Graunstadt Enterprises' #14J T&T Trucking / Gary Silva Ranches Spike, the 2018 champion was sixth quick in time trials and finished second to Johnson in the main event. Before racing began, Faccinto also won the High Tech Performance "Lucky Pill Draw" and five gallons of fuel thanks to Jack Parker and his staff. Michael left Ventura Raceway with a stout 103-point advantage over the competition.
Making the first USAC Western States Midget start of his career, Nathan Byrd (Goodyear, Arizona) earned the night's Rod End Supply Hard Charger Award with an eleventh place run from twentieth. Driving the Kruseman Motorsports' #11K Kruseman Sprint Car and Midget Driving School / Kwik Change Products entry, Byrd qualified twentieth overall and placed sixth in his heat race. After placing forty-sixth in points, Nathan was also the hard charger in the companion USAC West Coast 360 Sprint Car main event. For his efforts, Byrd also earned copies of Caged Heat, a sprint car racing photo book, courtesy of Steve Lafond.
Samuel May (Oxnard, California) earned Ventura's Wilwood Disc Brakes "Lucky 13 Award" with a thirteenth place finish in the main event. Racing Steve Lambert's #55 Josh Ford Motorsports / Dennis Hart Stealth, May was sixteenth fast in time trials and scored seventh in his heat race. After his first start, May ranks fiftieth in the point standings.
The USAC Western States Midgets will return to action on Saturday, September 24th, at Ventura Raceway in Ventura, California. The eleventh point race will also showcase the USAC West Coast 360 Sprint Cars.
The USAC Western States Midget Series thanks Ammonia Refrigeration Service, AMSOIL, Competition Suspension Incorporated, Elk Grove Ford, Extreme Mufflers, FloRacing.com, High Tech Performance, Jordan Hanni Well Drilling, Hoosier Racing Tire, Rod End Supply, ROW Signs and Graphics, Saldana Racing Products, T&T Trucking, Vahlco Wheels, Wilwood Disc Brakes, Wireless 101, and Woodland Auto Display for their support.
For more information on the series, visit usacracing.com and the social media for USAC Racing. You can also find exclusive content on the USAC Western States Midget Facebook, Twitter, and Instagram pages.
USAC WESTERN STATES MIDGET SERIES RACE RESULTS: August 27, 2022 – Ventura Raceway – Ventura, California
WOODLAND AUTO DISPLAY QUALIFICATIONS: 1. Chase Johnson, 73X, Ford-12.417; 2. Robby Josett, 68, Six8-12.522; 3. Blake Bower, 9, Boscacci-12.539; 4. Tyler Edwards, 73, Ford-12.587; 5. A.J. Bender, 1X, LKK-12.712; 6. Michael Faccinto, 14J, Graunstadt-12.719; 7. Brody Fuson, 51, Carlile-12.747; 8. Ben Worth, 5K, Alexander-12.783; 9. Caden Sarale, 32, Sarale-12.786; 10. Mike Leach Jr., 33P, Leach-12.796; 11. C.J. Sarna, 20, Sarna-12.833; 12. Zach Telford, 22G, GR-842; 13. Travis Buckley, 7NZ, Buckley-12.867; 14. Jake Hodges, 4, Hodges-12.999; 15. Dale Curran, 15K, Kruseman-13.010; 16. Samuel May, 55, Lambert-13.105; 17. Cole Schroeder, 14JR, Streeter-13.156; 18. Terry Nichols, 1P, Nichols/Peckfelder-13.210; 19. Racin Silva, 5S, Silva-13.393; 20. Nathan Byrd, 11K, Kruseman-13.966; 21. Randi Pankratz, 8, Pankratz-NT; 22. Troy Rutherford, 8W, Woodland-NT; 23. Steve Hix, 57, Hix-NT.
JORDAN HANNI WELL DRILLING FIRST HEAT: (10 laps) 1. Johnson, 2. Fuson, 3. Edwards, 4. Leach, 5. Buckley, 6. Silva, 7. May, 8. Rutherford. NT.
AMMONIA REFRIGERATION SERVICE SECOND HEAT: (10 laps) 1. Bender, 2. Worth, 3. Sarna, 4. Hodges, 5. Schroeder, 6. Byrd, 7. Josett. NT.
WIRELESS 101 THIRD HEAT: (10 laps) 1. Faccinto, 2. Bower, 3. Sarale, 4. Curran, 5. Nichols, 6. Telford, 7. Pankratz. NT.
FEATURE: (30 laps, With Starting Positions) 1. Chase Johnson (6), 2. Michael Faccinto (2), 3. Brody Fuson (1), 4. Robby Josett (7), 5. A.J. Bender (3), 6. Travis Buckley (13), 7. Ben Worth (8), 8. Blake Bower (5), 9. Caden Sarale (9), 10. Cole Schroeder (17), 11. Nathan Byrd (20), 12. Jake Hodges (14), 13. Samuel May (16), 14. Mike Leach Jr. (10), 15. Randi Pankratz (21), 16. Dale Curran (15), 17. Zach Telford (12), 18. Racin Silva (19), 19. Terry Nichols (18), 20. C.J. Sarna (11), 21. Tyler Edwards (4). NT.
—————————-
**Rutherford flipped on lap 3 of first heat race.
FEATURE LAP LEADERS: Laps 1-15 Fuson, Laps 16-30 Johnson.
ROD END SUPPLY HARD CHARGER: Nathan Byrd (20th to 11th)
WILWOOD DISC BRAKES LUCKY 13 AWARD: Samuel May
HIGH TECH PEFORMANCE LUCKY PILL DRAW: Michael Faccinto
NEW USAC WESTERN STATES MIDGET POINTS: 1-Michael Faccinto-705, 2-Brody Fuson-602, 3-Ben Worth-585, 4-Travis Buckley-548, 5-A.J. Bender-518, 6-Blake Bower-505, 7-Jake Andreotti-439, 8-Caden Sarale-397, 9- C.J. Sarna-315, 10-Michael Snider-292.