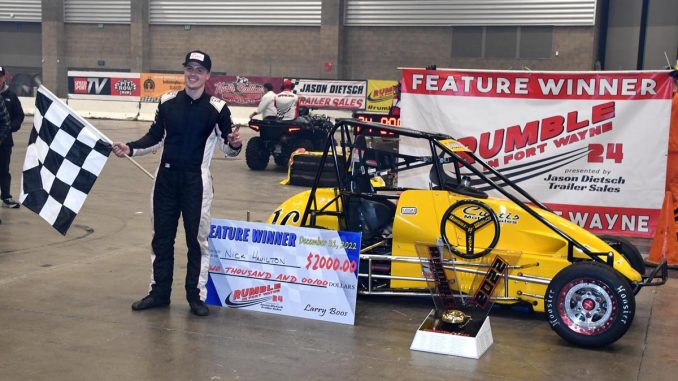 From Rumble Media
FORT WAYNE, Ind. (Dec. 31, 2023) – Roughly halfway through Saturday's finale to the 24th Rumble in Fort Wayne presented by Jason Dietsch Trailer Sales, it appeared veteran Joe Liguori was finally poised to snap his long winless drought in the headlining national midget class.
Bad luck, combined with a speedy Nick Hamilton, ultimately spoiled Liguori's would-be celebration.
Liguori was collected in a lap-26 crash between Friday winner Mario Clouser and Shawn Bonar, and Hamilton took over and led the remaining distance to capture his second career Rumble midget victory.
Driving the No. 16 adorned in Mel and Don Kenyon's famed yellow-and-white colors, the younger Hamilton brother held off a charging Cap Henry over the final laps at the seventh-mile indoor concrete oval.
Surviving a four-lap dash to the finish after a late caution flag, Hamilton beat Henry to the finish line by .290 of a second in one of the closest midget finishes in Rumble in Fort Wayne history.
"We had to work for that one," said Hamilton after the race. "Cap and I have had our history in the past, but we raced it out clean tonight, and I respect that."
After starting fourth, Liguori found his way to the lead on a chaotic opening lap and was in the driver's seat for the first half of Saturday's 50-lapper, easily controlling the early laps by a full straightaway.
Only a lap-12 red flag – for a flip in turn one by Kyle Hamilton, who came out of a one-year racing retirement to run this year's Rumble for his family team – slowed Liguori's roll at the front of the field.
However, as Liguori was working his way into slower traffic at the halfway point, Clouser and Bonar made contact entering turn three and slowed suddenly, bottling up the racing line at the entrance of the corner.
With nowhere to go to avoid the pair, Liguori plowed into the melee, causing terminal damage to his iridescent No. 8up that ended his night after leading 25 laps – the most he'd ever led in a Rumble feature.
A visibly frustrated Liguori declined to speak with reporters after the race, but his emotions were clear: he felt the race was his to lose, and it got away from him once again.
From there, Nick Hamilton took over at the front of the field and hung on through two second-half restarts for the victory. The final restart with four laps left came after a turn-two spin by Jordan Caskey.
Saturday night marked both the second Rumble win for Nick Hamilton and the second score for Mel and Don Kenyon's 3K Racing Enterprises team, which previously won a Rumble feature with Nick's older brother, Kyle Hamilton.
"Don and Mel have been about family for so many years; I started running for them [in the Kenyon Midget Series] when I was about 11, so it's really second nature," tipped the Danville, Ind., native. "It doesn't feel like a change from anything I've done before, and we all work together the same way.
"That's what makes running their cars here easy, and the speed they gave me paid off tonight."
Though Henry tried to track down the Kenyon No. 16 late in Saturday's race, he had to settle for second, his best performance in eight career Rumble in Fort Wayne feature starts.
"I just needed to be a little bit better off the corners," noted Henry. "Nick ran a great line and it's so hard to pass in this building. The track didn't have a ton of grip tonight and it was hard to drive up next to someone and make that move like we needed to. Nick just did exactly what he had to do; props to him.
"I wanted this one bad, though. We've finished second before here, and after what happened to Joe, I wanted to get a victory for him and for myself … but I guess it wasn't meant to be tonight."
Must See Racing sprint car champion Charlie Schultz, five-time Rumble winner Russ Gamester and 2014 event champion Bryan Nuckles closed the top five.
Twelve-time Rumble winner Tony Stewart retired due to engine woes at the lap-13 restart, scored 13th.
Kole Kirkman led all the way for his second non-winged 600cc micro sprint win in as many nights, leading the undercard victors during the closing day of Rumble action.
Kirkman inherited the pole after original front-row starter Larry Joe Sroufe jumped the initial start and was docked a row for the infraction. Kirkman then led all 25 laps, beating Tyler Lindsay, Sroufe, Dillon Nusbaum and Tyler Gunn to the finish line.
Tyler Shullick topped the winged 600cc micro sprint main, grabbing the lead on lap four and holding steady through several cautions, including one that resulted in a green-white-checkered finish.
Shullick drove away from Clay Sanders by 1.015 seconds in a race that was extended to 26 laps due to the overtime restart.
Shawn Kluck headlined the go-kart victors during Saturday's Rumble program, banking $2,000 for his second straight win in the Jon Limbacher Memorial Race for the Clone 360 division.
Kluck became the first repeat Limbacher Memorial winner, passing early leader Jake Shelley on lap five and controlling the field the rest of the way in the 15-lapper.
Philip Schneider, Zach Axlen, Jon Keister and Josh McKnight were second through fifth, respectively.
Other go-kart winners Saturday included Travis Fisher (Clone 400), Kluck (Clone 330), Missy Bootes (Senior Champ), Parker Moyer (Junior Sportsman), Alex Geren (Junior 3) and Greysen Prater (Kid Karts).
Mini-wedge feature victories were earned by Bobby Johnson III (Senior division) and Brycen Schrock (Junior division).
Austin Geer (Animal Combined, Heavy 160), Grayson Hathaway (Senior Honda), McKenna Kren (Junior Honda), Memarie Ashcraft (Heavy 120) and Lukas Waber (Light 160) each took home quarter midget wins.
Earning $250 Best Appearing Car Awards for the 2022 Rumble were Ryan Flores (national midgets), Dillon Nusbaum (non-winged 600s) and Nate Franklin (winged 600s). Geer was named the Pit Row TV/SPEED SPORT 1 Quarter Midget Rising Star of the Rumble and received a $200 prize for that honor.
A full, on-demand replay of both days of the Rumble in Fort Wayne can be viewed through SPEED SPORT affiliate Pit Row TV, which broadcast the event to a worldwide audience for the second straight year.
The 25th Rumble in Fort Wayne is slated for Dec. 29-30, 2023, inside the Allen County War Memorial Coliseum Expo Center.
24th Rumble in Fort Wayne pres. by Jason Dietsch Trailer Sales; Allen County War Memorial Coliseum; Fort Wayne, Ind.; Saturday, Dec. 31, 2022
National Midget Time Trials (best of two laps): 1. Billy Wease, 99, Burrow-8.087; 2. Cap Henry, 44, Liguori-8.091; 3. Tim Creech II, 49b, Burrow-8.153; 4. Tony Stewart, 2, Stewart-8.183; 5. Bryan Nuckles, 59, Nuckles-8.186; 6. Jordan Caskey, 33, Caskey-8.202; 7. Jackson Macenko, 24m, Hayes-8.245; 8. Charlie Schultz, 9s, Reiser-8.299; 9. Jim Anderson, 36, Anderson-8.301; 10. Shawn Bonar, 24, Setser-8.304; 11. Russ Gamester, 46, Gamester-8.304; 12. Nick Hamilton, 16, Kenyon-8.306; 13. Joe Liguori, 8up, Liguori-8.318; 14. Trey Osborne, 6k, Kenyon-8.324; 15. Brian Vaughn, 49v, TNT-8.326; 16. Justin Peck, 5x, Clay-8.326; 17. Mario Clouser, 99g, Guess-8.337; 18. Thomas Schrage, 01, Hayes-8.370; 19. Travis Welpott, 18, Gorman-8.384; 20. Kyle Hamilton, 32, Hamilton-8.412; 21. Ryan Flores, 15, Cicconi-8.416; 22. Ryan Moran, 1x, PJ Motorsports-8.426; 23. Cooper Clouse, 8, Dietsch-8.442; 24. Joey Payne, 2.5, Stewart-8.444; 25. Jake McElfresh, 8b, Brewer-8.444; 26. Chris Neuenschwander, 3, Neuenschwander-8.453; 27. Derek Losh, 98, Burrow-8.501; 28. Rod Henning, 69, BEF-8.514; 29. Scott Koerner, 4b, Murphy-8.771; 30. Mike Fedorcak, 97, Stewart-8.888; 31. Austin Nemire, 19, O'Connell-8.908; 32. Jeff Champagne, 61, Kenyon-NT; 33. Brian Buttler, 4, Buttler-NT.
National Midget Heat #1 (10 laps, top two transfer): 1. Billy Wease, 2. Mario Clouser / 3. Bryan Nuckles, 4. Ryan Flores, 5. Shawn Bonar, 6. Scott Koerner, 7. Jake McElfresh, 8. Jackson Macenko, 9. Brian Buttler.
National Midget Heat #2 (10 laps, top two transfer): 1. Russ Gamester, 2. Cap Henry / 3. Jordan Caskey, 4. Trey Osborne, 5. Thomas Schrage, 6. Chris Neuenschwander, 7. Ryan Moran, 8. Mike Fedorcak (DNS).
National Midget Heat #3 (10 laps, top two transfer): 1. Nick Hamilton, 2. Charlie Schultz / 3. Travis Welpott, 4. Brian Vaughn, 5. Cooper Clouse, 6. Tim Creech II, 7. Derek Losh, 8. Austin Nemire (DNS).
National Midget Heat #4 (10 laps, top two transfer): 1. Joe Liguori, 2. Tony Stewart / 3. Kyle Hamilton, 4. Justin Peck, 5. Joey Payne, 6. Rod Henning, 7. Jim Anderson, 8. Jeff Champagne.
National Midget Last Chance Showdown #1 (12 laps, top two transfer): 1. Bryan Nuckles, 2. Kyle Hamilton / 3. Thomas Schrage, 4. Brian Vaughn, 5. Derek Losh, 6. Rod Henning, 7. Scott Koerner, 8. Mike Fedorcak (DNS), 9. Brian Buttler (DNS).
National Midget Last Chance Showdown #2 (12 laps, top two transfer): 1. Jordan Caskey, 2. Ryan Flores / 3. Chris Neuenschwander, 4. Jim Anderson, 5. Justin Peck, 6. Jake McElfresh, 7. Cooper Clouse, 8. Austin Nemire (DNS).
National Midget Last Chance Showdown #3 (12 laps, top two transfer): 1. Travis Welpott, 2. Shawn Bonar / 3. Trey Osborne, 4. Jackson Macenko, 5. Tim Creech II, 6. Joey Payne, 7. Ryan Moran, 8. Jeff Champagne.
National Midget A-Feature (50 laps): 1. 16-Nick Hamilton [1], 2. 44-Cap Henry [6], 3. 9s-Charlie Schultz [7], 4. 46-Russ Gamester [2], 5. 59-Bryan Nuckles [9], 6. 18-Travis Welpott [11], 7. 99-Billy Wease [3], 8. 99g-Mario Clouser [5], 9. 33-Jordan Caskey [10], 10. 24-Shawn Bonar [14], 11. 15-Ryan Flores [13], 12. 8up-Joe Liguori [4], 13. 2-Tony Stewart [8], 14. 32-Kyle Hamilton [12].
Lap Leader(s): Joe Liguori 1-25, Nick Hamilton 26-50.
Hard Charger: #18 – Travis Welpott (+5)