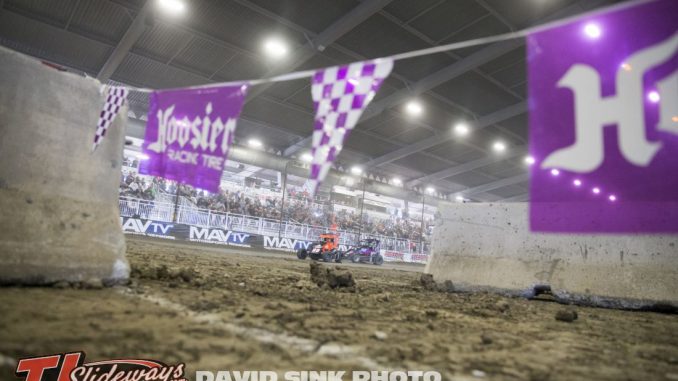 By T.J. Buffenbarger
With one night of racing in the books, here are T.J.'s Takeaways from the opening night of the 37th Chili Bowl Nationals.
Cannon McIntosh clearly shows how much victory at the Tulsa Expo means to him and his family. Growing up in the area with big dreams of starring on that stage, McIntosh has put himself in position again to try and win the biggest race of his career.

This will be McIntosh's last attempt at being the youngest winner in Chili Bowl history. McIntosh has been part of the scene long enough at times it seems like he should be beyond vying for that honor. The patience shown on that final restart with a right rear going down as far beyond McIntosh's years.

There is many drivers that would have cracked under that pressure of an impending mechanical issue, racing in front of his home crowd in one of the biggest motorsports events on the planet, but that moment wasn't too big for McIntosh.

It's that kind of growth, maturity, and experience that could be the difference to put McIntosh in victory lane on Saturday.
The track preparation crew did a phenomenal job to get the 37th Chili Bowl Nationals off on the right foot by producing a two-lane racetrack for most of the opening night of racing.

While moving practice off Monday extended everyone's stay in Tulsa an extra day, that move paid off on Monday putting far less stress on the racing surface.

The track crew at the Tulsa Expo Raceway backed up some of the fine work they did during the Tulsa Shootout where the track produced some excellent preliminary action. At the Chili Bowl they went one step better on Monday making sure the surface was excellent for the main events.

With the addition of the race of champions on Monday's program the crew had an extra race to plan for but was up to the challenge. It was obvious that some of the lessons learned from Saturday at the Shootout finale were used on a night where I might have expected the track to go south by feature time, we had two lane racing throughout the 30-lap affair.

Now the difficult task will be to duplicate that performance the rest of the week.
Jerry Coons Jr. is at the point of his career where a handful of races are appealing for him to run, one of which is the Chili Bowl Nationals. One of the most well-liked veteran drivers has recently encountered horrible luck at the Tulsa Expo Raceway that continued Monday.

Coons and Central Motorsports were in position again to challenge for a transfer position when mechanical woes surfaced with just two laps to go while Coons was running fourth with just two laps to go while in contention for one of the top two locked in positions.

Coons is a better person that I would be. Knowing his calm demeanor, I would hate to think what my mindset would be like to have that happen on Monday and then must hang around the Expo for four more nights until Saturday for a chance at redemption.

While stories like McIntosh's incredible run on a flat right rear to secure a win are why people come to Tulsa for the Chili Bowl every year, the lows like Coons' situation makes for great racing theater as drivers' weeks can be up and down with every passing point and position.