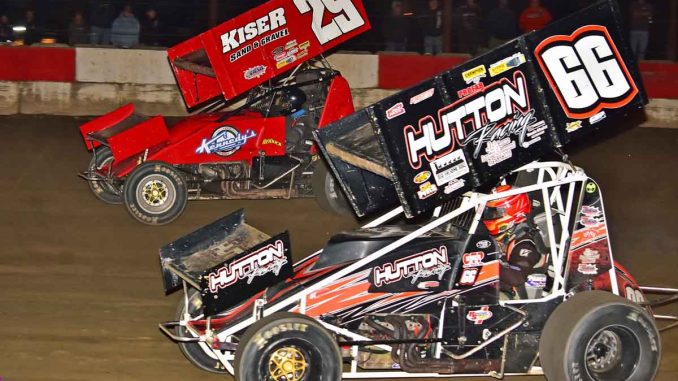 By Steven Ovens
(SODUS, NY) – The "Future Stars of Sprint Cars" the Super Gen Products CRSA Sprints proudly announce an expanded 20-race schedule entering their eighteenth season of competition in 2023.
CRSA Sprints competitors have seen steady growth in the last three seasons of competition, seeing car counts grow to record numbers as well as an expanded schedule from 13 (2019) to 16 in (2021 and 2022) to now 20 events for this upcoming season. The CRSA Sprints ran just four events in 2020 during a COVID-19 affected season.
Many traditional stops on tour will complete the upcoming season schedule. The series will also return to one facility after a four-year hiatus and welcome a brand new track in Western New York to the CRSA record books.
The season will kick off with a non-racing event during the Northeast Motorsports Expo in Syracuse, NY on March 11 and 12. Series schedule cards, Mike Emhof Motorsports displays as well as a beautiful display by series champion Dalton Herrick will be featured during the unofficial kickoff to racing season in the Northeast.
The 305 sprint series growing in popularity with fans across New York and Pennsylvania will first hit the track on Saturday May 13 at Paul Cole's Land of Legends Raceway. This will be the first of three "DisBatch Brewing Challenge Series" events taking place at the Canandaigua, NY facility (May 13, July 3 and August 5).
Cole will also carry the CRSA Sprints sanction at his track for weekly 305 sprint car competition. Plans in 2023 at LOLR also call for new grandstands, VIP suite space and other facility upgrades.
Returning again in 2023 will be the coveted Pit Stop Convenience Stores "I-90 Pit Stop Challenge" which will highlight six stops along the New York State Thruway at Weedsport Speedway (May 28), Fonda Spedway (June 3, July 29 and September 15) and Utica-Rome Speedway (June 9 and July 14). This challenge will keep its own points and pay out a generous point fund at the series banquet in December.
For the first time in series history, the Super Gen Products CRSA Sprints will head West to Kurt and Bonnie Stebbins' Genesee Speedway on September 22.
"We are happy to see what Kurt and Bonnie are building at Genesee and our drivers have this date circled to tackle a new venue where nobody has a thick notebook for," said Series Director Mike Emhof.
CRSA will also return to "The Great Race Place" Albany-Saratoga Speedway for the first time in four years on August 25. Jeff Trombley (2019), Matt Tanner (2018) and Thomas Radivoy (2018) are the most recent CRSA Sprints winners at Malta.
"Lyle's reputation that he has built at Albany-Saratoga speaks for itself, so for he and his staff to bring the CRSA Sprints back in 2023 is a huge honor," noted Emhof.
Brett Deyo has reaffirmed his strong commitment to 305 sprint cars again this season, taking 5 dates across two of the speedways in his portfolio at Utica-Rome Speedway and Fonda Speedway.
The drivers and teams of CRSA will also make a pair of return visits each to Thunder Mountain Speedway in Center Lisle, NY as well as Afton Motorsports Park in Afton, NY. Teams will set their GPS units to the "Keystone State" twice in 2023 as they head back to Susquehanna, PA and Penn Can Speedway in June and September.
2022 saw the "Future Stars of Sprint Cars" travel to Brad Smith's Skyline Raceway Motorsports Park for the first time in ten years, with the more local driver Kyle Pierce scoring a big win. Smith has once again signed on to bring CRSA back on September 9.
Tyler Siri will bring the 305 traveling series back to his four-tenths-mile Outlaw Speedway for the sixth time in series history on June 16.
Former Patriot Sprint Tour supporters Woodhull Raceway, owned and promoted by Nikki and Terry Brewer, have signed on to welcome the CRSA Sprints back to "New York's Toughest Bullring" on August 19 for the first time since June 9, 2018.
Once again special award winners and top points finishers will celebrate the 2023 season at Vernon Downs Hotel & Casino on Saturday December 2. The 2022 celebration distributed an even $15,000 in cash, contingencies and product, with series champion Dalton Herrick taking home the lion's share.
CRSA Sprint Series Director Mike Emhof is encouraged about both progress, growth and what the schedule has to offer supporters of the CRSA Sprints.
"I am very proud of where the CRSA Sprints have grown to and what we have put together for the 2023 tour. We could not do it without our drivers who put on the great shows they do, which has created a demand amongst promoters in our area to bring our drivers in. Couple that with race track promoters who see value in our product and a dedicated group of marketing partners who see advertising potential in our shows- we couldn't ask for more."
2023 Super Gen Products CRSA Sprints Schedule:
March 11-12 Northeast Motorsports Expo – Syracuse, NY
May 13 Land of Legends Raceway
May 20 Thunder Mountain Speedway
May 28 Weedsport Speedway
June 3 Fonda Speedway
June 9 Utica-Rome Speedway
June 16 Outlaw Speedway
June 30 Penn Can Speedway
July 2 Thunder Mountain Speedway
July 3 Land of Legends Raceway
July 14 Utica-Rome Speedway
July 29 Fonda Speedway
Aug. 5 Land of Legends Raceway
Aug. 12 Afton Motorsports Park
Aug. 19 Woodhull Raceway
Aug. 25 Albany-Saratoga Speedway
Sep. 9 Skyline Raceway Motorsports Park
Sep. 15 Fonda Speedway
Sep. 16 Penn Can Speedway
Sep. 22 Genesee Speedway
Oct. 6 Afton Motorsports Park
Dec. 2 Awards Banquet @ Vernon Downs Hotel & Casino
The CRSA 305 Sprints are powered by Super Gen Products with their Champion Power Equipment located in Newark, NY. Associate sponsors for 2022 include A-Verdi Storage Containers, Midstate Basement Authorities, CNY Farm Supply, the Maguire Family of Dealerships, Powdertech Powdercoating, Pit Stop Convenience Stores, PJC Sprayfoam, Profab Enterprises, Eagle Enterprises, Bonnell's Rod Shop, DisBatch Brewing Company, Magsarus Ignitions, Hoosier Racing Tire, Insinger Performance with their Stinger Race Fuel, My Race Pass and is owned and operated by Mike Emhof Motorsports.
For more information on the series, results and points please visit our website www.crsa.myracepass.com
Please visit the Super Gen Products with Champion Power Equipment CRSA Sprints on Facebook (@CRSAsprints) and on Twitter (@CRSAsprints).