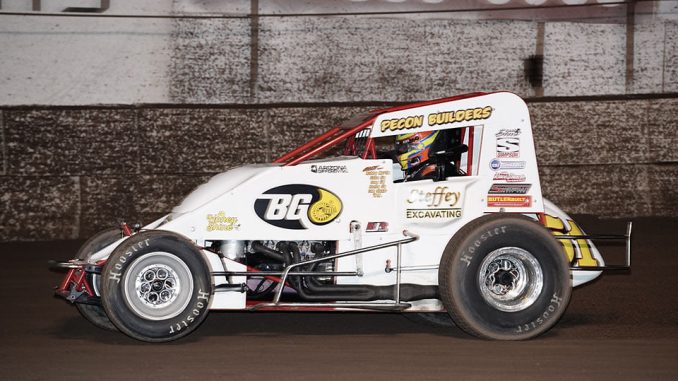 Bryan Hulbert
CASA GRANDE, Ariz. (January 30, 2023) Keeping wingless racing alive at the Central Arizona Raceway, new promoter Brad Whitfield will feature the ASCS Arizona Non-Wing Sprint Cars on a regular basis at the high-banked, three-eighths-mile oval in 2023.
Racing February through November, the wingless tour be featured in rotation with other weekly divisions, with ten events lining the 2023 lineup.
Also operating Cocopah Speedway in Somerton, Ariz., Whitfield has tried to keep the wingless events off ASCS Southwest Regional dates to allow teams to compete in both if possible. Out of a combined 22 dates, only the February 11 opener conflicts with each other. The tours combine at the Casa Grande oval on Friday, November 10, and Saturday, November 11, for the 2023 season finale.
Like all ASCS Non-Wing tours, the series will run under its own rules package. The updated rules for the 2023 season are posted at https://www.ascsracing.com/series-info/rules.aspx.
Central Arizona Raceway promoter, Brad Whitfield, is the director for the ASCS Arizona Non-Wing Sprint Cars. Any questions can be directed to Brad via email at brad_whitfield@yahoo.com or by phone at (602) 292-7607.
For other news, notes, and information on any of the tours under the ASCS banner, log onto http://www.ascsracing.com, follow on Facebook, Instagram, and Twitter (@LucasOilASCS).
2023 ASCS Arizona Non-Wing Sprint Cars Lineup:
2/11/2023 – Central Arizona Raceway (Casa Grande, AZ)
3/25/2023 – Central Arizona Raceway (Casa Grande, AZ)
5/6/2023 – Central Arizona Raceway (Casa Grande, AZ)
7/3/2023 – Central Arizona Raceway (Casa Grande, AZ)
7/10/2023 – Central Arizona Raceway (Casa Grande, AZ)
10/14/2023 – Central Arizona Raceway (Casa Grande, AZ)
11/3/2023 – Central Arizona Raceway (Casa Grande, AZ)
11/4/2023 – Central Arizona Raceway (Casa Grande, AZ)
11/10/2023 – Central Arizona Raceway (Casa Grande, AZ)
11/11/2023 – Central Arizona Raceway (Casa Grande, AZ)