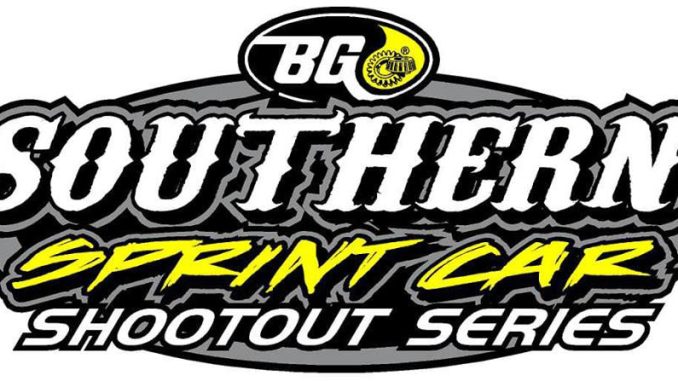 February 6, 2023 – Pinellas Park, Florida – BG Products Southern Sprint Car Shootout Series and Showtime Speedway officials today announced that the series has been added to the February 18 '11th annual World Outlaw Figure 8 Finals'. The winged sprint cars will share the spotlight with the Late Model Figure 8's in what is annually Showtime Speedway's biggest night of the year.
The BG Products Southern Sprint Car Shootout Series (SSSS) will be making its first visit to Showtime Speedway since October 8 when Davey Hamilton Jr. Found victory lane. Winged sprint cars have become a novelty in recent seasons as the track has focused on non-winged events recently.
Hamilton Jr. is currently on a six-race series winning streak dating back to October 8. It appeared as if Hamilton's streak was about to come to an end during the season opener at Auburndale Speedway last month. Daniel Miller appeared headed for victory until a mid-race double-file restate allowed Hamilton the break he needed. The February event will round #2 towards the 2023 season.
The addition of the SSSS to the February 18 racing card will give northern based sprint car teams the opportunity to ace two consecutive weekends in the warm comforts of Florida while cool temps this time of year. The series has also amended their 2023 series rules to allow 410 c.i. engines, albeit restricted.
The event will be a prelude to the following weekend's February 24-25 4th annual Dave Steele 125′. This year's event will pay $5,000 to win and $500 to start. If 26 are more cars are on hand, and the fast qualifier elects to start at the tail and can win, he will walk away with $20,000.
The February 18 event is expected to draw a solid car count of SSSS regulars that include Hamilton Jr, Miller, Dude Teate, Sport Allen, Steven Hollinger, Bruce Brantley, John Inman, Tommy Nichols, Sonny Hartley, Scotty Adema, Ryan Adema, and many more.
The event is expected to be live streamed on either Low Budget TV or Racing America. As of press time Showtime Speedway promoter Robert Yoho hadn't made his decision on which of the two will televise this huge event.
For more details of this event go to www.shpwtimespeedway.us or visit the Showtime Speedway and BG Products Southern Sprint Car Shootout Series Facebook page.