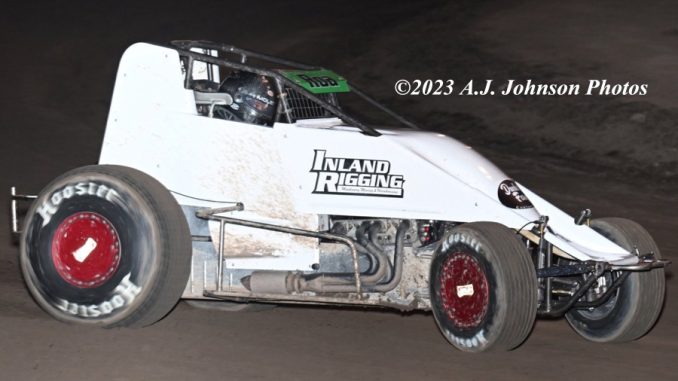 By Lance Jennings
FEBRUARY 26, 2023… For the first time in series history, the AMSOIL USAC/CRA Sprint Cars will rumble at Central Arizona Raceway. Promoted by Brad Whitfield, the Friday, March 3rd, and Saturday, March 4th doubleheader marks the first and second of four appearances at the high banked 3/8-mile oval. The championship point races will also feature the Challenge Cup Sprint Cars, Pure Stocks, and Bombers. Located at the Pinal County Fairgrounds in Casa Grande, Arizona, the Pit Gates will open at 2:00pm, the Spectator Gates will open at 4:00pm, and Racing is scheduled for 6:00pm. For more event information, visit the track's website at thecentralarizonaraceway.com or call 602.292.7607.
For those that cannot be at the races, a live stream will be broadcast by speedsport.tv.
NOTICE TO RACERS:
– ALL RACERS MUST PURCHASE THEIR USAC LICENSE / MEMBERSHIPS ONLINE PRIOR TO THE EVENT AT USACRACING.COM OR USACLICENSE.COM. (If racers have a membership question, contact Julie Tanaka at julietanaka@aol.com.)
– APPROVED/LEGAL MUFFLERS: EXTREME: 6014-3535, 3615-3535; SCHOENFELD: 14272535, 14272735-78; FLOWMASTER: 53545-10, 13516100, 13516101; COAST FABRICATION: 350x625x17-2S; B&B: FRAC-0375S; SPINTECH: 1545P SUPER STOCK
*Failure to comply with the muffler rule will risk disqualification from the event.
– ENTRY FEE: There is an entry fee due at registration / pill pick.
– TRANSPONDERS: Transponders ARE MANDATORY and will be available to rent.
– ONE WAY RADIOS / RACECEIVERS: One way radios ARE MANDATORY.
– FRONT AXLE TETHER SYSTEMS: Front axle tether systems (2-Chassis, 1-King Pin to King Pin) ARE MANDATORY.
– FULL CONTAINMENT SEATS: Full containment seats ARE MANDATORY.
– COCKPIT ADJUSTABLE SHOCKS: Cockpit adjustable shocks ARE ALLOWED.
While Central Arizona Raceway is new to the AMSOIL USAC/CRA Sprint Car Series, the 3/8-mile was a regular stop for the USAC SouthWest Sprints. Logan Seavey set the 410 track record of 14.948 on October 26, 2019 and R.J. Johnson established the 360 standard of 15.058 on October 29, 2016.
After winning both of the opening races at Cocopah Speedway, "The Pride of Garden Grove" Brody Roa (Garden Grove, California) sits atop the point standings. Driving the Tom & Christy Dunkel / BR Performance #17R Inland Rigging / Dunkel Farms DRC, Roa has also posted one heat race victory and 14 feature laps led. With fifteen USAC/CRA triumphs to his credit, the 2019 USAC SouthWest Champion will be looking to add Central Arizona Raceway to his winning resume.
"The Cadillac" Cody Williams (Corona, California) ranks second in the championship point standings. Racing his #44 WC Friend Company / Trench Shoring DRC, Williams has one Woodland Auto Display Fast Time Award and two top-10 finishes on the season. "The Cadillac" has three career feature wins and will have his sights on gaining valuable points with victories at the Pinal County Fairgrounds.
"KTJ" Kevin Thomas Jr. (Cullman, Alabama) is tied with Cody Williams for second in the point chase. Driving the Yeley/Petty Racing #2J Avanti Windows & Doors / Glenn Styres Racing Spike, Thomas has one Woodland Auto Display Fast Time Award and two top-10 finishes on the year. Primarily racing in the Midwest, it is unknown if the 3-time Oval Nationals Champion will be in action at Casa Grande.
Chase Johnson (Penngrove, California) sits fourth in the USAC/CRA point standings. Piloting Keith Ford's #73 Surecan LLC / Naturipe Triple X, Johnson has two top-10 finishes and 28 feature laps led in the campaign. Johnson races across the West Coast in multiple classes and is a threat to win every night.
"Chargin" Charles Davis Jr. (Buckeye, Arizona) ranks fifth in the championship point chase. Driving his #47 MP Environmental Services / Black Magic Bead Breaker DRC, Davis has one heat race victory and two top-10 finishes on the season. The 7-time Arizona Sprint Car Champion has enjoyed success at Central Arizona Raceway and will be looking to sweep the doubleheader.
Jim Vanzant (Prescott, Arizona) leads the chase for Rookie of the Year honors and ranks twelfth in the point standings. The owner/driver of the #3V Biltmore Automotive / Randy's Paint & Body Mach 1 is followed by Grant Sexton of Lakeside, California.
Among the other drivers expected to be in action are "Thunder" Tommy Malcolm, R.J. Johnson, Sterling Cling, "The Big Game Hunter" Austin Williams, A.J. Bender, Logan Calderwood, "The Gunslinger" Austin Grabowski, "The Magic Man" Mike Martin, Verne Sweeney, Matt Westfall, and more.
Central Arizona Raceway is located on the Pinal County Fairgrounds at 512 S. Eleven Mile Corner Road in Casa Grande, Arizona. To get to the track, take Exit 194 from Interstate 10, then head east seven miles to the fairgrounds. Adult Tickets are $20, Senior/Military Tickets are $18, Student Tickets (12-17) are $13, and Kids (11 and under) are FREE. For more event and ticket information, visit thecentralarizonaraceway.com or call 602.292.7607
The AMSOIL USAC/CRA Sprint Car Series thanks BillsJerky.net, Factory Wraps, Flowdynamics Incorporated, The Gardner Family (In Memory of Jim and Chet Gardner), Hoosier Racing Tires, Laserworx Manufacturing, Woodland Auto Display, Competition Suspension Incorporated, Extreme Mufflers, Rod End Supply, Saldana Racing Products, and Wilwood Disc Brakes for their support. If you or your company would like to become part of the series, contact Tony Jones at tonyjonesracing@gmail.com or PR Director Lance Jennings at lwjennings@earthlink.net.
For more information on the AMSOIL USAC/CRA Sprint Car Series, visit the United States Auto Club (USAC) website at usacracing.com and the social media for USAC Racing. You can also find exclusive content on the USAC/CRA Facebook, Twitter, and Instagram pages.
———————————————–
AMSOIL USAC/CRA SPRINT CAR CHAMPIONS: 2004-Rip Williams, 2005-Damion Gardner, 2006-Cory Kruseman, 2007-Tony Jones, 2008-Mike Spencer, 2009-Mike Spencer, 2010-Mike Spencer, 2011-Mike Spencer, 2012-Mike Spencer, 2013-Damion Gardner, 2014-Damion Gardner, 2015-Damion Gardner, 2016-Damion Gardner, 2017-Damion Gardner, 2018-Damion Gardner, 2019-Damion Gardner, 2020-NO AWARD, 2021-Damion Gardner, 2022-Damion Gardner.
2023 AMSOIL USAC/CRA SPRINT CAR WINS: 2-Brody Roa.
2023 AMSOIL USAC/CRA SPRINT CAR POINT STANDINGS: 1. Brody Roa-157, 2. Cody Williams-143, –. Kevin Thomas Jr.-143, 4. Chase Johnson-135, 5. Charles Davis Jr.-125, 6. Tommy Malcolm-124, 7. R.J. Johnson-120, 8. Sterling Cling-117, 9. Austin Williams-109, 10. A.J. Bender-90, 11. Logan Calderwood-84, 12. Jim Vanzant ®-68, 13. Grant Sexton ®-44, 14. Austin Grabwoski-11.