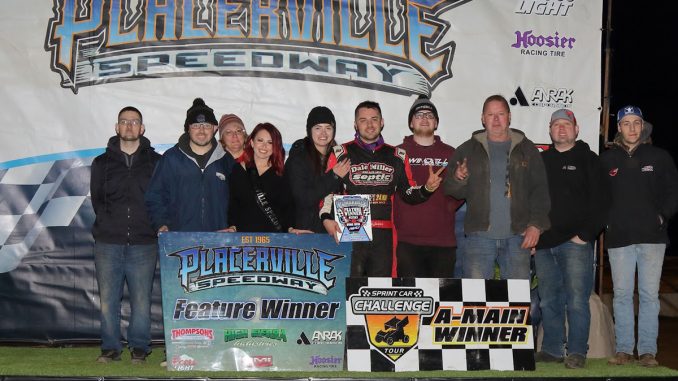 By Gary Thomas
Placerville, CA…Aromas, California's Justin Sanders continued his recent dominance of Placerville Speedway by fending off a late challenge from Corey Day to bring home his seventh career Elk Grove Ford Sprint Car Challenge Tour presented by Abreu Vineyards victory.
With the win at the Spring Fever Frenzy, Sanders now has sole possession of second on the all-time SCCT list. It also marked his 24th career Winged 360 Sprint Car triumph at Placerville Speedway, placing him into a tie with Brian Crockett for seventh on the win list.
"It feels great to be back up here in victory lane for the second straight week at Placerville Speedway," said the driver of the Dale Miller Septic/ Thompson's Auto No. 4sa. "I knew Corey Day was going to be coming so I had to hit my marks and pick my spots wisely through lapped traffic. We changed some things around on this car in the off-season and I feel that we are the best we've ever been at the moment."
Templeton's Kaleb Montgomery set the early pace in the 35-lap feature and did so in impression fashion at the helm of his David Crye Inc. No. 3 mount. Last August saw him claim his initial Placerville Speedway win and for a while it looked as if he'd add number two on Saturday. For the second consecutive week the action heated up as the race wore on with several racers poking their nose in the mix.
Sanders and Day battled tooth and nail along with Tony Gomes, Tim Kaeding, Shane Golobic and others towards the front. Sanders eventually carved his way to the inside of Montgomery to snag the lead, with Day following suit not long after. Sanders and Day proceeded to exchange the lead in exciting fashion, until Montgomery's strong run came to an end when he got around in turns three and four, which collected Gomes and a hard charging Andy Forsberg.
The closing stages saw Sanders work lapped traffic with Day giving it everything he had.
As the white flag waved Day peeked to the inside, but Sanders held strong and crossed under the Ron Stahl checkered flag for the $3,000 victory. Day, Cole Macedo, Kaeding and Max Mittry completed the top-five. Finishing sixth through 10th in the main event were Dylan Bloomfield, Tanner Carrick, Golobic, 18th starting Justyn Cox and DJ Netto.
Golobic's finish was noteworthy, as he moved forward nicely after bringing out a caution at one point. Ryan Bernal earned the Pit Stop USA Hard Charger Award in the main event with a drive from 22nd to 12th.
The night's 15-lap B-main was captured by Hanford's Michael Faccinto, with the 12-lap C-main won by Mitchell Faccinto. Tim Kaeding claimed the High Sierra Industries Dash, while Jake Morgan won Tiner-Hirst Ent. heat race number one, Justin Sanders snagged BR Motorsports heat race two, Tony Gomes won King Racing Products heat three and Shane Golobic brought home A.R.T. Ent. heat four.
Kaleb Montgomery began the night by pacing the 48-car field in Sierra Foothills Wine Services Qualifying with a blistering lap of 10.567. The Elk Grove Ford Sprint Car Challenge Tour presented by Abreu Vineyards returns to action this coming Saturday at the Stockton Dirt Track.
——
SCCT Spring Fever Frenzy Results – 48 Entries
A Main 35 Laps
1. 4SA-Justin Sanders[6]; 2. 14-Corey Day[3]; 3. 21T-Cole Macedo[9]; 4. 5V-Tim Kaeding[1]; 5. 2XM-Max Mittry[8]; 6. 83V-Dylan Bloomfield[10]; 7. 83T-Tanner Carrick[11]; 8. 17W-Shane Golobic[5]; 9. 42X-Justyn Cox[18]; 10. 88N-DJ Netto[14]; 11. 7-Jake Morgan[7]; 12. 22-Ryan Bernal[22]; 13. 21-Shane Hopkins[20]; 14. 21M-Michael Ing[17]; 15. 7C-Tony Gomes[4]; 16. 1-Chance Grasty[19]; 17. 92-Andy Forsberg[23]; 18. 88A-Joey Ancona[12]; 19. X1-Michael Faccinto[21]; 20. 12J-John Clark[24]; 21. 3-Kaleb Montgomery[2]; 22. 01-Nick Larson[15]; 23. 94TH-Ben Worth[13]; 24. 35-Sean Becker[16]
B Main 15 Laps
1. X1-Michael Faccinto[1]; 2. 22-Ryan Bernal[5]; 3. 92-Andy Forsberg[7]; 4. 12J-John Clark[3]; 5. 87-Ashlyn Rodriguez[4]; 6. 17-Kalib Henry[12]; 7. 9L-Luke Hayes[2]; 8. 21X-Gauge Garcia[10]; 9. 28-Chase Johnson[14]; 10. 73B-Braden Chiaramonte[9]; 11. 37-Michael Pombo[6]; 12. 12R-Mitchell Faccinto[13]; 13. 9-Dustin Freitas[8]; 14. 77-Ryan Lippincott[11]
C Feature 12 Laps
1. 12R-Mitchell Faccinto[2]; 2. 28-Chase Johnson[1]; 3. 10-Dominic Gorden[3]; 4. 25S-Seth Standley[4]; 5. 5H-Brinton Marvel[5]; 6. 121-Caeden Steele[12]; 7. 2-Cody Spencer[6]; 8. 93-Stephen Ingraham[11]; 9. 9T-Tyler Brown[7]; 10. 75-Bill Smith[8]; 11. 115-Nick Parker[9]; 12. 222-Wyatt VanLare[10]
Dash 6 Laps
1. 5V-Tim Kaeding[1]; 2. 3-Kaleb Montgomery[4]; 3. 14-Corey Day[6]; 4. 7C-Tony Gomes[2]; 5. 17W-Shane Golobic[5]; 6. 4SA-Justin Sanders[8]; 7. 7-Jake Morgan[7]; 8. 2XM-Max Mittry[3]
Heat 1 10 Laps
1. 7-Jake Morgan[1]; 2. 2XM-Max Mittry[2]; 3. 88A-Joey Ancona[3]; 4. 35-Sean Becker[5]; 5. 1-Chance Grasty[7]; 6. 12J-John Clark[8]; 7. 92-Andy Forsberg[6]; 8. 73B-Braden Chiaramonte[4]; 9. 10-Dominic Gorden[9]; 10. 9T-Tyler Brown[11]; 11. 34-Justin Henry[10]; 12. 7H-Jake Haulot[12]
Heat 2 10 Laps
1. 4SA-Justin Sanders[1]; 2. 3-Kaleb Montgomery[4]; 3. 83T-Tanner Carrick[3]; 4. 94TH-Ben Worth[2]; 5. 21-Shane Hopkins[8]; 6. 87-Ashlyn Rodriguez[6]; 7. 37-Michael Pombo[5]; 8. 77-Ryan Lippincott[7]; 9. 25S-Seth Standley[9]; 10. 75-Bill Smith[11]; 11. 222-Wyatt VanLare[10]; 12. (DNS) 54S-Drake Standley
Heat 3 10 Laps
1. 7C-Tony Gomes[2]; 2. 5V-Tim Kaeding[4]; 3. 83V-Dylan Bloomfield[1]; 4. 01-Nick Larson[5]; 5. 21M-Michael Ing[3]; 6. 9L-Luke Hayes[6]; 7. 9-Dustin Freitas[7]; 8. 21X-Gauge Garcia[8]; 9. 12R-Mitchell Faccinto[10]; 10. 5H-Brinton Marvel[9]; 11. 115-Nick Parker[11]
Heat 4 10 Laps
1. 17W-Shane Golobic[1]; 2. 14-Corey Day[4]; 3. 21T-Cole Macedo[2]; 4. 88N-DJ Netto[5]; 5. 42X-Justyn Cox[8]; 6. X1-Michael Faccinto[6]; 7. 22-Ryan Bernal[3]; 8. 17-Kalib Henry[10]; 9. 28-Chase Johnson[7]; 10. 2-Cody Spencer[11]; 11. 93-Stephen Ingraham[12]; 12. 121-Caeden Steele[9]
Qualifying 1
1. 73B-Braden Chiaramonte, 00:10.703[10]; 2. 7-Jake Morgan, 00:10.730[4]; 3. 2XM-Max Mittry, 00:10.759[1]; 4. 88A-Joey Ancona, 00:10.829[5]; 5. 35-Sean Becker, 00:10.886[11]; 6. 92-Andy Forsberg, 00:10.891[12]; 7. 1-Chance Grasty, 00:10.958[7]; 8. 12J-John Clark, 00:10.971[6]; 9. 10-Dominic Gorden, 00:10.998[2]; 10. 34-Justin Henry, 00:11.022[8]; 11. 9T-Tyler Brown, 00:11.154[9]; 12. 7H-Jake Haulot, 00:12.338[3]
Qualifying 2
1. 3-Kaleb Montgomery, 00:10.567[5]; 2. 4SA-Justin Sanders, 00:10.714[2]; 3. 94TH-Ben Worth, 00:10.780[1]; 4. 83T-Tanner Carrick, 00:10.800[10]; 5. 37-Michael Pombo, 00:10.867[6]; 6. 87-Ashlyn Rodriguez, 00:10.975[9]; 7. 77-Ryan Lippincott, 00:11.060[8]; 8. 21-Shane Hopkins, 00:11.098[3]; 9. 25S-Seth Standley, 00:11.138[11]; 10. 222-Wyatt VanLare, 00:11.167[4]; 11. 75-Bill Smith, 00:11.482[7]; 12. 54S-Drake Standley, 00:11.482[12]
Qualifying 3
1. 5V-Tim Kaeding, 00:10.733[7]; 2. 83V-Dylan Bloomfield, 00:10.766[1]; 3. 7C-Tony Gomes, 00:10.767[8]; 4. 21M-Michael Ing, 00:10.844[10]; 5. 01-Nick Larson, 00:10.873[12]; 6. 9L-Luke Hayes, 00:10.929[5]; 7. 9-Dustin Freitas, 00:10.930[6]; 8. 21X-Gauge Garcia, 00:10.945[2]; 9. 5H-Brinton Marvel, 00:10.965[4]; 10. 12R-Mitchell Faccinto, 00:10.991[11]; 11. 115-Nick Parker, 00:11.093[9]; 12. (DNS) 71L-William Fielding, 00:11.093
Qualifying 4
1. 14-Corey Day, 00:10.631[3]; 2. 17W-Shane Golobic, 00:10.730[10]; 3. 21T-Cole Macedo, 00:10.750[1]; 4. 22-Ryan Bernal, 00:10.806[4]; 5. 88N-DJ Netto, 00:10.818[6]; 6. X1-Michael Faccinto, 00:10.829[11]; 7. 28-Chase Johnson, 00:10.837[2]; 8. 42X-Justyn Cox, 00:10.888[7]; 9. 121-Caeden Steele, 00:11.071[12]; 10. 17-Kalib Henry, 00:11.123[8]; 11. 2-Cody Spencer, 00:11.139[5]; 12. 93-Stephen Ingraham, 00:11.205[9]