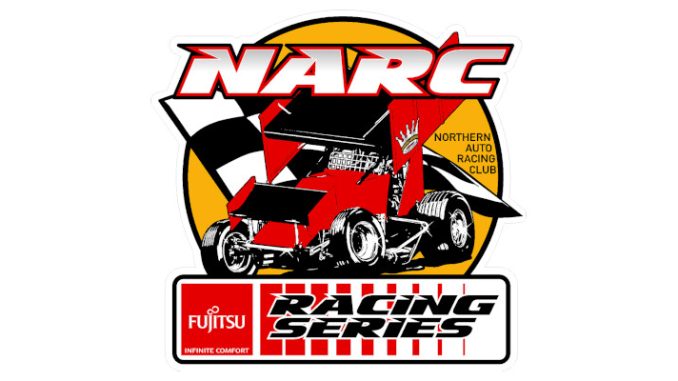 Jim Allen
(3/29/23) … The Northern Auto Racing Club (NARC) announced its associate sponsorship package for the 2023 sprint car season. The package incorporates the involvement of 29 different companies, providing a variety of products and services ranging from financial advisors and bacon, to property management and racing components. Overall, the NARC sprint cars are competing for over $800,000 in purse money this season, plus these partnerships, which are worth another $145,000 in cash and product during thee 23-race campaign.
Heading the list are Hoosier Racing Tires, Floracing.com, and NAPA Auto Parts, who are collectively providing championship point fund support. All but one of NARC's events are live-streamed on Floracing this season.
Automotive Racing Products (ARP) is once again the sponsor of the ARP Fast Time award. They are paying $100 to the quickest car team at every event.
The four heat races, which each pay $100 to the winner are sponsored by Brown & Miller Racing Solutions (BMRS), Kimo's Tropical Car Wash, Beacon Wealth Strategies-Raymond James, and Kaeding Performance. Kimo's Tropical Car Wash is kicking in another $500 to the driver who wins the most heat races this season.
Starr Property Management is the official fan engagement sponsor. Their unique involvement allows NARC to provide 1000's of fan giveaways of the course of the season. These types of promotions continue to build brand recognition and fan loyalty. These promotions include logoed thunder-sticks, foam fingers, t-shirts, and toy cars. Scelzi Enterprises is a cash contributor for the NARC frisbee throw promotion.
The ever popular Sunnyvalley "Powered by Bacon" trophy dash is again a series staple thanks to the continued relationship with Sunnyvalley Smoked Meats. The winner of the dash pockets $100, plus takes home nine-pounds of flash-frozen thick cut Sunnyvalley bacon. In addition, a lucky fan takes home a nine-pound cooler of bacon.
Come feature event time, the financial rewards keep coming. The tenth place finisher in every NARC A-Main event this season will pocket a $50 check courtesy of D & D Roofing (David & Dianne Durica, Orangevale, CA.)
Mettec Titanium is sponsoring the Mettec Lap Leader award. It pays $10 to the team for each lap lead in every NARC headliner this season. Leading all 30-laps in the A-Main is now worth an extra $300. Mettec also sponsors the "low pill" draw and awards $100 worth of their titanium product to the driver who pulls the lowest number in the pill draw.
Williams Roofing (Fremont, CA) has signed on as the official Hardcharger Award sponsor. The Williams Roofing Hardcharger Award will pay $150 to the driver who passes/advances the most cars from their original starting position in every NARC feature event. They are also kicking in a $1000 bonus to the driver who can pass the most cars this season.
Johnstone Supply will present the 2023 NARC Rookie of the Year with a check for $1250 at the November 5th NARC Champion Celebration at the Brookside Country Club.
An extensive product contingency awards program is also up for grabs this season. Product support is provided by Diversified Machine, Inc, KSE Racing Products, Kaeding Performance Center, LifelineUSA, Maxim Racing, Pyrotect, SAFECRAFT Safety Equipment, Saldana Racing Products, Schoenfeld Headers, SCI Racing Products, System 1 Pro Ignition, Ultra-Lite Brakes, Wilwood Disc Brakes, and Winters Engineering. Decals are required to be eligible.
Bullet Impressions is the official NARC apparel vendor and has a fully-stocked trailer of merchandise at every event.
Links to each sponsor can be found at https://narc410.com/sponsors/
The NARC 410 Racing Series is still in search of a title sponsor. If you have any interest in getting involved with the Northern Auto Racing Club sprint cars, please contact Jim Allen at jallen@NARC410.com.
The NARC 410 Racing Series presented by NAPA Auto Parts is scheduled for April 1st at the Stockton Dirt Track. The 2023 schedule can be downloaded at NARC410.com
PLEASE SUPPORT THOSE WHO SUPPORT SPRINT CAR RACING!