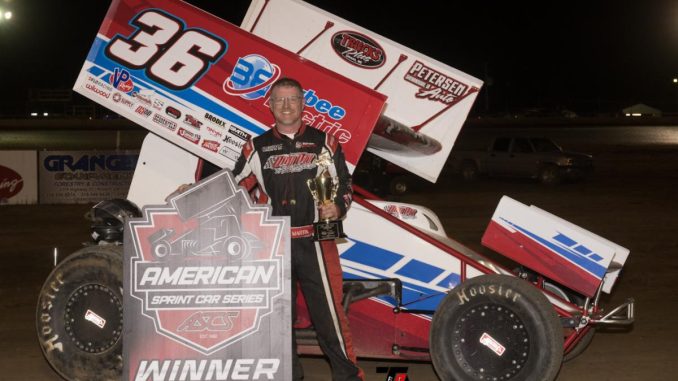 Bryan Hulbert
GREENWOOD, La. (April 22, 2023) Rolling in with a score to settle Saturday night after suffering a massive crash in 2022, Jason Martin did just that at Boothill Speedway with the American Sprint Car Series, leading start to finish at the three-eighths-mile oval for his second win in as many races.
The fifth time the tour has visited Boothill Speedway, the trend of different winners continues, with Jason adding his name to the list.
"We had a great race car tonight. I love this kind of track where you have to search around, and it just keeps changing throughout the race. It was fun," stated Jason. "I'm very proud of this team. We couldn't have asked for a better start to the season, and now we just have to do what we need to do to keep it going."
Martin's sixth career victory with the American Sprint Car Series, the No. 36 had to fend off Seth Bergman at the start. Stalked by the No. 23 the first nine laps, Seth slipped to the show position on Lap 10 as Landon Britt worked into the runner-up spot.
Working the hub of the high-banked oval, cautions offered the No. 10 a few shots at the lead, but each time it was Martin who held point. Varying his line as the track became more and more technical, the top three all raced to the white flag with the win hanging in the balance. Needing to make one last perfect lap, Jason was able to hit his marks to win by 0.588-seconds.
Landon Britt held on for second over Seth Bergman, with Howard Moore winning the battle for fourth over Cody Gardner. Sixth went to Matt Covington, followed by Brandon Anderson. Louisiana's Koty Adams crossed eighth, followed by Kyler Johnson. Involved in a caution on Lap 5, Michael Day rebounded to a top-ten finish.
Saturday's field broke into three AR Dyno Specialty Heat Races, with wins going to Matt Covington, Cody Gardner, and Michael Day. The KSE Hard Charger was Howard Moore. All drivers in attendance advanced to the A-Feature. Landon Britt was the overall quick qualifier and established a new track record at 12.644-seconds.
The American Sprint Car Series races again at Moberly Motorsports Park in Moberly, Mo., on Saturday, May 13.
The 2023 season will mark the 32nd year of competition for the American Sprint Car Series. Spearheaded by the American Sprint Car Series National Tour, the ASCS Nation includes Regional Tours that encompass both wing and non-wing competition.
When making it to the track is not an option, the series can be found on http://www.floracing.com, and is included in the platform's $150 a year subscription plan.
For other news, notes, and information on any of the tours under the ASCS banner, log onto http://www.ascsracing.com, follow on Facebook, Instagram, and Twitter (@ASCSRacing).
Race Results:
Lucas Oil ASCS National Tour
Boothill Speedway (Greenwood, La.)
Saturday, April 22, 2023
Car Count: 19
The Driver's Project Group Qualifying
The Drivers Project Qualifying 1 (3 Laps): 1. 10-Landon Britt, 12.644[3]; 2. 187-Landon Crawley, 12.883[2]; 3. 95-Matt Covington, 12.918[4]; 4. 3X-Dean Drake Jr, 13.114[6]; 5. 71-Bradyn Baker, 13.157[7]; 6. 5L-Dusty Young, 13.179[1]; 7. 93-Chris Sweeney, 14.226[5]
The Drivers Project Qualifying 2 (3 Laps): 1. 23-Seth Bergman, 12.763[5]; 2. G6-Cody Gardner, 12.827[2]; 3. 45X-Kyler Johnson, 12.869[4]; 4. 55B-Brandon Anderson, 13.042[1]; 5. 14-Jordon Mallett, 13.092[6]; 6. 85-Josh McCord, 13.883[3]
The Drivers Project Qualifying 3 (3 Laps): 1. 36-Jason Martin, 12.819[3]; 2. 6G-Koty Adams, 13.017[1]; 3. 3-Howard Moore, 13.031[6]; 4. 91-Michael Day, 13.110[5]; 5. 6-Christopher Townsend, 13.465[4]; 6. 2H-Tommy Hall, 14.215[2]
AR Dyno Specialty Heat Races (All drivers advance to the A-Feature)
AR Dyno Specialty Heat 1 (8 Laps): 1. 95-Matt Covington[2]; 2. 10-Landon Britt[4]; 3. 187-Landon Crawley[3]; 4. 3X-Dean Drake Jr[1]; 5. 71-Bradyn Baker[5]; 6. 5L-Dusty Young[6]; 7. 93-Chris Sweeney[7]
AR Dyno Specialty Heat 2 (8 Laps): 1. G6-Cody Gardner[3]; 2. 55B-Brandon Anderson[1]; 3. 23-Seth Bergman[4]; 4. 45X-Kyler Johnson[2]; 5. 14-Jordon Mallett[5]; 6. 85-Josh McCord[6]
AR Dyno Specialty Heat 3 (8 Laps): 1. 91-Michael Day[1]; 2. 3-Howard Moore[2]; 3. 36-Jason Martin[4]; 4. 6G-Koty Adams[3]; 5. 6-Christopher Townsend[5]; 6. 2H-Tommy Hall[6]
A-Feature
FloRacing A-Main (25 Laps): 1. 36-Jason Martin[1]; 2. 10-Landon Britt[4]; 3. 23-Seth Bergman[2]; 4. 3-Howard Moore[7]; 5. G6-Cody Gardner[3]; 6. 95-Matt Covington[5]; 7. 55B-Brandon Anderson[10]; 8. 6G-Koty Adams[9]; 9. 45X-Kyler Johnson[11]; 10. 91-Michael Day[8]; 11. 187-Landon Crawley[6]; 12. 14-Jordon Mallett[12]; 13. 71-Bradyn Baker[13]; 14. 3X-Dean Drake Jr[15]; 15. 5L-Dusty Young[16]; 16. 2H-Tommy Hall[18]; 17. 6-Christopher Townsend[14]; 18. 85-Josh McCord[17]; 19. 93-Chris Sweeney[19]
Lap Leader(s): Jason Martin 1-25
KSE Hard Charger: Howard Moore +3
Driver's Project Quick Time: Landon Britt -12.644
High Point Driver: Landon Britt
Provisional(s): N/A
ASCS Online:
American Sprint Car Series: http://www.ascsracing.com
Facebook: http://www.facebook.com/americansprintcarseries
Twitter: http://www.twitter.com/ascsracing [@ascsracing]
Broadcast: FloRacing.com
Live-Scoring: My Race Pass App