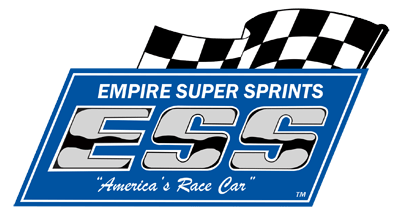 By Curtis Berleue
(Fonda, NY) | Coming into the night, Danny Varin had won 6 straight Empire Super Sprint main events at the Fonda Speedway. It looked like he would extend his streak once again, but a late race charge from Shawn Donath was too much for the driver of the 01 to handle. When the checkered flag flew it was Donath who crossed the line first, earning his first tour victory of 2023.
Pinnacle Investments Pole Sitter Matt Tanner and Danny Varin would bring the 24-car starting field to the green flag. Tanner jumped out to an early lead, but before a lap could be completed the yellow flag flew for the 1hd of Cory Sparks, who had made contact with the backstretch wall and rolled to a stop.
On the ensuing restart, Varin was able to get past Tanner on the high side of turn 2 and immediately pulled out to a good-sized lead over Tanner and third running Joe Trenca.
Lap 6 saw 5th-place starting Shawn Donath make a move to the inside of Tanner for second. He immediately began tracking Varin, and was closing rapidly on the 01 until the duo reached lap traffic on lap 10.
A third caution flew on lap 14, this time for 22nd starting Jason Barney. Until misfortune struck the 87, he looked like a shoe-in for the PJC Spray Foam Hard Charger award as he had climbed all the way to 9th place.
A late race restart again put the 53 of Donath on the tail tank of Varin, and on lap 22 Donath was able to get around Varin on the high side of turn 3 and never looked back.
"He (Varin) is so good here, I'm surprised we beat him," said an elated Donath in victory lane. "He seems invincible here, I'm super stoked."
Varin was able to hold on for a second-place finish.
"We just got lucky with where we started," said Varin "We just weren't good all night – we have some homework to do. Hats off to him (Donath). We just need to be better next time."
Polesitter Matt Tanner held on for third to complete the Ashley Lynn Winery podium. Jordan Poirier and Davie Franek rounded out the top 5.
A total of 29 sprint cars signed into the pits for the nights action. Via random draw, the field was split into 3 groups for timed hot laps. Danny Varin, Chuck Hebing and Davie Franek each picked up the Rifenburg Contracting fast time award in their respective groups.
E&V Energy heat race wins went to Danny Varin, Dylan Swiernik and Davie Franek. The Cobra Coaches Dash presented by One Zee Tees was won by Kyle Smith, while the Lacaillade Masonry B-Main went to Brett Wright. Also transferring out of the B-Main were Cory Sparks, Robbie Stillwaggon, Jason Barney, Zack Burd and Jesse Pruchnik.
Pit Notes:
Danny Varin did double duty on the night, competing in the weekly modified division along with ESS. His night in the modified ended with 5 laps to go after being involved in an accident while running up front.
Chad Miller got upside down in heat 2. The driver making his first ESS start of the season walked away from the wreck.
Shawn Donath is the 15th driver to pick up an ESS A-Main win at the Fonda Speedway
The next scheduled event for the Empire Super Sprints is this coming Friday May 12th at the Utica Rome Speedway in Vernon, NY. For the latest news, information, and schedule updates regarding the Empire Super Sprints be sure to check the series website (www.EmpireSuperSprints.com) and follow along on Facebook (Empire Super Sprints), Twitter (@ESSprints) and Instagram (@empiresupersprints).
The Empire Super Sprints would like to thank the following series sponsors for their continued support: Rifenburg Contracting Corp, PJC Spray Foam, Hoosier Racing Tire, Cobra Coaches, E&V Energy, Fondations 4 Saisons, Pinnacle Investments, LLC, Lacaillade Masonry, Inc., FX Caprara, ASI Racewear, Lanes Yamaha, Ashley Lynn Winery, Bicknell Racing Products, DirtTrackDigest.com and LC Design.
The ESS Road Ahead:
Friday, May 12 – Utica Rome Speedway – Vernon, NY ($2,000 to Win)
Friday, May 26 – Brewerton Speedway – Brewerton, NY ($2,000 to Win Don Gillette Memorial)
Saturday, May 27 – Fulton Speedway – Fulton, NY ($2,000 to Win)
Full Results:
A-Main: 1) 53-SHAWN DONATH [1], 2) 01-Danny Varin, 3) 90-Matt Tanner, 4) 28-Jordan Poirier, 5) 28f-Davie Franek, 6) 9-Josh Pieniazek, 7) 7c-Dylan Swiernik, 8) 98-Joe Trenca, 9) 32b-Kyle Smith, 10) 79-Jordan Thomas, 11) 4p-Chase Moran, 12) 89-Robbie Stillwaggon, 13) 41-Dalton Rombough, 14) 10h-Kelly Hebing, 15) 3a-Jeff Trombley, 16) 22-Jonathan Preston, 17) 14b-Brett Wright, 18) 87-Jason Barney, 19) 5d-Jake Dykstra, 20) 11j-Chris Jones, 21) 10-Jeff Cook, 22) 42-Jesse Pruchnik, 23) 5z-Zack Burd, 24) 1hd-Cory Sparks
B-Main: 1) 14b-Brett Wright, 2) 1hd-Cory Sparks, 3) 89-Robbie Stillwaggon, 4) 87-Jason Barney, 5) 5z-Zack Burd, 6) 42-Jesse Pruchnik, 7) 21-Steve Glover, 8) 45-Chuck Hebing (DNS), 9) 13-Keith Granholm (DNS), 10) 99-Mike Kiser (DNS), 11) 88c-Chad Miller (DNS)
Dash: 1) 32b-Kyle Smith, 2) 4p-Chase Moran, 3) 41-Dalton Rombough, 4) 5d-Jake Dykstra, 5) 22-Jonathan Preston, 6) 11j-Chris Jones
Heat 1: 1) 01-Danny Varin, 2) 98-Joe Trenca, 3) 10h-Kelly Hebing, 4) 28-Jordan Poirier, 5) 32b-Kyle Smith, 6) 41-Dalton Rombough, 7) 89-Robbie Stillwaggon, 8) 1hd-Cory Sparks, 9) 99-Mike Kiser, 10) 87-Jason Barney
Heat 2: 1) 7c-Dylan Swiernik, 2) 79-Jordan Thomas, 3) 53-Shawn Donath, 4) 3a-Jeff Trombley, 5) 4p-Chase Moran, 6) 5d-Jake Dykstra, 7) 45-Chuck Hebing, 8) 13-Keith Granholm, 9) 88c-Chad Miller, 10) 5z-Zack Burd
Heat 3: 1) 28f-Davie Franek, 2) 90-Matt Tanner, 3) 9-Josh Pieniazek, 4) 10-Jeff Cook, 5) 22-Jonathan Preston, 6) 11j-Chris Jones, 7) 14b-Brett Wright, 8) 21-Steve Glover, 9) 42-Jesse Pruchnik
Awards & Contingencies:
Rifenburg Contracting Fast Time ($25 each): 01-Danny Varin, 45-Chuck Hebing, 28f-Davie Franek
E&V Energy Heat Winners ($25 each): 01-Danny Varin, 7c-Dylan Swiernik, 28f-Davie Franek,
Cobra Coaches / One Zee Tees Dash Winner ($100): 32b-Kyle Smith
Lacaillade Masonry B Main Winner ($50): 14b-Brett Wright
PJC Spray Foam First Non-Qualifier ($50): 21-Steve Glover
Pinnacle Pole Draw Award ($25): 90-Matt Tanner
PJC Spray Foam Hard Charger Award ($50): 89-Robbie Stillwaggon (+9)
Pinnacle Investments Last Car Running ($35): 22-Jonathan Preston
Pinnacle Investments 11th Place (5 gallons fuel): 4p-Chase Moran
Ashley Lynn Winery Podium Finish (bottle of wine): 53-Shawn Donath, 01-Danny Varin, 90-Matt Tanner