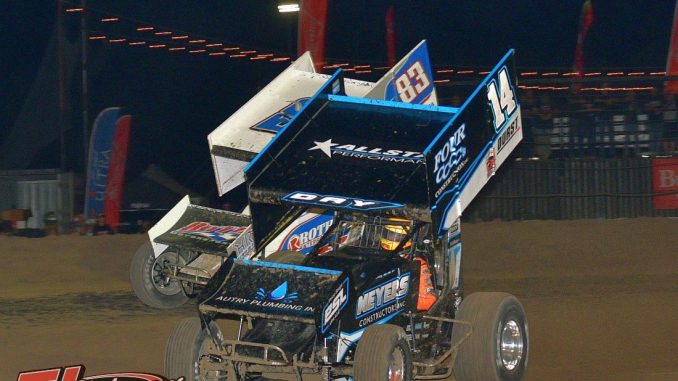 From Ben Deatherage
HANFORD, Ca. (May 12, 2023) — Teenage sensation Corey Day continued on his winning ways with an impressive Peter Murphy Classic opening night showing at Kings Speedway. Day powered past James McFadden in the NARC 410 NAPA Auto Parts Sprint Car Series headliner at the halfway point and never looked back to score his third series victory of the season.
Day also grabbed the feature victory in the 360 sprint car division.
The 30-lap headliner kicked off with polesitter McFadden grabbing the early race lead aboard the Dennis and Teresa Roth-owned Toyota Racing Development/HR Livestock #83 Maxim. The Australian driver, racing for just the second time in his career with the NARC, was jungle cat-quick, but several caution flags prevented him from thoroughly checking out from the rest of the pack.
After a lap thirteen restart, Day rocketed past McFadden coming to the line, only for the pass to be negated by a red flag incident for Cole Macedo. He was uninjured in the accident.
Once the wreckage was cleared, Day hunted McFadden down on an open racetrack and passed him for the point, manhandling the high side of the racetrack. Day, who started seventh, dominated the rest of the way aboard the Jason Meyer Racing-fielded Meyers Constructors/Four C's Construction/Autry Plumbing #14 KPC.
"We were really good there!" said a pleased Day in victory lane, after scoring his ninth career series win and first at the Peter Murphy Classic. "We had to do a motor change after hot laps, and we never gave up and kept pushing through. To start seventh, come through like that, and beat an Outlaw is cool."
McFadden finished a very respectable second, followed by the Scelzi Enterprises/Whipple Superchargers/Red Rose Transportation #41 Maxim driven by Dominic Scelzi. The balance of the top five consisted of fourth finishing Shane Golobic in the Works Limited #57 EMI and the Larry Antaya-owned Fire Protection Management of Bay Area/Northstar Concrete Pumping #16A Helix, piloted by Colby Copeland, in fifth.
Buddy Kofoid, Justyn Cox, Jonathan Allard, rookie Joey Ancona, and Ryan Bernal rounded out the top ten. Eleventh finisher Tanner Holmes earned the Williams Roofing Hardcharger award after starting 20th.
Brandon Emmett won the 305 sprint car main event.
NARC King of the West Sprint Car Series
Peter Murphy Classic
Kings Speedway
Hanford, California
Friday, May 12, 2023
NARC King of the West Sprint Car Series
Heat Race #1 (8 Laps)
1. 41-Dominic Scelzi[2]
2. 16A-Colby Copeland[1]
3. 21T-Cole Macedo[4]
4. 83JR-Michael Kofoid[3]
5. X1-Michael Faccinto[5]
6. 22-Ryan Bernal[9]
7. 26-Billy Aton[7]
8. 2K-Kaleb Montgomery[6]
9. 36-Craig Stidham[8]
Heat Race #2 (8 Laps)
1. 24-Chase Johnson[2]
2. 88A-Joey Ancona[1]
3. 83-James McFadden[4]
4. 57W-Shane Golobic[6]
5. 46JR-Joel Myers Jr[3]
6. 83V-Dylan Bloomfield[5]
7. 115-Nick Parker[7]
8. 12B-Dawson Faria[8]
9. 10-Mauro Simone[9]
Heat Race #3 (8 Laps)
1. 14-Corey Day[2]
2. 2X-Justin Sanders[4]
3. 42X-Justyn Cox[1]
4. 0-Jonathan Allard[6]
5. 88N-DJ Netto[5]
6. 69-Bud Kaeding[3]
7. 18T-Tanner Holmes[7]
8. 72W-Kurt Nelson[8]
9. 92-Andy Forsberg[9]
Dash #1 (6 Laps)
1. 83-James McFadden[2]
2. 21T-Cole Macedo[1]
3. 2X-Justin Sanders[3]
4. 41-Dominic Scelzi[4]
5. 24-Chase Johnson[5]
B-Main (10 Laps)
1. 2K-Kaleb Montgomery[1]
2. 18T-Tanner Holmes[4]
3. 115-Nick Parker[3]
4. 36-Craig Stidham[7]
5. 26-Billy Aton[2]
6. 72W-Kurt Nelson[6]
7. 92-Andy Forsberg[9]
8. 12B-Dawson Faria[5]
9. 10-Mauro Simone[8]
A-Main (30 Laps)
1. 14-Corey Day[7]
2. 83-James McFadden[1]
3. 41-Dominic Scelzi[4]
4. 57W-Shane Golobic[11]
5. 16A-Colby Copeland[6]
6. 83JR-Michael Kofoid[10]
7. 42X-Justyn Cox[9]
8. 0-Jonathan Allard[12]
9. 88A-Joey Ancona[8]
10. 22-Ryan Bernal[16]
11. 18T-Tanner Holmes[20]
12. 69-Bud Kaeding[18]
13. 115-Nick Parker[21]
14. 83V-Dylan Bloomfield[17]
15. 2X-Justin Sanders[3]
16. 88N-DJ Netto[15]
17. 46JR-Joel Myers Jr[14]
18. 21T-Cole Macedo[2]
19. 24-Chase Johnson[5]
20. 26-Billy Aton[23]
21. 2K-Kaleb Montgomery[19]
22. 72W-Kurt Nelson[24]
23. 36-Craig Stidham[22]
DNS: X1-Michael Faccinto
Winged 360 Sprint Cars
Heat Race #1 (8 Laps)
1. 41S-Dominic Scelzi[1]
2. 41-Corey Day[4]
3. 12R-Mitchell Faccinto[2]
4. 21X-Gauge Garcia[3]
5. 88V-Jace VanderWeerd[5]
6. 2-Brooklyn Holland[9]
7. 87-Ashlyn Rodriguez[6]
8. 14-Mariah Ede[8]
9. 54S-William Fielding[7]
Heat Race #2 (8 Laps)
1. 94-Kyle Hirst[2]
2. 121-Caeden Steele[1]
3. 4SA-Justin Sanders[4]
4. 88N-DJ Netto[3]
5. 18-Grant Champlin[5]
6. 5R-Ryan Rocha[6]
7. 15-Cody Key[8]
8. 77-Ryan Lippincott[7]
Heat Race #3 (8 Laps)
1. 17W-Shane Golobic[4]
2. 28-Chase Johnson[2]
3. 10-Dominic Gorden[3]
4. 67G-Grant Duinkerken[1]
5. 38N-Kyle Rasmussen[5]
6. 7B-Sean Becker[6]
7. 23T-George Tristao Jr[8]
8. 25S-Seth Standley[7]
B-Main (10 Laps)
1. 15-Cody Key[2]
2. 23T-George Tristao Jr[3]
3. 14-Mariah Ede[4]
4. 25S-Seth Standley[6]
5. 87-Ashlyn Rodriguez[1]
6. 77-Ryan Lippincott[5]
DNS: 54S-William Fielding
A-Main (25 Laps)
1. 41-Corey Day[2]
2. 17W-Shane Golobic[4]
3. 4SA-Justin Sanders[3]
4. 41S-Dominic Scelzi[5]
5. 28-Chase Johnson[9]
6. 88N-DJ Netto[11]
7. 7B-Sean Becker[17]
8. 94-Kyle Hirst[1]
9. 67G-Grant Duinkerken[6]
10. 121-Caeden Steele[7]
11. 38N-Kyle Rasmussen[15]
12. 12R-Mitchell Faccinto[8]
13. 88V-Jace VanderWeerd[13]
14. 2-Brooklyn Holland[18]
15. 18-Grant Champlin[14]
16. 10-Dominic Gorden[12]
17. 14-Mariah Ede[21]
18. 15-Cody Key[19]
19. 5R-Ryan Rocha[16]
20. 25S-Seth Standley[22]
21. 21X-Gauge Garcia[10]
22. 23T-George Tristao Jr[20]
Winged 305 Sprint Cars
Qualifying (2 Laps)
1. 75-Jerome Warmerdam[4]
2. 3P-Davey Pombo Jr[3]
3. 31H-Phil Heynen[5]
4. 11AU-Bryan Murphy[1]
5. 12E-Brandon Emmett[2]
6. 07-Jesse Burks[6]
Heat Race #1 (8 Laps)
1. 75-Jerome Warmerdam[1]
2. 31H-Phil Heynen[3]
3. 3P-Davey Pombo Jr[2]
4. 07-Jesse Burks[6]
5. 11AU-Bryan Murphy[4]
6. 12E-Brandon Emmett[5]
A-Main (20 Laps)
1. 12E-Brandon Emmett[2]
2. 07-Jesse Burks[1]
3. 3P-Davey Pombo Jr[5]
4. 75-Jerome Warmerdam[6]
5. 31H-Phil Heynen[4]
6. 11AU-Bryan Murphy[3]