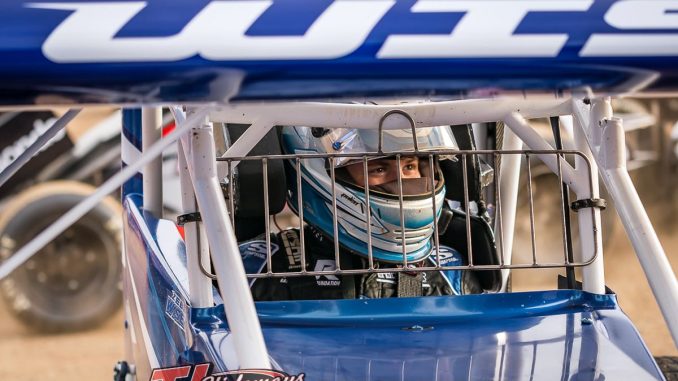 By Tyler Altmeyer
DUNDEE, N.Y. (May 19, 2023) – Angola, Indiana's Zeb Wise, who was on the sidelines since an accident suffered during competition at Eldora Speedway in early May, made his return to Tezos All Star Circuit of Champions presented by Mobil 1 competition extra special on Friday evening, not only opening the Series' three-day swing through the Empire State with an $8,000 victory at Outlaw Speedway in Dundee, New York, but simultaneously securing his first All Star triumph of the season, as well as the fifth of his career.
Impressive enough, Wise was forced to outduel National Sprint Car Hall of Famer and fellow front row starter, Tim Shaffer, in his winning pursuit, taking command from the former four-time All Star champion on lap 19. The winning move, powering even with Shaffer at the exit of turn two before slingshotting down the backstretch, was the final act in a many lap battle with the Aliquippa, Pennsylvania, native, commencing officially when the frontrunners reached the back of the pack.
Kokomo, Indiana's Parker Price-Miller, driving by Shaffer late in the non-stop 35-lapper, finished second, followed by Shaffer, "Sunshine" Tyler Courtney, and New York's own Paulie Colagiovanni.
"I was heartbroken after the crash for many reasons, but more or so because I was going to be forced to sit out a week, and that was tough to swallow because our cars have been really, really good," Wise, driver of the Rudeen Racing/Rayce Rudeen Foundation No. 26 sprint car, said. "It makes my job really easy when our cars are this good. It felt like we were able to make speed in places that other people couldn't. I was really patient with Tim [Shaffer]. He got a really good jump off the start to get ahead of me, so I just waited for lapped traffic before trying anything."
ON DECK:
The All Star Circuit of Champions will continue their New York trek with a stop at Fonda Speedway on Saturday, May 20. The highest of the weekend paydays, Saturday's visit will award a $10,000 share and will feature the All Stars for the first time since 2013. "Double-D" Danny Dietrich, one of Pennsylvania's finest who frequents the All Stars when his schedule allows, is the last to score a Series victory at Fonda, one of 19 wins with the All Stars to date.
Weedsport Speedway in Weedsport, New York, will be the final stop on the upcoming All Stars swing through the Empire State, ready to host some of the nation's finest open wheelers on Sunday, May 21. Like Outlaw Speedway, Weedsport will award an $8,000 payday, and just like Fonda Speedway, "Double-D" Danny Dietrich was the last to score a Weedsport victory during All Star competition, that occurring in 2019.
UPCOMING WEEKEND AGENDA:
Saturday, May 20
Fonda Speedway | Fonda, New York
Pit Gates: 4 p.m.
Team Meeting: 5:30 p.m.
Racing: 7 p.m.
https://www.thefondaspeedway.com/
Sunday, May 21
Weedsport Speedway | Weedsport, New York
Pit Gates: 3 p.m.
Team Meeting: 5 p.m.
Racing: 6 p.m.
Racing: https://www.weedsportspeedway.com/
For those who can not witness the All Star Circuit of Champions live and in person, FloRacing.com, the official media partner and broadcast provider of the All Stars, has you covered. To access live and on-demand racing action from the All Star Circuit of Champions, visit FloRacing.com and become an annual PRO subscriber. Race fans can see all the USAC and dirt late-model action they want in addition to Eldora Speedway's slate of races and those of the All Star Circuit of Champions. The subscription unlocks access to premium content across the entire FloSports network. Watch the events across all screens by downloading the FloSports app on iOS, Android, Apple TV, Roku, Amazon Fire and Chromecast. Find subscription here: https://flosports.link/3XJOg5Z
Contingency Awards/Results: Outlaw Speedway| May 19, 2023:
Kistler Racing Products Pill Draw | Entries: 22
Macri Concrete Hot Laps: Parker Price-Miller | 13.042
Hercules Tires Fast Qualifier: Parker Price-Miller | 13.065
Hunt Brothers Pizza Heat #1 Winner: Zeb Wise
Competition Suspension Inc Heat #2 Winner: Sye Lynch
All Pro Aluminum Cylinder Heads Heat #3 Winner: Tyler Courtney
Elliott's Custom Trailers and Carts Dash Winner: Zeb Wise
Tezos A-Main Winner: Zeb Wise
Tezos A-Main Hard Charger: Davie Franek (+7)
Carquest Perseverance Award: Michael Lutz Jr.
Tezos A Feature (35 Laps): 1. 26-Zeb Wise[1]; 2. 9P-Parker Price Miller[4]; 3. 45-Tim Shaffer[2]; 4. 7BC-Tyler Courtney[3]; 5. 10-Paulie Colagiovanni[10]; 6. 29-Sye Lynch[5]; 7. 4-Chris Windom[6]; 8. 28F-Davie Franek[15]; 9. 11-Cory Eliason[13]; 10. 5W-Lucas Wolfe[12]; 11. 3-Denny Peebles[7]; 12. 70-Scotty Thiel[11]; 13. 23-Zeth Sabo[17]; 14. 97-JJ Hickle[14]; 15. 28M-Conner Morrell[8]; 16. 55-Hunter Schuerenberg[21]; 17. 98-Joe Trenca[18]; 18. 35-Jared Zimbardi[16]; 19. 88C-Chad Miller[19]; 20. (DNF) 7NY-Matt Farnham[9]; 21. (DNF) 2-Dave Axton[20] Lap Leaders: Tim Shaffer (1-18), Zeb Wise (19-35)
Elliotts Custom Trailers and Carts Dash (6 Laps): 1. 26-Zeb Wise[3]; 2. 45-Tim Shaffer[1]; 3. 7BC-Tyler Courtney[4]; 4. 9P-Parker Price Miller[5]; 5. 29-Sye Lynch[2]
Hunt Brothers Pizza Heat 1 (8 Laps): 1. 26-Zeb Wise[1]; 2. 9P-Parker Price Miller[4]; 3. 7NY-Matt Farnham[2]; 4. 5W-Lucas Wolfe[5]; 5. 28F-Davie Franek[6]; 6. 35-Jared Zimbardi[3]; 7. 88C-Chad Miller[7]; 8. (DNF) 86-Michael Lutz Jr[8]
CSI Shocks Heat 2 (8 Laps): 1. 29-Sye Lynch[4]; 2. 3-Denny Peebles[7]; 3. 28M-Conner Morrell[1]; 4. 70-Scotty Thiel[2]; 5. 11-Cory Eliason[5]; 6. 23-Zeth Sabo[3]; 7. (DNF) 55-Hunter Schuerenberg[6]
All Pro Aluminum Cylinder Heads Heat 3 (8 Laps): 1. 7BC-Tyler Courtney[3]; 2. 4-Chris Windom[2]; 3. 45-Tim Shaffer[4]; 4. 10-Paulie Colagiovanni[1]; 5. 97-JJ Hickle[5]; 6. 98-Joe Trenca[6]; 7. (DNF) 2-Dave Axton[7]
Hercules Tire Qualifying: 1. 9P-Parker Price Miller, 00:13.065[1]; 2. 29-Sye Lynch, 00:13.338[5]; 3. 45-Tim Shaffer, 00:13.363[8]; 4. 26-Zeb Wise, 00:13.444[20]; 5. 28M-Conner Morrell, 00:13.451[3]; 6. 10-Paulie Colagiovanni, 00:13.510[18]; 7. 7NY-Matt Farnham, 00:13.526[2]; 8. 70-Scotty Thiel, 00:13.555[16]; 9. 4-Chris Windom, 00:13.568[6]; 10. 35-Jared Zimbardi, 00:13.569[12]; 11. 23-Zeth Sabo, 00:13.596[4]; 12. 7BC-Tyler Courtney, 00:13.634[21]; 13. 5W-Lucas Wolfe, 00:13.642[7]; 14. 11-Cory Eliason, 00:13.699[22]; 15. 97-JJ Hickle, 00:13.730[15]; 16. 28F-Davie Franek, 00:13.739[9]; 17. 55-Hunter Schuerenberg, 00:13.768[19]; 18. 98-Joe Trenca, 00:13.818[13]; 19. 88C-Chad Miller, 00:13.841[10]; 20. 3-Denny Peebles, 00:13.900[14]; 21. 2-Dave Axton, 00:14.383[17]; 22. 86-Michael Lutz Jr, 00:14.638[11]
2023 All Star Circuit of Champions Driver Standings (As of 5/19):
Tyler Courtney – 862
Parker Price-Miller – 824
Chris Windom – 808
Hunter Schuerenberg – 796
Tim Shaffer – 774
J.J. Hickle – 762
Scotty Thiel – 720
Conner Morrell – 694
Zeth Sabo – 666
Zeb Wise – 560