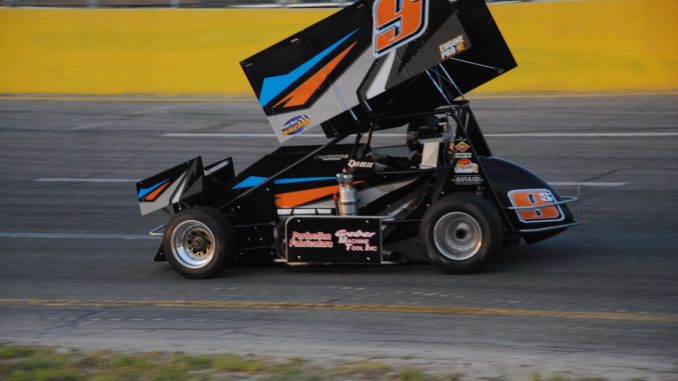 From Must See Racing
BIRCH RUN, Mich. (May 26, 2023) – A power move on the opening lap of Friday night's American Speed U.S. Nationals main event at Birch Run Speedway and Event Center catapulted defending Must See Racing Engine Pro Sprint Car Series champion Charlie Schultz into victory lane.
Schultz soared around the outside of past series champion Anthony McCune in turn three, then led all 25 laps at the four-tenths-mile paved oval en route to the first series win of his title defense.
Down the stretch, Schultz fended off point leader Jason Blonde – who won the season opener at Michigan's Berlin Raceway on May 20 – for his first Birch Run triumph.
"I started getting a little tight over the long run, but just tried to keep running a nice smooth line so I could keep the car underneath me," said Schultz of his third career Must See Racing victory. "When you come here and beat Blonde and (Jimmy) McCune, it says a lot. We came close here last summer, running the same line as I did tonight, and our homework finally paid off."
The win was emotional for Schultz, whose father passed away just prior to the start of the new season.
"I lost my dad a little over a month ago, and I think he was just smiling down on me tonight," Schultz noted. "We needed this one as a team. My dad aligned me with a lot of great people through the years, and it really feels good to get this one buttoned up."
After Blonde topped Melling Performance Time Trials with a lap of 13.628 seconds, a five-inversion placed Florida's Tommy Nichols on the pole in an expedited program Friday evening.
Anthony McCune surged past Nichols in the first set of corners, with Schultz following suit on the outside of the race track before making the winning move on the other end of the race track.
The night's only caution flag waved on lap five, when Canadian Ryan Litt slowed to a stop in turn one from a top-five running position with terminal mechanical trouble.
Though Blonde moved into second on the ensuing restart and gave chase for the remaining distance, he said an ill-handling race car prevented him from taking the fight to Schultz in the closing laps.
"Just a little too free off the corners," Blonde lamented. "We were hanging [the car] out off the exits, and the more I was catching him, the more I was putting the throttle down … so in the end I wasn't really gaining much. I could tell he was a little snug, but I just had nothing for him at the end."
Five-time series champion Jimmy McCune crossed the finish line third ahead of Anthony McCune and Dorman Snyder.
Cody Gallogly won the companion Must See Racing Midwest Lights crate sprint car feature, held over 40 laps on the third-mile "inner oval" at Birch Run Friday night.
The Must See Racing Engine Pro Sprint Car Series season continues Saturday night with the second half of the two-day American Speed U.S. Nationals at Birch Run Speedway and Event Center.
For more information on Must See Racing, visit the series website at www.mustseeracing.com.
Cody Gallogly won the Must See Racing Lites feature.
American Speed US Nationals
Birch Run Raceweay
Birch Run, Michigan
Friday, May 26, 2023
Must See Racing Sprint Car Series
Qualifying
1. 42-Jason Blonde, 13.628[1]
2. 9S-Charlie Schultz, 13.687[9]
3. 88-Jimmy McCune, 13.823[6]
4. 08-Anthony McCune, 13.856[5]
5. 55-Tommy Nichols, 14.081[7]
6. 85-Rick Holley, 14.256[2]
7. 99-Dorman Snyder, 14.302[10]
A-Main (25 Laps)
1. 9S-Charlie Schultz[4]
2. 42-Jason Blonde[5]
3. 88-Jimmy McCune[3]
4. 08-Anthony McCune[2]
5. 99-Dorman Snyder[7]
6. 85-Rick Holley[6]
7. 81-Johnny Petrozelle[9]
8. 7-Bobby Komisarski[14]
9. 27-Cody Gallogly[12]
10. 17-Andrew Bogusz[11]
11. 36-JJ Henes[13]
12. 23-Charlie Baur[10]
13. 7L-Ryan Litt[8]
14. 51-Joshua Sexton[16]
15. 55-Tommy Nichols[1]
Must See Racing Lites
Qualifying
1. 27-Cody Gallogly, 13.056[4]
2. 36-JJ Henes, 13.306[5]
3. 40-Sawyer Stout, 13.455[9]
4. 51-Joshua Sexton, 13.716[8]
5. 17-Andrew Bogusz, 13.765[2]
6. 23-Charlie Baur, 14.126[1]
7. 14X-Matt Double, 15.228[3]
8. 21-Dale McQuillen, 15.686[6]
9. 32-Todd McQuillen, 15.721[7]
Heat Race #1
1. 32-Todd McQuillen[1]
2. 23-Charlie Baur[3]
3. 14X-Matt Double[4]
4. 21-Dale McQuillen[2]
Heat Race #2
1. 51-Joshua Sexton[1]
2. 27-Cody Gallogly[4]
3. 40-Sawyer Stout[2]
4. 36-JJ Henes[3]
5. 17-Andrew Bogusz[5]
A-Main
1. 27-Cody Gallogly[6]
2. 17-Andrew Bogusz[2]
3. 51-Joshua Sexton[3]
4. 32-Todd McQuillen[9]
5. 36-JJ Henes[5]
6. 23-Charlie Baur[1]
7. 14X-Matt Double[7]
8. 40-Sawyer Stout[4]
9. 21-Dale McQuillen[8]