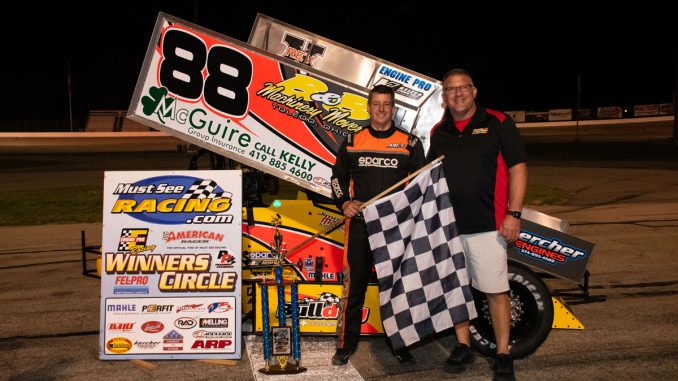 From Must See Racing
BIRCH RUN, Mich. (May 27, 2023) – Ten months after enduring injuries from a frightening fire in dirt sprint car competition, five-time Must See Racing Engine Pro Sprint Car Series champion Jimmy McCune finally found his way back to victory lane.
McCune led the final 18 laps of Saturday night's American Speed U.S. Nationals finale at Birch Run Speedway and Event Center en route to his first triumph of the season in the familiar Abe's Auto Parts & Sales No. 88. He snapped a winless drought of nearly a full year in Must See Racing action in the process.
Prior to his Saturday score, McCune's most recent victory in Must See Racing competition was at Birch Run on June 10, 2022. It was his third overall win at the four-tenths-mile, semi-banked oval.
Though outside polesitter Johnny Petrozelle III jumped out to the early lead, pacing the first 12 circuits, overheating issues eventually bit the Mike Blake Racing No. 81 and opened the door for McCune to pounce.
"This was actually the last place that I really got to race before the fire last summer," McCune recalled. "I ran here on a Friday night, went to Butler (Motor Speedway) on the dirt, ran two laps and got myself burnt up. So to come back here and get my first win of the year … what more could you ask for?
"This is a great facility with great fans and great racing. … So many people went into making this possible; all in all, it's been a great weekend."
An inversion roll of seven placed Bobby Komisarski – in his third race for car owner Gene Fogle – on the pole for the 30-lap feature, but it was Petrozelle who got the early jump from the outside groove.
The 2017 Must See Racing South division champion raced out to the lead and held serve uncontested until lap 13, when the temperature in his Dick Kercher-prepared engine began skyrocketing, forcing Petrozelle to roll to a stop in turns one and two and bringing out a caution with 12 laps complete.
It was a tough moment for the open-wheel veteran, who has driven for owner Mike Blake off and on for the past five years.
"We had a really great pace early on; that's the best that Mike and I have been together in quite some time," explained Petrozelle after the race. "We started off really good; I was really happy with the car and I thought we really had something for them tonight in that first run. Unfortunately, the motor started getting hot there right about halfway and that's what ultimately got us.
"This is a step in the right direction, though. Hopefully, we can build on this and be back again this year."
Petrozelle's heartbreak opened the door for McCune, who raced out to a half-track lead over longtime rival Jason Blonde and never looked back from there.
"I just let him go at the start and let him eat those laps up," said McCune of Petrozelle. "I didn't feel any pressure (from behind) and the car was rolling the corner really well, so I bided my time, moved the wing forward a bit and found a line on the bottom that worked for us. It came to life when we needed."
McCune's nephew, 2020 series champion Anthony McCune, passed Blonde on the final lap for second and earned his best result since a back injury sidelined him from competitive action two years ago.
"We just never had a winning car from the start of that race, but we made do with it the best we could," noted Anthony McCune. "As a team, we needed this. After me being out of the car for two years and Jimmy missing part of last season, I think this is a reminder to everyone that we can still get it done."
Blonde filled out the podium finishers over defending series champion Charlie Schultz and Dorman Snyder.
Schultz kicked off the night by setting fast time around the four-tenths-mile oval with a lap of 13.445 seconds in the IBT Motorsports No. 9s. It was the third fast time of his Must See Racing career.
Jimmy McCune and Todd McQuillen split the pair of eight-lap heat race wins prior to the main event.
Cody Gallogly won the companion Must See Racing Midwest Lights crate sprint car feature on the four-tenths-mile oval in a photo finish over second-year driver Charlie Baur.
Gallogly led only the final few feet of the main event, making a last-lap pass to triumph by .013 seconds. It marked the closest finish in the four-year history of the Midwest Lights class under Must See Racing.
Saturday's program featured a 20-minute opening ceremony block honoring the nation's fallen service members. A 50/50 raffle was also held benefiting series partner Steadfast for Veterans and the non-profit organization's Indianapolis housing project.
The Must See Racing Engine Pro Sprint Car Series season continues June 16 during Super Crown weekend at Ohio's Lorain Raceway Park. Blonde is the most recent series winner at the facility.
For more information on Must See Racing, visit www.mustseeracing.com.
RESULTS: Must See Racing Engine Pro Sprint Car Series; Birch Run (Mich.) Speedway; May 27, 2023
Qualifying (best of two laps): 1. Charlie Schultz, 9s, IBT-13.445; 2. Jason Blonde, 42, Nosal-13.701; 3. Dorman Snyder, 99, Stickney-13.726; 4. Jimmy McCune, 88, McCune-13.756; 5. Anthony McCune, 8, McCune-13.794; 6. Johnny Petrozelle, 81, Blake-13.979; 7. Bobby Komisarski, 7, Fogle-14.061; 8. Todd McQuillen, 2, Koyan-14.131; 9. Rick Holley, 85, Holley-14.597.
Heat #1 (8 laps, all transfer): 1. Todd McQuillen [1], 2. Bobby Komisarski [2], 3. Johnny Petrozelle [3], 4. Rick Holley [5], 5. Anthony McCune [4].
Heat #2 (8 laps, all transfer): 1. Jimmy McCune [1], 2. Dorman Snyder [2], 3. Jason Blonde [3], 4. Charlie Schultz [4].
American Racer A-Feature (30 laps): 1. #88 – Jimmy McCune [4], 2. #8 – Anthony McCune [3], 3. #42 – Jason Blonde [6], 4. #9s – Charlie Schultz [7], 5. #99 – Dorman Snyder [5], 6. #7 – Bobby Komisarski [1], 7. #2 – Todd McQuillen [8], 8. #81 – Johnny Petrozelle III [2], 9. #85 – Rick Holley [9], 10. #36jr – J.J. Henes [12], 11. #27 – Cody Gallogly [10], 12. #23 – Charlie Baur [11], 13. #51 – Joshua Sexton [13].
Lap Leader(s): Bobby Komisarski Grid, Johnny Petrozelle III 1-12, Jimmy McCune 13-30.
Hard Charger: #88 – Jimmy McCune (+3)