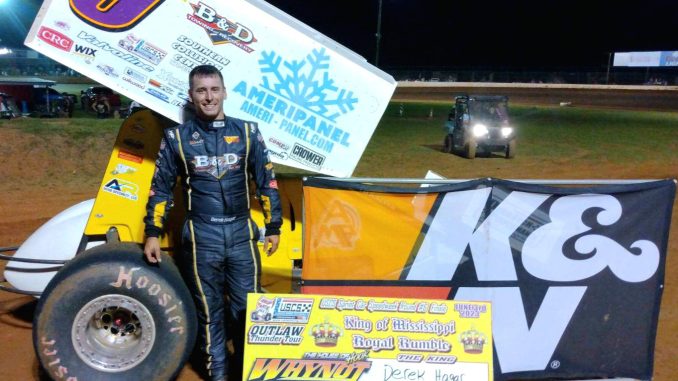 From Pete Walton
MERIDIAN, MS – Derek Hagar of Marion, AR made history Saturday night at Whynot Motorsports Park by winning his sixth consecutive United Sprint Car Series Speedweek race Presented by Engler Machine and Tool driving the Ameripanel Special in the 30-lap Feature Race. It was the first time in the 18-year history of the USCS Speedweek that a driver won every race.
Hager's five previous 2023 USCS Speedweek wins came on May 26 at Lexington (TN) 104 Speedway on May 26, Riverside International Speedway in West Memphis, AR on May 27, Old No. 1 Speedway in Harrisburg, AR on May 28, Thursday night at North Alabama Speedway in Tuscumbia, AL, and on Friday night at Hattiesburg Speedway in Hattiesburg, MS.
Koty Adams of Haughton, LA finished second and third went to Dale Howard of Byhalia, MS. Hayden Martin of Olive Branch, MS took the fourth spot and 14-time USCS National Champion Terry Gray of Bartlett, TN was fifth. Gray, a National Sprint Car Hall of Fame Inductee, is also the National point leader.
Tucker Boulton of Brighton, TN started 15th and finished sixth as the Hard Charger of the Race. Shane Morgan of Gulfport, MS was seventh and Ryan Roberts of Aurora, NE came home in eighth position. Ninth went to Dewayne White of Byhalia, MS, and Ronny Howard of Nesbit, MS rounded out the top ten at The "House of Hook".
In preliminary action, Adams won the six-lap Hoosier Racing Tire Speed Dash to earn the pole position for the Feature Race. The three eight-lap Heat Races were won by Lane Whittington of Denham Springs, LA in the Engler Machine and Tool First Heat, Dale Howard in the JJ Supply of NC Second Heat, and Adams in the DHR Third Heat. The 12-lap B-Main was won by Boulton.
Adams took the lead at the drop of the green flag for the Feature Race followed by Hagar, who started on the outside of row one, Dale Howard, Chase Howard, and Gray. Chase Howard dropped off the pace and pulled to the infield on lap three.
The first of three caution flags came out on lap five when Michael Miller of Pascagoula, MS spun in turn four. Hagar went to work on the restart, passed Adams for the lead, and never looked back. The second caution flag came out on lap eight when Whittington hit the fourth turn wall while running sixth. Hagar led Adams, Dale Howard, Gray and Martin down for the restart.
Martin moved up to challenge Gray for the fourth spot, and took the position on lap 11 The third and final caution flag came out on lap 25 when Miller cut down a tire in turn four. That set up a five lap dash to the finish. Hagar was able to hold off Adams to race his way to a historic victory with a two car-length margin of victory.
With wins in all six 2023 USCS Speedweek races, Hagar was crowned the 2023 Speedweek Champion. Dale Howard was second in the Speedweek point standings, and Gray finished third in the Speedweek points chase. Not only was history made with Hagar winning all six races, but it was also the first USCS Speedweek where all the races were run without a rainout.
For more information about the 18th Annual USCS Speedweeks Presented By Engler Machine & Tool, including the Final Speedweek and current National point standings, visit the United Sprint Car Series web site at www.uscsracing.com, or call Pete Walton at 770-865-6097. The USCS Facebook Page is located at www.facebook.com/uscs.racing.
United Sprint Car Series Marketing Partners are K&N Filters, Engler Machine & Tool, Hoosier Racing Tire, Hero Graphics, Huggins Cans, DMI, J&J Supply of NC, Racing Electronics, JE Pistons, DHR Suspension, Wilwood Disc Brakes, KSC Racing Products, PRO Shocks, Schoenfeld Headers, and Arizona Sport Shirts.
OFFICIAL RESULTS OF ROUND 6 FOR THE UNITED SPRINT CAR SERIES SPEEDWEEK PRESENTED BY ENGLER MACHINE AND TOOL AT WHYNOT MOTORSPORTS PARK IN MERIDIAN, MS ON 6/3/23:
FEATURE RACE – 30 Laps: 1. Derek Hagar, Marion, AR; 2. Koty Adams, Haughton, LA; 3. Dale Howard, Byhalia, MS; 4. Hayden Martin, Olive Branch, MS; 5. Terry Gray, Bartlett, TN; 6. Tucker Boulton, Brighton, TN; 7. Shane Morgan, Gulfport, MS; 8. Ryan Roberts, Aurora, NE; 9. Dewayne White, Byhalia, MS; 10. Ronny Howard, Nesbit, MS; 11. Lance Moss, Cherryville, NC; 12. Todd Bradford, Arlington, TN; 13. Blake Carrier, Amite, LA; 14. Terry Witherspoon, Jacksonville, FL; 15. Rusty Sanford, Seminary, MS; 16. Jeff Willingham, Ripley, MS; 17. Spencer Meredith, Hernando, MS; 18. Michael Miller, Pascagoula, MS; 19. Jake Brashier, Denham Springs, LA; 20. Miles Paulus, Marshall, MO; 21. Lane Whittington, Denham Springs, LA; 22. Chase Howard, Nesbit, MS.
HOOSIER RACING TIRE SPEED DASH – 6 Laps (Sets first six main event starting spots): 1. Adams; 2. Hagar; 3. D. Howard; 4. Whittington; 5. C. Howard; 6. Martin.
HEAT RACES – 8 Laps:
ENGLER MACHINE AND TOOL HEAT 1: 1. Whittington; 2. Morgan; 3. Roberts; 4. C. Howard; 5. Moss; 6. Paulus; 7. Boulton; 8. Sanford; 9. Willingham.
JJ SUPPLY OF NC HEAT 2: 1. D. Howard; 2. Hagar; 3. Miller; 4. Gray; 5. Lee Moore, Moundville, AL; 6. R. Howard; 7. Witherspoon; 8. Blake Mallette, Vancleve, MS; 9. Meredith.
DHR HEAT 3: 1. Martin; 2. Adams; 3. White; 4. Carrier; 5. Bradford; 6. Brashier; 7. Paul Jones, Casper, WY; 8. Sean Wimpee, Chattanooga, TN; 9. Man Bourgoyne, Denham Springs, LA DNS.
B-MAIN – 12 Laps (Top 8 Transfer To Main Event); 1. Boulton; 2. R. Howard; 3. Witherspoon; 4. Bradford; 5. Meredith; 6. Brasher; 7. Sanford; 8. Willingham; 9. Jones; 10. Mallette; 11. Wimpee; 12. Moore DNS; 13. Bourgoyne DNS.