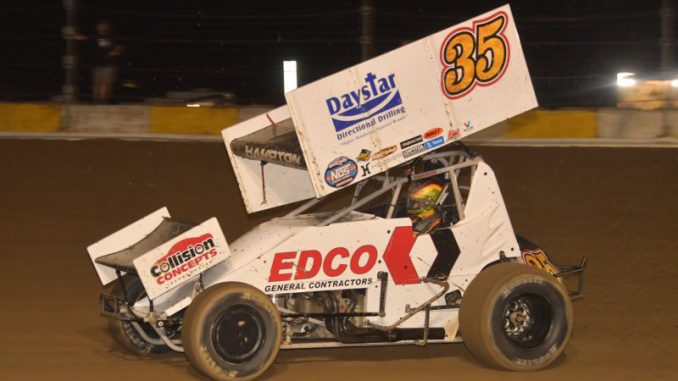 From Aaron Fry
The Ti22 Performance FAST On Dirt tour made pair of stops in Indiana over the weekend. It was one of only two scheduled doubleheader weekends in the Hoosier state in 2023. It was home state racers Zach Hampton and Kraig Kinser scoring the popular wins. Hampton won out over a 26-car field Friday night at Circle City Raceway. A night later, it was Kraig Kinser winning the rain delayed main event at Montpelier Motor Speedway against a 23 car field of racers.
The Circle City event was the first time ever on the 1/5 mile oval for FAST. Hampton got started on the right note by setting overall quick time with a 12.029 second lap to lead group 2 in ARP Fasteners qualifying. Jeremy Weaver and Skylar Gee were quickest in groups one and three. Heat race wins were claimed by Jack Sodeman Jr, Hampton and Danny Sams III. The 12 lap B-Main went to Justin Clark.
Jeremy Weaver and Skylar Gee brought the 20-car main event to green with Gee grabbing the early lead. One caution and one red flag would be the only breaks in the 30-lap race. Sean Rayhall flipped in turn 1 for the lone red flag situation of the weekend. Thankfully, he was only shaken, but okay. Sixth starting Hampton methodically worked his way to the front, overtaking Gee to go on to win. At the line it was Hampton and Gee, followed by Kraig Kinser, Danny Smith and tour point leader Ricky Peterson. Rounding out the top 10 were Brandon Spithaler, Jeremy Weaver, Danny Sams, Mitch Harble and Justin Clark.
At Montpelier Motor Speedway, a pop-up rain shower hit jut after the drivers meeting had concluded. Track promoter Chad King forged ahead, and despite being a late night, a large crowd stayed to witness a great program of racing. The rain made for a lightning fast race track where Sean Rayhall set overall quick time with a blistering 12.170 in group 3. Kraig Kinser and Skylar Gee also quick timed their respective heat race groups.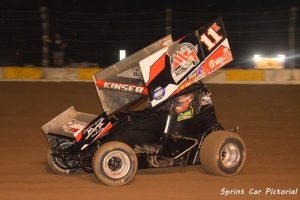 Heats one and two went green to checkered won by FAST rookies Jeremy Weaver and Justin Clark. Heat three was won by Ricky Peterson but saw the only yellow in prelims when Jack Sodeman and Sean Rayhall came together battling for the fifth spot, eliminating both from the event.
The 30-lap main pushed off a little past 1 am, making it the latest main event in the 13-year history of the BOSS/FAST tours. But it was well worth the wait! The rookie pair of Clark and Weaver brought the 22 starters to the green but it was third starting Ricky Peterson who rocketed to the early lead and set sail. However, a lap 4 yellow brought the field back to his bumper and shortly after the restart, Alberta, Canada's Skylar Gee wrestled the lead away until the race's only other yellow on lap 9.
The final 21 laps ran caution free with some great wheel to wheel battles and borderline insane moves. Kraig Kinser took over the lead just past the halfway mark but Brandon Spithaler was also on the charge late. As the pair worked through traffic, Spithaler was able to close on the leader, once drawing right up on his rear bumper in the final laps. But Kinser was up to the task and held on for the $3,000 payday. Spithaler settled for second with Gee, Clark and Peterson. The rest of the top was Danny Sams, Zach Hampton, Jeremy Weaver, Kasey Jedrzejek, and Mitch Harble.
We'd like to an extend a special thank you to Scott Ronk of Elite Wings and Chalk Stix along with Bernie Stuebgen of Indy Race Parts for coming on board to help make this weekend happen. Please let them know you appreciate their support of winged racing in Indiana. Also a sincere thank you to the staffs at Circle City Raceway and Montpelier Motor Speedway!
FAST will now take the next 2 weekends off in honor of Ohio Sprint Speedweek. We wish all our teams the best of luck wherever they choose to race. We will return to action on Friday and Saturday June 23-24 with shows at Hilltop Speedway in Millersburg, Ohio and Wayne County Speedway in Orrville, Ohio. The companion BOSS non wing sprint cars will be in action the next 2 weekends with pairs of events at Mercer and Knox in Pennsylvania and then another doubleheader on the big tracks at Eldora and Lawrenceburg a week later.
BOX SCORE
FAST On Dirt
Circle City Raceway
Friday, June 2, 2023
26 Entries
ARP Fasteners Qualifying
Group 1: 1. 5-Jeremy Weaver 12.290, 2. 4-Danny Smith 12.389, 3. 23jr-Jack Sodeman Jr 12.642, 4. 55t-McKenna Haase 12.891, 5. 13-Van Gurley Jr 12.930, 6. 5v-Jesse Vermillion 12.986, 7. 16th-Kevin Newton 12.987, 8. 33$-Shane O'Banion 13.000, 9. 7s-Sam Scott NT
Group 2: 1. 35-Zach Hampton 12.029, 2. 11k-Kraig Kinser 12.179, 3. 12-Kaey Jedrzejek 12.654, 4. 2-Ricky Peterson 12.684, 5. 25r-Jordan Ryan 12.755, 6. 22-Brandon Spithaler 12.758, 7. 78-Justin Clark 12.792, 8. 59-Bryan Nuckles 12.885, 9. 12v-Blake Vermillion 12.885
Group 3: 1. 99-Skylar Gee 12.519, 2. 19-Sean Rayhall 12.685, 3. 24d-Danny Sams III 12.765, 4. 77-Geoff Dodge 12.892, 5. 15-Mitch Harble 12.921, 6. 12s-Adyn Schmidt 13.374, 7. 40-Logan Fenton 13.398, 8. 4T-Josh Turner NT
NAPA of Fremont – Heat 1: 1. 23jr-Sodeman[2] ; 2. 55t-Haase[1] ; 3. 4-Smith [3] ; 4. 5-Weaver[4] ; 5. 13-Gurley[5] ; 6. 5v-J.Vermillion[6] ; 7. 16th-Newton[7] ; 8. 33$-O'Banion[8] ; 9. 7s-Scott[DNS]
MadTree Brewing – Heat 2: 1. 35-Hampton[4] ; 2. 2-Peterson[1] ; 3. 12-Jedrzejek[2] ; 4. 11k-Kinser[3] ; 5. 22-Spithaler[6] ; 6. 25r-Ryan[5] ; 7. 78-Clark[7] ; 8. 59-Nuckles[8] ; 9. 12v-B.Vermillion[9]
Elite Wings – Heat 3: 1. 24d-Sams[2] ; 2. 99-Gee[4] ; 3. 19-Rayhall[3] ; 4. 77-Dodge[1] ; 5. 15-Harble[5] ; 6. 40-Fenton[7] ; 7. 12s-Schmidt[6] ; 8. 4T-Turner[8]
MSD Ignitions – B Main: 1. 78-Clark[5] ; 2. 25r-Ryan[2] ; 3. 33$-O'Banion[7] ; 4. 5v-J.Vermillion[1] ; 5. 59-Nuckles[8] ; 6. 12v-B.Vermillion[6] ; 7. 4T-Turner[9] ; 8. 7s-Scott[11] ; 9. 16th-Newton[4] ; 10. 12s-Schmidt[6] ; 11. 40-Fenton[3]
Ti22 Performance – Elite Wings A Main: 1. 35-Hampton[6] ; 2. 99-Gee[2] ; 3. 11k-Kinser[3] ; 4. 4-Smith[9] ; 5. 2-Peterson[8] ; 6. 22-Spithaler[14] ; 7. 5-Weaver[1] ; 8. 24d-Sams[4] ; 9. 15-Harble[15] ; 10. 78-Clark[16] ; 11. 59-Nuckles[20] ; 12. 33$-O'Banion[18] ; 13. 25r-Ryan[17] ; 14. 5v-J.Vermillion[19] ; 15. 55t-Haase[7] ; 16. 77-Dodge[12] ; 17. 13-Gurley[13] ; 18. 23jr-Sodeman[5] ; 19. 19-Rayhall[11] ; 20. 12-Jedrzejek[10]
Indy Race Parts – Hard Charger: 59 Nuckles +9
Chalk Stix – Hard Luck: 4T-Turner
FAST On Dirt
Montpelier Motor Speedway
Saturday, June 3, 2023
23 Entries
ARP Fasteners Qualifying
Group 1: 1. 11k-Kraig Kinser 12.368, 2. 24d-Danny Sams III 12.827, 3. 5-Jeremy Weaver 12.999, 4. 77-Geoff Dodge 13.249, 5. 15-Mitch Harble 13.303, 6. 13-Van Gurley Jr 13.548, 7. 37-Bryce Norris 13.624, 8. 12v-Blake Vermillion 13.735
Group 2: 1. 99-Skylar Gee 12.355, 2. 35-Zach Hampton 12.897, 3. 78-Justin Clark 12.994, 4. 40-Logan Fenton 13.337, 5. 33$-Shane O'Banion 13.338, 6. 2x-Gage Etgen 13.494, 7. 5v-Jesse Vermillion 13.891, 8. 55t-McKenna Haase NT
Group 3: 1. 19-Sean Rayhall 12.170, 2. 22-Brandon Spithaler 12.424, 3. 2-Ricky Peterson 12.447, 4. 25R-Jordan Ryan 12.490, 5. 23jr-Jack Sodeman Jr 12.800, 6. 16th-Kevin Newton 12.845, 7. 12-Kasey Jedrzejek 12.940
NAPA of Fremont – Heat 1: 1. 5-Weaver[2] ; 2. 77-Dodge[1] ; 3. 11k-Kinser[4] ; 4. 24d-Sams[3] ; 5. 15-Harble[5] ; 6. 13-Gurley[6] ; 7. 37-Norris[7] ; 8. 12v-B.Vermillion[8]
MadTree Brewing – Heat 2: 1. 78-Clark[2] ; 2. 40-Fenton[1] ; 3. 99-Gee[4] ; 4. 35-Hampton[3] ; 5. 55t-Haase[8] ; 6. 33$-O'Banion[5] ; 7. 2x-Etgen[6] ; 8. 5v-J.Vermillion[DNS]
Elite Wings – Heat 3: 1. 2-Peterson[2] ; 2. 25r-Ryan[1] ; 3. 22-Spithaler[3] ; 4. 12-Jedrzejek[7] ; 5. 16th-Newton[6] ; 6. 23jr-Sodeman[5] ; 7. 19-Rayhall[4]
Ti22 Performance / Elite Wings A-Main: 1. 11k-Kinser[6] ; 2. 22-Spithaler[4] ; 3. 99-Gee[5] ; 4. 78-Clark[1] ; 5. 2-Peterson[3] ; 6. 24d-Sams[10] ; 7. 35-Hampton[11] ; 8. 5-Weaver[2] ; 9. 12-Jedrzejek[12] ; 10. 15-Harble[13] ; 11. 33$-O'Banion[17] ; 12. 77-Dodge[7] ; 13. 55t-Haase[14] ; 14. 37-Norris[19] ; 15. 13-Gurley[16] ; 16. 16th-Newton[15] ; 17. 12x-B.Vermillion[21] ; 18. 40-Fenton[8] ; 19. 2x-Etgen[20] ; 20. 19-Rayhall[21] ; 21. 5v-J.Vermillion[23] ; 22. 25r-Ryan[9] ; 23. 23jr-Sodeamn[DNS]
Elite Wings – Hard Charger: 33$ – O'Banion +6
Indy Race Parts – Hard Luck: 23jr – Sodeman