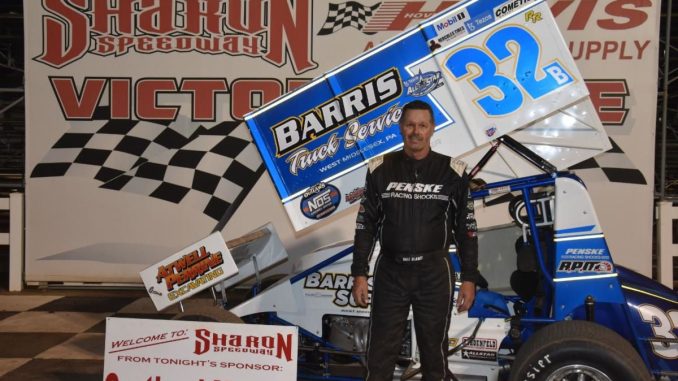 From Mike Leone
HARTFORD, Ohio (June 28, 2023) — After losing two of the last three events to Mother Nature, the rain finally stopped after six straight days of soggy conditions allowing the first of two "Wednesday Night Thunder" events presented by Cortland Mower Sales to be completed. Celebrating in the Hovis Auto & Truck Supply victory lane were Dale Blaney-Hovis Auto & Truck Supply "410" Sprint Cars and Chad Ruhlman-Terry Bowser Excavating RUSH Sprint Cars. A strong field of 59 cars were in the pits for the midweek two-division Sprint Car program streamed live on DIRTVision.
Nothing like home cooking, and that's certainly rang true in recent years for Dale Blaney. On August 11, 2018, Blaney won at Sharon to continue his streak of at least one victory for 29 consecutive years. In 2019, Dale won his father's "Lou Blaney Memorial" for the first time. After spending much of 2020 and 2021 as an All Star Circuit of Champions official, Blaney won at the Hartford, Ohio oval in his 2021 debut on June 26. Almost two years to the day, Blaney returned to glory winning the 30-lap Hovis Auto & Truck Supply feature on Wednesday night. Blaney passed Lee Jacobs on lap three and held off a valiant effort by Cale Thomas and a hard charging Zeth Sabo for the $4,000 payday at the site of his first career win back in 1990.
"It's pretty awesome," acknowledged the 59-year-old Hartford, Ohio native from victory lane in the final tune-up before the $10,000 to-win "Lou Blaney Memorial" on July 8. "Jerry and Scooter are two great guys that gave me an opportunity to come out here to compete and win races. We've struggled a little bit, but got a good draw tonight and was up front the whole race. It felt good to get to traffic a little bit. I adjusted my line a bit in turn two and was a lot better. It was a good night. Every win now is special because you never know when the last one is going to be."
Jacobs and Blaney led the 24-car field to green as it was Jacobs taking the early lead over Blaney with Stuart Brubaker, Thomas, and A.J. Flick in tow. Blaney drove around Jacobs off turn two on lap three for what would turn out to be the winning move. It was a four-car race for the lead on lap seven when Blaney caught lapped traffic. Thomas passed Brubaker for third on lap seven before the event's first caution when Creed Kemenah suffered a flat tire.
Back under green, Thomas put a slider on Jacobs in turns one and two for second on lap nine; meanwhile, eighth starting Dave Blaney cracked the top five dropping Flick back a spot. By lap 10, Blaney and Thomas began to distance themselves from the field, while a great battle for third took place between Jacobs and Brubaker. Blaney caught traffic once again on lap 15 as Thomas was all over the leader as they raced side-by-side. Thomas appeared primed to take the lead on lap 16, but a caution for Flick, who was running seventh, slowed action with 15 laps scored. The event's final caution was for Ricky Peterson, who got into the fence bringing out the caution with 18 laps completed.
When green replaced yellow on lap 19, Dave Blaney advanced into fourth past Brubaker; however, all eyes shifted to 13th starting Sabo. Sabo was flying around the fence and moved into the top five on lap 20 taking the spot from Brubaker. Sabo then drove around Dave Blaney for fourth on lap 22 and one later flew past Jacobs for second.
As the final 12 laps went green-to-checkered, Dale Blaney had to navigate lapped traffic, while fending off Thomas. Sabo ran down the lead duo; however, would run out of time as Dale Blaney's 18th career Sharon "410" win came by 0.976 seconds in the Barris Supply-owned, Barris Truck Service/Atwell-Perrine Excavating/Top Shelf Trucking-sponsored #32B.
Thomas was a career best second at Sharon and earned $2,000 for the Demyan/Rudzik #49x team. Sabo was an impressive third aboard Rich Farmer's #29 for $1,500. Jacobs dropped to fourth after leading the first two laps and earned $1,200. Dave Blaney, who won in both his 2023 "410" starts at Sharon, was fifth.
After battling for the lead early, Brubaker dropped to sixth in his 2023 Sharon debut. George Hobaugh was seventh. All Star regular, J.J. Hickle, made his first career Sharon start and went 24th to 8th to earn the $100 Summit Racing Equipment gift card- that after advancing six spots in the second B main to capture the final feature starting spot. Greg Wilson was 9th after starting 14th. Sye Lynch, who was driving the McCandless #29, completed the top 10 in his first 2023 appearance.
Dave Blaney set fast time overall against the season high 37-car field in qualifying with a lap of 13.858. Winning the heat races were Jacobs, Brubaker, Dale Blaney, and Thomas. The twin last chance B mains went to Brent Matus and Leyton Wagner aboard Davey Jones' #76. All four "410" Sprint Car shows this season have had at least 30 cars with an average of 33.5.
Chad Ruhlman may be four-for-four now this season at Sharon in the RUSH Sprint Cars, but they certainly haven't come easy. Ruhlman won the June 17 event from the 17th starting spot after a back and forth duel with Blaze Myers. Though Ruhlman would start third on Wednesday night, Myers gave him all he had challenging the standout for the final 15 laps. Ruhlman's 13th win in 28 RUSH Sprint Car races at Sharon was worth $800 in the caution-free 20-lap Terry Bowser Excavating feature that was timed in 7:10.649.
"This is fun," expressed the 46-year-old Erie, Pa. resident. "It's good to be here again. The track had a lot of character again tonight and you could run all over the thing. They don't make these things easy for an old guy. I figured Blaze (Myers) would be right there. This is his kind of race track. In the beginning running the bottom, I just didn't have the self control. My son (Kevin) had the cushion where I wanted to be and once I cleared him then I could unleash the dogs a bit and wear myself out."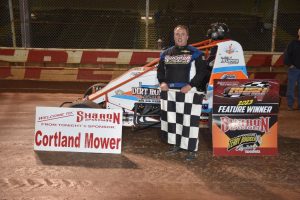 Chad Ruhlman passed his son Kevin on the opening lap for second with Arnie Kent following in third. Ruhlman got a big run off the top of turn four on lap five to barely nip Myers at the start-finish line. Myers stayed with Ruhlman over the balance of the event trying multiple lines on the racey 3/8-mile red clay, but the veteran Ruhlman never faltered and made the right moves in lapped traffic. Ruhlman crossed the finish first by a margin of 1.232 seconds in the Tim Engles-owned, Dirt Road Logistics/LINC Products/Billy @ Suppa Racing/Dynamic Machine/Cre8ions by Maddie-sponsored #68 for the 47th time circuit-wide in his career with the Series.
Myers was runner-up for the third time in four races at Sharon and fourth time overall in 2023 with the Series. Kent and sixth starting Brandon Blackshear swapped third place back and forth with Kent winning out. Gale Ruth, Jr. went 10th to 5th. Kevin Ruhlman dropped to sixth as Ryan Fraley, Bill Cunningham, Jeff Metsger, and A.J. MacQuarrie completed the top 10. Heat winners over the 22-car field were Blackshear, Fraley, and Kent. The RUSH Sprints have had 22 or 23 cars for all four events this season.
There will be no racing this Saturday night (July 1). The next event will be Saturday, July 8 for the 15th annual "Lou Blaney Memorial" featuring the Tezos All Star Circuit of Champions Sprint Cars racing for $10,000 to-win along with the BRP Tour for the Hovis Auto & Truck Supply Big-Block Modifieds. For tickets, visit https://sharonspeedway.simpletix.com/
Sharon Speedway
Hartford, Ohio
Wednesday, June 28, 2023
Winged 410 Sprint Cars
Hovis Auto Truck Supply 410 Sprints TT Group #1
1. 40-George Hobaugh Jr, 14.133[7]
2. 6-Bob Felmlee, 14.166[6]
3. 5K-Adam Kekich, 14.261[5]
4. 81-Lee Jacobs, 14.283[3]
5. X7-Andrew Cavanaugh, 14.592[8]
6. 08-Danny Kuriger, 14.662[10]
7. 33-Brent Matus, 14.788[2]
8. 27K-Jeremy Kornbau, 15.470[9]
9. 22C-Jon Carpenter, 18.316[4]
10. (DQ) 23V-Zane DeVault, 13.955[1]
Hovis Auto Truck Supply 410 Sprints TT Group #2
1. 10-Dave Blaney, 13.858[9]
2. 11-Carl Bowser, 14.128[4]
3. 35B-Stuart Brubaker, 14.446[8]
4. 11T-Blaze Myers, 14.584[1]
5. 31C-Chase Metheney, 14.808[2]
6. 23JR-Jack Sodeman Jr, 14.815[3]
7. 47-Brett Brunkenhoefer, 15.376[5]
8. 47L-Dusty Larson, 15.556[7]
9. 23-Darren Pifer, 15.745[6]
Hovis Auto Truck Supply 410 Sprints TT Group #3
1. 13-Brandon Matus, 14.142[1]
2. 2-AJ Flick, 14.165[9]
3. 32B-Dale Blaney, 14.410[7]
4. 29X-Zeth Sabo, 14.512[2]
5. 2P-Ricky Peterson, 15.139[3]
6. 99-Cameron Nastasi, 15.764[5]
7. (DQ) 76-Leyton Wagner, 15.220[6]
8. (DQ) 70-Henry Malcuit, 15.278[4]
9. (DQ) 4W-Eric L Williams, 16.423[8]
Hovis Auto Truck Supply 410 Sprints TT Group #4
1. 29M-Sye Lynch, 14.246[1]
2. W20-Greg Wilson, 14.399[9]
3. 35W-Jeremy Weaver, 14.440[2]
4. 49X-Cale Thomas, 14.659[3]
5. 15K-Creed Kemenah, 15.212[4]
6. 21-Larry Kingseed Jr, 15.362[7]
7. 97-JJ Hickle, 15.426[5]
8. 3V-Chris Verda, 15.659[8]
9. 22R-Ryan Fredericks, 15.861[6]
Hovis Auto Truck Supply 410 Sprints Heat Race #1 (8 Laps)
1. 81-Lee Jacobs[1]
2. 40-George Hobaugh Jr[4]
3. 5K-Adam Kekich[2]
4. 6-Bob Felmlee[3]
5. 23V-Zane DeVault[10]
6. 33-Brent Matus[7]
7. X7-Andrew Cavanaugh[5]
8. 08-Danny Kuriger[6]
9. 27K-Jeremy Kornbau[8]
10. 22C-Jon Carpenter[9]
Hovis Auto Truck Supply 410 Sprints Heat Race #2 (8 Laps)
1. 35B-Stuart Brubaker[2]
2. 10-Dave Blaney[4]
3. 11T-Blaze Myers[1]
4. 11-Carl Bowser[3]
5. 23JR-Jack Sodeman Jr[6]
6. 47-Brett Brunkenhoefer[7]
7. 31C-Chase Metheney[5]
8. 47L-Dusty Larson[8]
DNS: 23-Darren Pifer
Hovis Auto Truck Supply 410 Sprints Heat Race #3 (8 Laps)
1. 32B-Dale Blaney[2]
2. 2-AJ Flick[3]
3. 29X-Zeth Sabo[1]
4. 2P-Ricky Peterson[5]
5. 13-Brandon Matus[4]
6. 76-Leyton Wagner[7]
7. 70-Henry Malcuit[8]
8. 4W-Eric L Williams[9]
9. 99-Cameron Nastasi[6]
Hovis Auto Truck Supply 410 Sprints Heat Race #4 (8 Laps)
1. 49X-Cale Thomas[1]
2. 29M-Sye Lynch[4]
3. W20-Greg Wilson[3]
4. 35W-Jeremy Weaver[2]
5. 15K-Creed Kemenah[5]
6. 21-Larry Kingseed Jr[6]
7. 3V-Chris Verda[8]
8. 22R-Ryan Fredericks[9]
9. 97-JJ Hickle[7]
Hovis Auto Truck Supply 410 Sprints B Main #1 (8 Laps)
1. 33-Brent Matus[1]
2. 27K-Jeremy Kornbau[7]
3. 31C-Chase Metheney[4]
4. 23-Darren Pifer[8]
5. X7-Andrew Cavanaugh[3]
6. 47-Brett Brunkenhoefer[2]
7. 08-Danny Kuriger[5]
8. 22C-Jon Carpenter[9]
DNS: 47L-Dusty Larson
Hovis Auto Truck Supply 410 Sprints B Main #2 (8 Laps)
1. 76-Leyton Wagner[1]
2. 97-JJ Hickle[8]
3. 3V-Chris Verda[4]
4. 70-Henry Malcuit[3]
5. 22R-Ryan Fredericks[6]
6. 4W-Eric L Williams[5]
7. 99-Cameron Nastasi[7]
8. 21-Larry Kingseed Jr[2]
Hovis Auto Truck Supply 410 Sprints A-Main (30 Laps)
1. 32B-Dale Blaney[2]
2. 49X-Cale Thomas[3]
3. 29X-Zeth Sabo[13]
4. 81-Lee Jacobs[1]
5. 10-Dave Blaney[8]
6. 35B-Stuart Brubaker[4]
7. 40-George Hobaugh Jr[7]
8. 97-JJ Hickle[24]
9. W20-Greg Wilson[14]
10. 29M-Sye Lynch[9]
11. 11-Carl Bowser[6]
12. 6-Bob Felmlee[15]
13. 5K-Adam Kekich[11]
14. 13-Brandon Matus[10]
15. 35W-Jeremy Weaver[17]
16. 76-Leyton Wagner[22]
17. 11T-Blaze Myers[12]
18. 33-Brent Matus[21]
19. 23V-Zane DeVault[18]
20. 2P-Ricky Peterson[16]
21. 2-AJ Flick[5]
22. 23JR-Jack Sodeman Jr[19]
23. 15K-Creed Kemenah[20]
24. 27K-Jeremy Kornbau[23]
RUSH Sprint Car Series
Terry Bowser Excavating RUSH Sprint Heat Race #1 (8 Laps)
1. 10-Brandon Blackshear[1]
2. 68-Chad Ruhlman[7]
3. 44C-Bill Cunningham[3]
4. 24-Gale Ruth Jr[6]
5. 1T-Ricky Tucker Jr[4]
6. 11-Don Blaney[2]
7. 54-Devon Deeter[8]
8. 15-Lacey Shuttleworth[5]
Terry Bowser Excavating RUSH Sprint Heat Race #2 (8 Laps)
1. 12-Ryan Fraley[3]
2. 68K-Kevin Ruhlman[1]
3. 41-Brian Cressley[2]
4. 5BX-Rick Regalski Jr[5]
5. 17-Trent Marshall[6]
6. 13K-Kevin Kaserman[7]
7. 29-Brandon Shughart[4]
Terry Bowser Excavating RUSH Sprint Heat Race #3 (8 Laps)
1. 9-Arnie Kent[1]
2. 43JR-Blaze Myers[5]
3. 69X-AJ MacQuarrie[2]
4. 20-Jeff Metsger[3]
5. 69-Brian Hartzell[6]
6. 23-Charlie Utsinger[7]
7. 16C-Amelia Clay[4]
Terry Bowser Excavating RUSH Sprint Feature (20 Laps)
1. 68-Chad Ruhlman[3]
2. 43JR-Blaze Myers[1]
3. 9-Arnie Kent[4]
4. 10-Brandon Blackshear[6]
5. 24-Gale Ruth Jr[10]
6. 68K-Kevin Ruhlman[2]
7. 12-Ryan Fraley[5]
8. 44C-Bill Cunningham[7]
9. 20-Jeff Metsger[12]
10. 69X-AJ MacQuarrie[9]
11. 69-Brian Hartzell[15]
12. 1T-Ricky Tucker Jr[13]
13. 41-Brian Cressley[8]
14. 23-Charlie Utsinger[18]
15. 54-Devon Deeter[19]
16. 5BX-Rick Regalski Jr[11]
17. 15-Lacey Shuttleworth[22]
18. 17-Trent Marshall[14]
19. 16C-Amelia Clay[21]
20. 13K-Kevin Kaserman[17]
21. 11-Don Blaney[16]
DNS: 29-Brandon Shughart