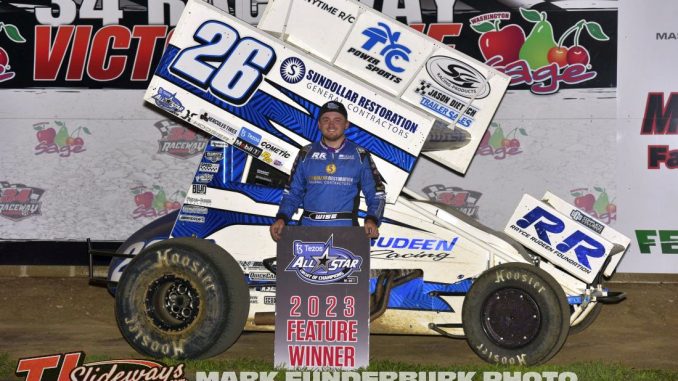 From Tyler Altmeyer
WEST BURLINGTON, Iowa. (July 22, 2023) — It was a pure case of redemption Friday night at 34 Raceway in West Burlington, Iowa, as Rudeen Racing's Zeb Wise, who finished 19th in Lernerville Speedway's annual Don Martin Memorial Silver Cup on Tuesday evening after utilizing a Series provisional, rebounded big and cashed in for a $7,000 payday, jumping on Austin McCarl's late race misfortune to secure his fourth Tezos All Star Circuit of Champions presented by Mobil 1 victory of the season. Wise, now an eight-time main event winner with "America's Series," earned the lead for the second and final time on lap 27, driving by McCarl when the Altoona, Iowa, native slipped off the surface while leading.
Three-time All Star champion and Clute, Texas, native, Aaron Reutzel, would also slip by McCarl in the closing circuits to secure second, followed by McCarl, Australian Jamie Veal, and Roth Motorsports' Buddy Kofoid.
As noted, Wise led on two different occasions in 34 Raceway's 30-lap contest, driving by McCarl the first time on lap 19 before "The Big Unit" returned the favor with a slider the following circuit. McCarl's position at the top of the running order did not occur until lap six, sneaking by early race leader, Jamie Veal, around the bottom of the speedway.
"We needed that one," Zeb Wise expressed. "Hats off to everyone here at 34 Raceway. We had that long delay, but the track held up great. And even with it getting abrasive at the end, I thought it raced really well. Our car was just really good tonight and hats off to everyone on this team. We didn't have too great of a night Tuesday at Lernerville, so to get this Midwest swing going with a win is really special."
Tezos All Star Circuit of Champions presented by Mobil 1
34 Raceway
West Burlington, Iowa
Friday, July 21, 2023
Qualifing Flight A
83JR-Buddy Kofoid, 12.942
2. 8-Aaron Reutzel, 13.102
3. 29-Sye Lynch, 13.203
4. 16TH-Parker Price Miller, 13.227
5. 17B-Bill Balog, 13.245
6. 35-Zach Hampton, 13.299
7. 49-Josh Schneiderman, 13.391
8. 11K-Kraig Kinser, 13.416
9. 6-Mario Clouser, 13.623
Qualifing Flight B
17AU-Jamie Veal, 13.283
2. 22-Riley Goodno, 13.339
3. 25-Lachlan McHugh, 13.369
4. 45-Tim Shaffer, 13.501
5. 3p-Sawyer Phillips, 13.834
6. 37-Bryce Norris, 13.933
7. 7-Tyler Lee, 14.134
8. 4x-Chase Richards, 14.629
Qualifing Flight C
21T-Cole Macedo, 13.394
2. 88-Austin McCarl, 13.395
3. 28M-Conner Morrell, 13.488
4. 12x-Ayrton Gennetten, 13.516
5. 23B-Brian Bell, 13.787
6. 7T-Tasker Phillips, 14.017
7. 97-JJ Hickle, 14.096
8. 15JR-Cole Mincer, 14.594
Qualifing Flight D
26-Zeb Wise, 13.564
2. 18T-Tanner Holmes, 13.848
3. 5T-Ryan Timms, 13.862
4. 55-Kerry Madsen, 13.871
5. 2KS-Chase Randall, 13.920
6. 4-Chris Windom, 13.931
7. 50-Paul Nienhiser, 14.244
8. 7BC-Anthony Macri, 14.371
Heat Race #1 (8 Laps) – Top 5 Transfer
8-Aaron Reutzel [1]
2. 83JR-Buddy Kofoid [4]
3. 29-Sye Lynch [2]
4. 16TH-Parker Price Miller [3]
5. 17B-Bill Balog [5]
6. 49-Josh Schneiderman [7]
7. 35-Zach Hampton [6]
8. 11K-Kraig Kinser [8]
9. 6-Mario Clouser [9]
Heat Race #2 (8 Laps) – Top 5 Transfer
25-Lachlan McHugh [2]
2. 22-Riley Goodno [1]
3. 17AU-Jamie Veal [4]
4. 45-Tim Shaffer [3]
5. 3p-Sawyer Phillips [5]
6. 37-Bryce Norris [6]
7. 7-Tyler Lee [7]
8. 4x-Chase Richards [8]
Heat Race #3 (8 Laps) – Top 5 Transfer
88-Austin McCarl [1]
2. 28M-Conner Morrell [2]
3. 12x-Ayrton Gennetten [3]
4. 21T-Cole Macedo [4]
5. 23B-Brian Bell [5]
6. 97-JJ Hickle [7]
7. 15JR-Cole Mincer [8]
8. 7T-Tasker Phillips [6]
Heat Race #4 (8 Laps) – Top 5 Transfer
5T-Ryan Timms [2]
2. 55-Kerry Madsen [3]
3. 26-Zeb Wise [4]
4. 18T-Tanner Holmes [1]
5. 2KS-Chase Randall [5]
6. 7BC-Anthony Macri [8]
7. 4-Chris Windom [6]
8. 50-Paul Nienhiser [7]
Dash (6 Laps)
17AU-Jamie Veal [2]
2. 8-Aaron Reutzel [4]
3. 88-Austin McCarl [1]
4. 25-Lachlan McHugh [5]
5. 21T-Cole Macedo [3]
6. 26-Zeb Wise [6]
7. 5T-Ryan Timms [8]
8. 83JR-Buddy Kofoid [7]
B-main (12 Laps) – Top 4 Transfer
35-Zach Hampton [1]
2. 4-Chris Windom [6]
3. 97-JJ Hickle [4]
4. 7BC-Anthony Macri [5]
5. 7T-Tasker Phillips [10]
6. 49-Josh Schneiderman [2]
7. 50-Paul Nienhiser [11]
8. 7-Tyler Lee [7]
9. 15JR-Cole Mincer [8]
10. 37-Bryce Norris [3]
11. 6-Mario Clouser [13]
A-main (30 Laps)
26-Zeb Wise [6]
2. 8-Aaron Reutzel [2]
3. 88-Austin McCarl [3]
4. 17AU-Jamie Veal [1]
5. 83JR-Buddy Kofoid [8]
6. 16TH-Parker Price Miller [14]
7. 4-Chris Windom [22]
8. 55-Kerry Madsen [11]
9. 21T-Cole Macedo [5]
10. 22-Riley Goodno [9]
11. 45-Tim Shaffer [15]
12. 17B-Bill Balog [17]
13. 18T-Tanner Holmes [16]
14. 7BC-Anthony Macri [24]
15. 2KS-Chase Randall [20]
16. 35-Zach Hampton [21]
17. 97-JJ Hickle [23]
18. 23B-Brian Bell [18]
19. 12x-Ayrton Gennetten [13]
20. 3p-Sawyer Phillips [19]
21. 29-Sye Lynch [12]
22. 5T-Ryan Timms [7]
23. 25-Lachlan McHugh [4]
24. 28M-Conner Morrell [10]
LAP LEADERS: Jamie Veal (1-4), Austin McCarl (5-18), Zeb Wise (19), Austin McCarl (20-26), Zeb Wise (27-30)
Contingency Awards/Results
Kistler Racing Products Pill Draw | Entries: 33
Macri Concrete/Nunzi's Advertising Hot Laps: Austin McCarl | 13.207
Hercules Tires Fast Qualifier: Buddy Kofoid | 12.942
Hunt Brothers Pizza Heat #1 Winner: Aaron Reutzel
Competition Suspension Inc Heat #2 Winner: Lachlan McHugh
All Pro Aluminum Cylinder Heads Heat #3 Winner: Austin McCarl
Kistler Racing Products Heat #4 Winner: Ryan Timms
Elliott's Custom Trailers and Carts Dash Winner: Jamie Veal
Classic Ink USA B-Main Winner: Zach Hampton
Rayce Rudeen Foundation Contingency Award: Tasker Phillips
Tezos A-Main Winner: Zeb Wise
Tezos A-Main Hard Charger: Chris Windom (+15)
Carquest Perseverance Award: Anthony Macri
2023 All Star Circuit of Champions OWNER Standings (As of 7/21):
Clauson Marshall Racing – 3058
Rudeen Racing – 3000
Vermeer Motorsports – 2916
Lane Racing – 2886
Bryan Grove Racing – 2834
Seeling Motorsports – 2692
Bill McCandless Ford – 2620
D3 Motorsports Group – 2376
Premier Motorsports – 2224
2023 All Star Circuit of Champions DRIVER Standings (As of 7/21):
Tyler Courtney – 2948
Zeb Wise – 2890
Chris Windom – 2886
Tim Shaffer – 2834
J.J. Hickle – 2692
Conner Morrell – 2376
Sye Lynch – 2292
Scotty Thiel – 2114
Brent Marks – 1742
Parker Price-Miller – 1614
Winged 350 Sprint Cars
Heat Race #1 (8 Laps)
1. 71X-Brandon Worthington[4]
2. 41-Colton Fisher[1]
3. 27-Cody Wehrle[6]
4. 31-McCain Richards[2]
5. 41X-Jeff Wilke[5]
6. 1J-Ryan Jamison[3]
7. 02S-Joshua Jones[8]
8. 4-Chase Richards[7]
Heat Race #2 (8 Laps)
1. 71-Nathan Murders[1]
2. 14J-Mike Johnston[2]
3. 11T-Dugan Thye[6]
4. 7B-Nick Guernsey[5]
5. 51-Aaron Ferch[3]
6. 3TJ-Joel Thorpe[7]
7. 17J-Joey Laue[4]
A-Main
1. 71X-Brandon Worthington[1]
2. 27-Cody Wehrle[6]
3. 71-Nathan Murders[2]
4. 14J-Mike Johnston[7]
5. 41-Colton Fisher[4]
6. 7B-Nick Guernsey[3]
7. 3TJ-Joel Thorpe[12]
8. 31-McCain Richards[5]
9. 1J-Ryan Jamison[11]
10. 41X-Jeff Wilke[9]
11. 51-Aaron Ferch[10]
12. 17J-Joey Laue[14]
13. 02S-Joshua Jones[13]
14. 11T-Dugan Thye[8]
15. 4-Chase Richards[15]