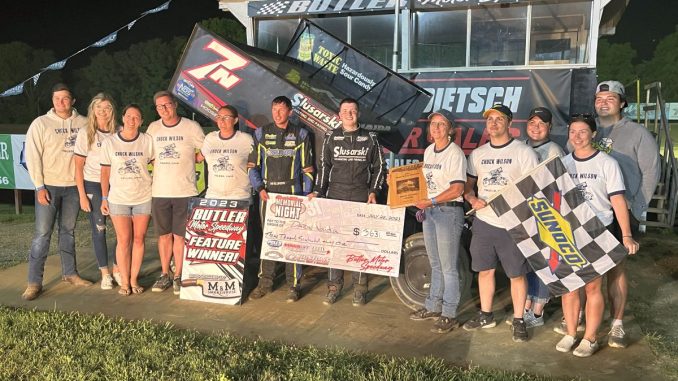 By T.J. Buffenbarger
QUINCY, Mi. (July 22, 2023) — Darin Naida had to wait until the middle of his second sprint car season to win his first career sprint car feature at Butler Motor Speedway. Naida's wait for his second feature win lasted exactly one week, picking up his second consecutive win at Butler Motor Speedway Saturday during the Chuck Wilson Memorial.
Naida, from Adrian, Michigan, took the lead from third starting position on the opening lap slipping by Tylar Rankin and Thomas Schinderle to take the lead, then held off Rankin through slower traffic in the closing stages of the feature for the $3,131.00 victory.
Naida was surprised with how he got the lead on the opening lap of the event.
"It was it was kind of a fluke thing I thought," said Naida. "Rankin and Schinderle were going down the backstretch and Rankin and just tried to crowd (Schinderle) I think and ended up getting into him so I had just I just sucked the bottom and three and four and really just kind of squirted right under him coming out of four."
Rankin and Schinderle started on the front row for the 31-lap feature event. While racing side by side for the lead, Naida saw the opening on the bottom he needed to take the lead.
The red flag appeared four laps into the main event when Shelby Yeaples flipped between turns one and two. Yeaples exited the car under her own power.
Naida pulled away during the restart with Ranking giving chase. Behind them a torrid race for third took place with Schinderle, Corbin Gurley, and Boston Mead.
After a caution on lap 11 for a car spinning in turn two, Mead exited the race. Gurley was able to get a run to pass Schinderle for third and was challenging Rankin for second when he nearly spun in turn two and dropped to fourth behind Schinderle.
Gurley and Schinderle continued to trade the third spot while Rankin slowly started to real in Naida.
With 11 laps to go the Naida and Rankin separated themselves from the rest of the field. This allowed Rankin to pull along side Naida in traffic, but Naida was able to maintain the lead with seven laps to go.
Two laps later Naida was able to put a pair of lapped cars between himself and Rankin, which was enough to secure the victory. Rankin held on for second while Gurley, Keith Sheffer Jr, and Shinderle rounded out the top five.
The magnitude of winning a race named after a veteran racer like Wilson, who passed away in January was not lost on the young racer.
"It feels great and it's awesome to do it with a with an event like this and the Chuck Wilson Memorial," said Naida. "There is so much effort put into this event by not only the people here at Butler but the Wilson family too. So it's really cool to win something like this."
Rankin was the fastest qualifier over the 24 car field with a lap of 13.242 seconds. Schinderle, Mead, and Gurley won heat race events.
Kyle Locke flipped in the third heat race in turn two. Locke and the Terry Busche race team were able to make repairs to start the feature event, but dropped out shortly after the race began.
Chuck Wilson Memorial
Butler Motor Speedway
Quincy, Michigan
Saturday, July 22, 2023
Qualifying (99 Laps)
1. 16C-Tylar Rankin, 13.242[15]
2. 7N-Darin Naida, 13.378[21]
3. 87A-Austin Hartmann, 13.424[22]
4. 13-Van Gurley Jr, 13.447[2]
5. 27-Trey McGranahan, 13.608[14]
6. 16B-Kyle Locke, 13.610[11]
7. 10JR-Keith Sheffer Jr, 13.634[8]
8. 42-Boston Mead, 13.659[6]
9. 12-Corbin Gurley, 13.717[1]
10. 41-Thomas Schinderle, 13.733[17]
11. 4-Josh Turner, 13.848[24]
12. 1A-Mark Aldrich, 13.854[3]
13. 17S-Shelby Yeaples, 13.903[4]
14. 27L-Brad Lamberson, 13.925[12]
15. 7-Alex Aldrich, 13.970[18]
16. 27K-Zac Broughman, 14.038[7]
17. 2+-Brian Smith, 14.186[19]
18. 87-Logan Easterday, 14.194[10]
19. 24-Levi Voyce, 14.279[9]
20. 49T-Gregg Dalman, 14.327[20]
21. 6-Chad Wilson, 14.613[16]
22. 37ND-Noah Dunlap, 14.630[13]
23. 51-Mark Yearling, 14.725[5]
24. 21T-Troy Chehowski, 15.273[23]
Heat Race #1 (8 Laps)
1. 41-Thomas Schinderle[1]
2. 16C-Tylar Rankin[4]
3. 10JR-Keith Sheffer Jr[2]
4. 13-Van Gurley Jr[3]
5. 27K-Zac Broughman[6]
6. 24-Levi Voyce[7]
7. 37ND-Noah Dunlap[8]
8. 17S-Shelby Yeaples[5]
Heat Race #2 (8 Laps)
1. 42-Boston Mead[2]
2. 7N-Darin Naida[4]
3. 27-Trey McGranahan[3]
4. 4-Josh Turner[1]
5. 2+-Brian Smith[6]
6. 49T-Gregg Dalman[7]
7. 27L-Brad Lamberson[5]
8. 51-Mark Yearling[8]
Heat Race #3 (8 Laps)
1. 12-Corbin Gurley[2]
2. 87A-Austin Hartmann[4]
3. 1A-Mark Aldrich[1]
4. 87-Logan Easterday[6]
5. 7-Alex Aldrich[5]
6. 6-Chad Wilson[7]
7. 21T-Troy Chehowski[8]
8. 16B-Kyle Locke[3]
A-Main (31 Laps)
1. 7N-Darin Naida[3]
2. 16C-Tylar Rankin[2]
3. 12-Corbin Gurley[5]
4. 10JR-Keith Sheffer Jr[7]
5. 41-Thomas Schinderle[1]
6. 87A-Austin Hartmann[4]
7. 13-Van Gurley Jr[10]
8. 4-Josh Turner[11]
9. 87-Logan Easterday[12]
10. 7-Alex Aldrich[15]
11. 49T-Gregg Dalman[17]
12. 37ND-Noah Dunlap[19]
13. 27L-Brad Lamberson[20]
14. 6-Chad Wilson[18]
15. 21T-Troy Chehowski[21]
16. 24-Levi Voyce[16]
17. 27-Trey McGranahan[8]
18. 1A-Mark Aldrich[9]
19. 42-Boston Mead[6]
20. 2+-Brian Smith[14]
21. 17S-Shelby Yeaples[22]
22. 16B-Kyle Locke[24]
DNS: 27K-Zac Broughman
DNS: 51-Mark Yearling